Ball pythons are pretty famous for being docile and a nice house pet. Those who love to keep reptiles as a pet get attracted to the exotic colours of the ball python. Also, they need minimum care and thus are fit to be pets for working people with a busy lifestyle.
Nature of ball python
Ball pythons are usually of calm disposure and they do not attack other creatures of the same species as well as human. But nature depends upon individuality and that is why some ball pythons seem hostile to humans or even its owner. You cannot decide the nature of aggressiveness depending upon the gender of the python or if it is morphed or not.
Usually, it has been found that male ball pythons are less aggressive in nature while females have been seen to act aggressively on some occasions. The occasions are mostly the time of the egg protection until those are hatched.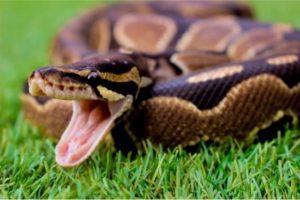 Potential of ball python being a pet
Ball pythons are good as pet as they need some space and a wide tank. Other than that they need a humidifier, heat source, food once a week and a water bowl. They do not need much of your attention or time, so you can keep working on your hectic schedule while the pet will be there peacefully lying in its tank.
If you are apprehensive about keeping a ball python as a pet, thinking it may turn up to be an aggressive one, then there are certain times when you can expect the snake to be aggressive and you can be warned or act accordingly.
Times of aggressiveness
As we mentioned earlier, the female ball pythons act protectively and act aggressively when it lays eggs. She stays always alert and if someone tries to come near it or touch the eggs, it may try to attack it.
Shedding is another time period in which the ball pythons always stay aggressive. This time they are physically sensitive and may attack the intruders in the cage.
Also, they may act aggressively if they are too hungry and the food is given in the cage. They may feel threatened when you put your hand inside the terrarium or try to touch the ball python. Also if there is no food before them and they are hungry, then also they may attack the owner as it may seem to them that your finger is like the probable food for them.
Are ball pythons friendly?
Quite contrary to the popular belief and myth of people regarding ball pythons, they can be quite friendly in gesture and nature. It takes a week or a month depending upon individual nature, and when it settles down in the new place, it can be held once in a while. Also, you can keep them on your arm or shoulder and stay like that for a while. It will enjoy your company and that way, a bond will be built between you and the pet.
It will behave in a friendlier way after a few months. You can see it getting itself wrapped on your shoulders and neck, which is a game to them. if you are not comfortable, you can take it out from your shoulder by unwrapping it,
Why my ball python is acting aggressively?
As ball pythons are calm in nature, they can sometimes act aggressively. There are certain reasons which make them aggressive, that is if the ball python is not naturally attacking. The stressed creature can attack anybody without waiting for the next step. Also if it is feeling threatened in presence of some other pet or some human, or some other reason, it acts weirdly. This time it can bite even the owner if he or she comes near it. But the bites are never toxic and will never cause severe damage to human.
Can a ball python kill a human by strangling?
A matured ball python, weighing almost five pounds and lengthwise 3 to 5 feet, is pretty heavy. Its huge body is quite powerful and if it uses its full force, it can surely strange a human. But the possibility is really rare, as ball pythons do not take humans as their threat.
Until it is terribly threatened, it will not try to strangle and kill a human, so this should not be the reason for your worry.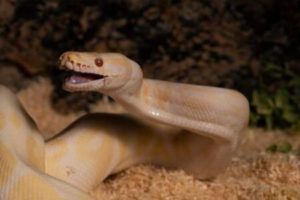 Can a ball python hurt by biting?
Ball pythons can bite sometimes, but that does not make much of a wound. The most it can do is scratch or puncture a wound that is made by the teeth of the ball python. Sometimes though, some deeper damages or internal bleeding can happen due to the bite of the ball python.
You should wash the bitten place with warm water and antiseptic lotion should be applied after the washing. That will be enough to cure the bite mark.
Is the ball python a suitable pet for first-time pet owners?
Yes, ball pythons are perfectly suitable pets for the first-timers. They are not generally aggressive and also much calm in temperament. Though there are exceptions, most of the ball pythons behave really well. They are never making any sound, nor will they need too much care. Only a few tricks about them and they will be the best pets in the world.
The temperament of ball python
This gentle natured snake does not much like the handling. So if you keep a ball python as a pet, do not take it out every day as they do not enjoy interaction and confrontation as much as other four-legged furry pets do. Playing with it should be restricted to two or three times a week and not more than that.
They prefer to stay in a rolled-up or balled position, from which they have derived their name. You may find some ball python snakes who are interested in interaction, but those are only exceptions and not the general typed ones.
Male pythons are less aggressive and less likely to attack than female ones. Female ball pythons are much common to be attacking at the time of egg hatching.
Being knowledgeable about ball python's mood swings:
Ball pythons are naturally predator creature and when in the wilderness, they bite or act aggressively for two reasons. Either they are hungry and wish to get prey, or they are defending themselves from other more powerful animals.
They bite differently on these two occasions. When they are being defensive, their bites are quicker and they will release the opponent soon. These bites are to threaten or harm the predator.
When the ball pythons are in captivity or in the wilderness, they attack mice and other small creatures as prey. This time their teeth grips are tighter as they want to constrict the movement of the creature by biting it off. When you are keeping a ball python in the tank, do not put your finger or hand playfully inside the cage at the time of feeding, as then the python may mistake your finger to be food and try to bite it.
Does ball python have fangs?
No, there are no fangs in the ball python's mouth. The teeth of them are inwardly set and pretty small. There are many teeth, almost 100. Ball pythons are non-venomous and thus they do not have fangs.
More: