Now, if you are reading this then you might have decided to shop for the Leopard gecko and keep it as your pet. So you must be aware of the fact that they are amazing pets.
Also, not only this they are easy to be taken care of they are also friendly and fascinating. We see that before you shop your pet you must be aware of the requirements and the various things like how to handle and tame it, how to set up the home for it and all that stuff.
This is important to keep your pet in the best of conditions. Next thing that you need to do is find where you can get a leopard gecko and also know that it is a healthy one.
This article is for the new owners who are not aware of what things they have to consider while buying a leopard gecko. If you are a beginner then buying a leopard gecko which is unhealthy would be very challenging for you.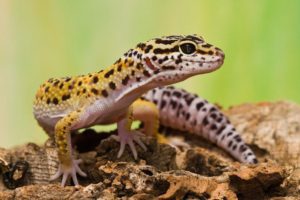 Before buying the Leopard gecko
You need to ensure that before you bring your new pet home you have to complete the set up where the Leopard gecko is going to reside.  This might take a time but you have to ensure it is properly maintained so that when you bring it home you can directly place it in there and it feels safe and comfortable.
Where to purchase a Leopard Gecko?
If you are not aware of where you will get the leopard geckos easily then you should read the below points:
You can get it at a pet store. The chain pet stores also sell reptiles but it is better if you purchase it from a reptile shop.
You can get it from the local breeders as well.
Online is also one of the options. You can look for the people online who sell the leopard geckos near your area and you can even find those who are selling their older ones.
You can even search out websites which are for pets. There are a lot of people who no longer want to keep their pets and sell them off.
Choosing a healthy Leopard Gecko:
When you are looking for a Leopard gecko as a pet you need to consider the following points so that you bring home a healthy one instead you would need to give extra care.
The healthy ones have a plump belly and thick tail. The tail is fleshy because they store fat in there. If the Leopard gecko is unhealthy it would have a thin tail.
The gecko which is overweight will have a large belly that would touch the floor when it walks. Also, make sure that if you are shopping a leopard gecko it should mot be addicted to aby worms supposedly the waxworms because it would not eat anything other than that.
Leopard geckos have a metabolic bone disease in common which is due to malnourishment and the wrong diet. Of you notice bent limbs, improper shape then it definitely suffers from that.
You need to check that the eyes of the leopard gecko are clear and that its skin is also smooth without any cuts.
Try to get proof regarding the health of the Leopard gecko you are byuing.
Basics for buying a Leopard Gecko
It is very important that you do a lot of research when you are buying a new leopard gecko. So some of the basic things are listed below:
The leopard geckos are the creatures which will fight if kept together and no matter what you do they won't stay silently in it.
You don't have to get a loose substrate for your pet because if you do so the things will end up badly and it might ingest it. This will cause impaction which is a serious disease and might also lead to death.
Lamps are also necessary because they will help you manage the temperature and they will not at all harm your gecko.
Things that you need for the tank
The tank should be about 20 gallons for the adult leopard geckos.
A 10-gallon tank would be sufficient for the babies
You require three hides which include cool one, warm one and the moist one
There should be under tank heater that is present on the hot side of the tank
One dish to keep water.
A substrate.
Leopard geckos need hide as well as lights so that they can regulate their body temperature. You will need to set up 3 of them.
The leopard geckos cannot climb up on smooth surfaces so you need to ensure that you accommodate them with the proper things.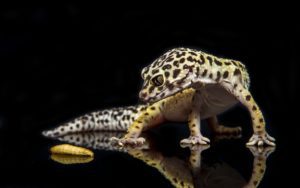 Setting up the enclosure
The first thing is to get a suitable tank or a terrarium for your leopard gecko.
Next, you need to build a minimum of three hides in it which will provide them with a different range of temperatures
Also, one side of the tank should be hot while the other should be cold. This is because your pet needs a warm side in order to carry out the shedding process.
The hot side of the tank should not be more than 88-92 degrees. You can even provide an under tank heat mat that will maintain the warmth.
If you are using the under tank heat mat then you should not use the lamp as it will get too warm inside.
You do not have to get the loose substrate. This is to be taken care of especially in the case where you have a young pet. This is because your pet can digest it accidentally and it can harm its digestion system leading to impaction. This is a serious health concern. You can use paper towels or reptile carpet.
Another thing that is very important is that you do not have to keep the Leopard geckos together regardless of gender. This is because it is a dominant species and might get into a fight and harm each other. One of them will be one dominant one and will surely harm the other. Also, you will notice that sometimes they get into serious fights even killing each other.
These are insectivorous species so they will not eat fruits. The diet you provide them should involve crickets, insects, mealworms, and even the super worms. The diet must be gut-loaded. You can give wax worms and hornworms as treat once in a while. Do not give them often otherwise your pet won't eat anything else.
It is very essential to always contact a vet. In case of anything that you notice is not natural or normal you should contact a vet for help.
You should feed the babies every day. But as they get older feed them once in 2-3 days.
Do provide them with supplements like calcium, Vitamin D3. This will ensure that the amount of calcium required by them is provided and it does not die of deficiency.
Also, while you are about to handle your pet make sure you do this after some days of bringing it home. This is because it needs time to adjust to the new surroundings and it also feels scared.
So let your pet get comfortable and after that, you can start with the handling process. Every leopard gecko takes its own time to be tamed. So you don't have to rush or force it. If you find that it is getting aggressive you should leave it.
Also, leopard geckos shed as like the other reptiles so you might notice a different behaviour at this point of time. Also, take care of the temperatures are appropriate.
Conclusion
The most important thing when you bring home a pet or a Leopard gecko is that you need to give it all the requirements so that it feels comfortable. They live for about 15 years so you can take care of them and make it worth it.