Rabbits are pets that do not bite their owners. They are friendly in nature and thus they are quite loved by their owners. They do show much affection to their owners and often act friendly so they are counted as good family pets.
Can the rabbit bite you?
Rabbits may bite when it is feeling different emotions. It is not always due to aggression but it can also show some kind of merriment. It may feel like drawing your attention or if it wants to surprise you.  Treat it like a friend and accept its behaviors to understand its temperament.
It may bite your finger, your arm, or even your dress or pant. This can be the mere communication method of your rodent pet and you should respond to it positively.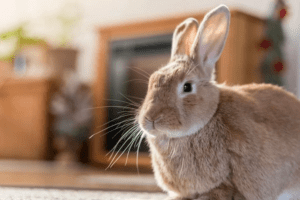 What happens if a rabbit bites you?
As rabbits have sharp teeth, when they bite it may hurt you or even it can bleed. Check if the wounds are deep. Usually, they are not deep but they can be painful. If the cuts are not severe, there would be no need for medication.
Check the bites and make sure that the bitten parts do not get infected. In case of infections, you may need to take antibiotics. However, a tetanus injection is all you need to stay safe in case of any animal bite or scratches.
Are rabbit bites harmful?
If it's a child or a sick person then the rabbit bite may become severe for them. You need to make sure that the bitten place is washed and medicated immediately. But rabbits are friendly and do not bite easily so you need to check how long the kid is with the rabbit alone.
If the kid is too young then it can irritate the rabbit or the pet may feel that it is threatening. Rabbits may bite when it feels attacked and that can happen when the kid is around. Do not let the kid play with the rabbit unless you are sure that there is a friendly bonding between the two. Also, teach your kid to not hurt the rabbit if possible. Too young kids should not be left alone with any pets, as they can harm each other.
Is tetanus mandatory after a rabbit bite?
When the skin is broken by the rabbit bite, there can be a chance of getting any kind of infection through the opening. Tetanus is one such kind of infection that may attack you with such open cuts. But if you have to take a shot of tetanus anytime within the last 5 years then it may not be necessary.
If the skin is broken and it is bleeding a bit, then you should go and get the cut checked by a doctor. It may get recovered with some lotion or topical ointment.
Can a rabbit bite cause rabies?
Rabies is a common disease when getting bitten by dogs, monkeys, and some other animals. But when it is the biting of rodents and other small creatures like rabbits, gerbils, chipmunks, rats, or mice, then there can be chances of several other diseases but not rabies. So you can be assured that your pet rabbit can never cause you rabies by biting.
Are rabbit bites painful?
Bites from any pets or any creatures for that matter can be painful if left untreated. If it is a serious cut then you should apply for medicine after washing the area promptly. With a minor cut where there is no mark on the skin then you can ignore it after doing the first aid.
If the cut is deep then you should wash it with warm water and liquid soap and then apply some medicine to cure the cut.
How do cure the rabbit bites when it is bleeding?
Seeking medical care is a must if you see there is a cut mark on your skin from a rabbit bite and it starts bleeding. Your pet may not carry germs of any vital disease but still, you need to stop the bleeding of your would. Wash the place and apply some bandage with some medicine put on it to the cut spot.
If you find later that the wounded area is swelling or the side area has become red then it may need to be checked by the doctor. Redness, swelling, or oozing of the puss can be signs of infection and it needs serious medical care.
Are rabbit bites infectious?
If your pet rabbit has bacteria then it can be transmitted to the one whom it bites through the cuts. Even scratches can carry the infections or bacteria that the rabbit has. There is one common bacterium that is called Pasteurella multocida which is often transmitted by the bites or scratches of the rabbit, so the one who gets attacked by the rabbit bite should be careful about the symptoms.
Does rabbit carry diseases that are transmitted?
Rabbits are much low at risk when it comes to transmission of several diseases from the pets. Staying aware of the cuts is important though. You should take proper care of the health of your pet rabbit and also need to make sure that the rabbit does not get an infection from any bacteria. For that, you have to pay special attention to the cage interior and the cleaning of the pet.
How powerful is a rabbit bite?
Though rabbits do not attack with much force or aggression, there can be much force in their bites if they chose to attack. The bite force of a rabbit can be 70 Newtons which is quite fierce. This is much less force than the bite of a dog but it is almost equal to or sometimes more forceful than the bite of a cat.
Why does a rabbit bite hurt so much?
Rabbits are not usually attacking nature but they can bite for several reasons. They can feel threatened due to territorial reasons or can feel aggressive when they are threatened by some external cause. They can also feel afraid and anxious and if they get to meet some person at this point then they may bite him or her.
However, the biting tendency of the rabbits depends upon the individual pets and some of them actually can bite their owner for some small reason. As much aggressive or fearful as they are, the bites will be as much pain. So you may expect much pain when the pet rabbit tries to bite you.
Can you punish the rabbit after it bites you?
Training the rabbit is not a very easy job. There are several ways of punishment but the rabbit does not deserve any for biting someone. Their tension or anxiety or depression is expressed through their bite and thus, the cause of such negative emotion should be treated.
However, if you feel that you have got one naughty rabbit, then you can do something that may help it to learn good behavior. Putting the index finger on its nose gently but firmly so it puts down the nose is an effective way of punishment. If the creature has done something not so appropriate then you may command it by saying "No" and putting the nose down.
Also, you can voice train the rabbit and say "No" when it tries to bite your finger or maybe the finer or another part of a guest or a friend.  This way you can eliminate the biting habit of your pet rabbit.
Do wild rabbits bite humans?
The temperament of the wild rabbit is completely different than that of a domesticated rabbit. The wild one is an untamed and independent creature. When it feels scared or threatened for some reason, it may and surely will bite the predator.
They do not have any special attention or feeling for the humans like the pet ones. So they would take the humans as their predators, like other bigger creatures in the jungle, and in the form of attacking for defense, they may bite them.
How can you confirm that the rabbit bite causes rabies?
Rabies is very rarely found among rabbits. But then it is not impossible for the rabbits to carry this disease. However, before getting bitten by a rabbit with rabies, you must treat the pet first to get cured of this illness itself.
The primary symptom of rabies is difficulty in swallowing. Other symptoms like too much salivating and slobbering everywhere should be taken seriously. These can be seen along with other issues like difficulty in movement and sometimes it can be as vital as partial paralysis. The affected rabbit may also seem to change in behavior as they would be more irritated and aggressive.
You should not ignore the pain of the pet rabbit first, let it get checked by the vet, and then get the right medicine. If you get bitten in this condition of the rabbit, then you should also get an antibiotic shot to cure rabies in your body. When managing this pet, you can check with your doctor if you should need to have any vaccine against rabies as the affected pet anytime may bite you.