It is important for pet owners to know if their pet loves to eat strawberries or not before feeding them. In this article, we will look at do the turtles eat strawberries? If yes, then how they are fed, and what else can be fed to them.
Strawberries for turtles
Turtles absolutely love strawberries and they enjoy eating them. Apart from strawberries, you can even feed the turtle's different kinds of berries, strawberries, raspberries, guava, banana, and even papaya.
The turtles also enjoy the varieties of melons like watermelon, honeydew, pears, apples, and even cantaloupe.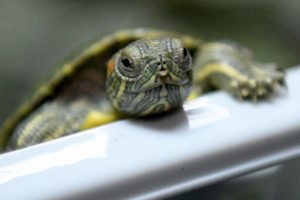 Knowing about your turtle
There are various kinds of turtles and you can easily feed them veggies and fruits. But before you feed them it is essential that you see the type of pet you are having and take it to the vet to know the most appropriate kinds of food for it. Also, there are so many different species of turtles it might get difficult to know what kind of turtle one has.
To solve this problem it would be better off if you would shop the turtle from a pet shop because when you shop it from the store you will know what kind or variety of pet you are shopping for.
The healthiest vegetables
There are so many vegetables out there that you can shop and feed your pet, like grated carrot, cooked corn, squash, and a lot of other vegetables.
As in, almost all kinds of turtles consume leafy vegetables like mustard, lettuce, watercress, dandelion, parsley, collard, and much more.
Aquatic plants for the turtles
If you are adding aquatic plants to the turtle's tank then you can know which are the plants that your pet loves to eat. Normally, the turtles love to eat plants that can easily float like the water hyacinth, water lettuce, frogbit, duckweed, and a lot more.
Turtles also enjoy anacharis that is also an underwater plant. So, you can even plant those plants that your pet loves to eat so that you can easily maintain a good food source for your pet.
Live animals
Along with the vegetables your turtle would even like to eat live insects like snails, insects, creatures, and fish. If your turtle lives in the pond then it is most likely to eat the live insects. You can try some species by putting them in the tank and check their response.
If you are in doubt about where you will find such species then you will be delighted to know that these are easily available at various aquarium stores. You can try feeding earthworms, goldfish, rosy red minnow, guppies, little fish, and even crickets.
Feeding container
It is a great idea to use a separate container for feeding your turtle. You can keep the tub filled half with warm water and add some strawberries to it. You can even add some fruits and vegetables to it. Your pet is going to make a mess of it. If you feed the pet in its own tank then the water will become dirty soon. You can still do this, but you need to see that you have a good cleaning system. Turtles can be fed after a gap of 2-4 days.
How often should you feed the turtles?
If you are having a baby turtle, then you should give it food every day. If the turtle is an adult then you can feed it two to three times a week.  You can even offer food to your pet daily if you want to, but you need to see that the turtles overeat so feed them accordingly. Learn more on how To Feed Box Turtles And How Often?
Along with this, you can surely feed your turtles strawberries. You can add the strawberries as a treat to the other components in your food and provide your pet the healthy diet that it needs. If you provide a healthy diet to your pet then it will lead to a long and healthy life.
Ways to feed your turtle
The aquatic turtle can eat food when it is in water. This is because to eat any food it is to be first submerged in water. You can put the food in a dry place in its home, and it's very likely that it would drag water close to it prior to eating.
It is a better option if you stay close to your pet when it is feeding. This is because then you can remove the food that it hasn't eaten for a while. If the turtle is aquatic then you can leave it in water. Also, the live animals or insects that your pet doesn't eat, you can put them back in storage and feed them the next time.
If you have newly purchased a turtle then you will find that it might take some time to adjust. It would be better to leave it alone for some time till it becomes accustomed to the surroundings.
Conclusion
Do research on your pet and see the things it likes to have and what else you can feed it. Moreover, it likes strawberries and you can feed them.
More: