The bearded dragons have the scientific name Pogonas and belongs to reptile family. The dragon has a beard on the underside of the throat which can change colour to black due to the stress. They are generally found in deserts, shrub lands and eucalyptus woodlands of Australia.
There are almost eight to nine species of bearded dragon and several of them are kept as pets or are found in zoo under their natural habitat. They also go through a type of hibernation called brumation. In brumation reptiles go in hibernation mode for months without eating food but they do drink water sporadically.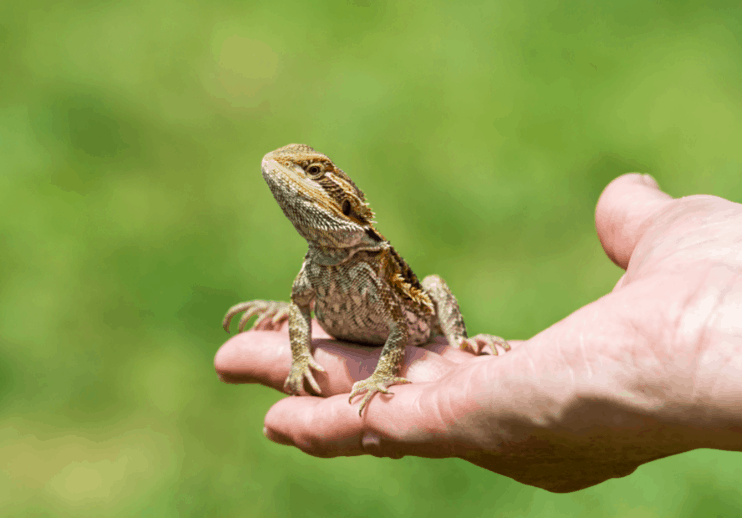 Bearded Dragon costs – How much it costs to own a Bearded
Keeping a bearded dragon is an expensive task. The cost of keeping a Bearded Dragon can be discussed as follows:-
The most expensive thing for a bearded dragon is its house or the enclosure which can costs in between $50-$300. It price depends upon how big or small the enclosure (aquarium) is. The price can even increase if you go for a customised aquarium.
The buying of the bearded dragon also depends upon the age and type. If the bearded dragon is baby they cost less around $25 to $60 and the bigger ones are sold up to $100.
Sometimes you may need additional heat sources to give enough heat to your pet for this you need to attach additional heat source which will cost around $15 to $30.
Thermometer help to maintain a healthy temperature in the habitat of the bearded dragon which will cost more than $30.
The supplements such as Vitamin D3 are given to them in order to absorb the calcium properly. These vitamins and supplements costs around $5 to $15 for a supply that lasts for several weeks and several months.
As we know that bearded dragons are sensitive pets and they need lots of care and attention and sometimes you may need to hire a vet for special attention and their fees may cost up to $25 to $100. So it is generally recommended to take insurance plans for them to cover their medicine costs and check-up costs of the vet.
If you want to spay or neuter the bearded dragon then the cost will be minimum of $ 100 and can go up to $1000.
The monthly food and supplies of the bearded dragon can cost up to $35 to $75, which depends upon, the age and size of the bearded dragon and the quality of the food fed to them.
The habitat also were filled with furniture or decoration stuff such as plants that costs around $10, a water dish which costs around $5, a hideout place which costs up to $14.
For replacement of the lamp bulb in the habitat that are yearly replaced can cost $15 to $20.
A tank hygrometer is also required to maintain the moisture content in the aquarium and this usually costs around $20.
The diet of the bearded dragon for a week costs up to $5 to $20.
UVB lighting is also provided in addition to heat lamp as the bearded dragon habitat needs UV light too. The range of these UV lights are up to $10 to $50 or even more depending up on the style, size and fixtures or other items included in the setup.
The substrates are used to cover the floor of the habitat and the cost of the substrate varies, depending on what type and quality that can cost up to $5 to $15 per bag.
The high quality of power strip with built-in timer can cost up to $25 to $50 as these power strips are a smart idea where you can invest the money in order to handle all the plugins.
Rocks and Driftwood perch are used in order to decorate the vivarium of the bearded dragon that costs up to $6 to $15 as these items are provided in order to give a touch of the natural habitat.
The cost of bearded dragon is quite high and the maintenance cost is also very high as these bearded dragon needs lots of care and attention, for this you need to hire the vets and also to maintain their vivarium you need to buy lots of stuff in order to get a natural and healthy habitat.