The rabbits are the pets that are popular throughout the world and which is why you need to make sure that you provide them with the best of everything so that they can stay a happy and healthy life. Also, the rabbits need lots of love and care so that they do not live a stressed life which will cause various health issues for them.
You need not only to take care of their physical health, but their mental health for them is equally important also for that you need to do some kind of enrichment activities for your rabbits so that they can grow up into a healthy pets, and also this will even make the owners happy.
In this guide on rabbits, we will discuss the topic and that is the various Enrichment activities for rabbits so that they do not face any kind of boredom and also channel their energy in a positive manner. So you need to make sure that the enrichment activities that you will choose for your rabbit should be safe and comfortable for them.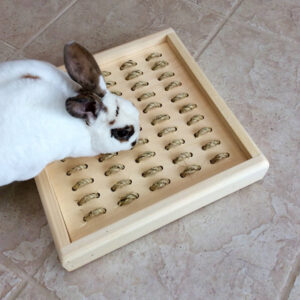 What do you mean by enrichment activities?
The enrichment activities are the activities that will channel the energy of your rabbit in a positive manner. With the help of the enrichment activities, the rabbits are able to learn lots of new things or tricks and through these activities, it also becomes easy for the owners to train them in a proper manner so that they can use their intelligence in a better way.
The enrichment activities will help them to develop both mentally and physically manner. The rabbits will be able to learn and understand things in a better way with the help of these activities and also they will turn into a better form of themselves which is why enrichment activities are very important for them. Also in this manner, they will have both mental and physical stimulation and they will not do anything destructive.
Enrichment activities for rabbits
There are various enrichment activities for the rabbits that you can organize for them for their betterment and also for their betterment are listed below:-
1. Chew toys
The chew toys are the best way for your rabbit in order to perform the enrichment activities and also it is easy to get the chew toys for them from the market or you can create them yourself with the help of the cardboard. As we know that rabbits like to chew a lot so it is very important to get the chew toys for them because this will help in keeping them away from chewing other things in the house.
So that is why it is a good activity for them which will keep them busy and also they love chewing various things. But make sure that the chew toys that you will get for them are safe for them and will not cause any kind of problem for them and even the rabbit should like chewing on it.
2. Foraging
Foraging is another enrichment activity for your rabbit is very good for your rabbits because it will help them to apply their brain and also will they use their physical movements too. In this activity, you need to hide the food of your rabbit so that they will search for it. It is very important for their overall growth so that they can put some effort into doing various activities.
As we know that the rabbits love to eat and definitely they will try their best to get their food as fast as possible, so that is why foraging is a good enrichment activity for your rabbits. Make sure that you hide the food in such a place where they can search for the food without getting hurt and in the end they are also able to find it. Make sure that they are not in danger when they are searching for their food, keep them under your observation.
3. Create a rabbit tunnel
The rabbit tunnel is also something that rabbit loves to play with. You can either get a tunnel for them from the market or create one by yourself with the help of material that is available at home. The rabbit loves to move in and out of the tunnel and they enjoy doing this, again and again.
In this process, you will notice that they will stay physically fit, and also this is the best way in which they can even pass their time and kill their boredom. The rabbits even use it as a chew toy because they will chew on anything that they will get. So tunnel is a great enrichment activity for your rabbit which is enjoyed by them a lot and even you can sit and watch them playing with it and even motivate them.
4. Digging and burrowing
As we know that rabbits like to dig and burrow a lot, so this is one of the activities that you can let them perform. This will help them to stay closer to nature and also they will enjoy this because this is something that they will do if they would have lived in their natural habitat. The rabbits live in burrows when they are in the wild so this is one of the main reasons that you should take them out for the digging and burrowing activity.
Also if you are scared that if you will take them outside it can be risky then you can get a sandbox for them and they can do the digging and burrowing it. Though this activity is kind of messy you will notice how happy is your rabbit and how they are enjoying this enrichment activity. Make sure that you are around them when they are performing this activity so that they do not get hurt.
5. Backpacks and harnesses
When you want to go out and want to take your rabbit also along with you for a walk or for some nature exploration, you should use backpacks and harnesses because this will keep your rabbit comfortable and also in your control. The rabbits like to roam a lot and in this way you can stay with them and explore with them in the nature but make sure do not to let them out of their sight.
As the rabbit does not like the car rides so this is the best way to take them out and let them be and you are at their side. They will enjoy this enrichment activity and will be very happy and even this will help them to develop both mentally and physically manner.
These are the various enrichment activities that you can organize or let your rabbit perform so that they can live a happy and comfortable life. Also by doing these enrichment activities they will not be bored and as we know that they are high on energy these are the various activities in which you can channel their energy in a positive manner, rather they will do something that is destructive if they are not guided properly.
Final thoughts:
The rabbits are fun to watch animals and also they are quite socializing pets you will notice that keeping them both physically and mentally fit is very important. The rabbits need understanding owners so that they can live a comfortable life and also they can get bets of everything. The owners should not only understand their physical needs but also their mental and emotional needs as the rabbits have to do the overall development.
The rabbits and their owners will be able to build a strong bonding when they will do various activities with each other as in this way they will be able to spend time with each other. Even with time the rabbit will also understand their owners and will not create any kind of problem for them and both of them will live at peace with each other and will also become best friends of one.