Box turtles are funny and interesting pet and they can be first-time pets for novices. They need minimal care and attention so if you want to add a pet to your life which can be kept at nominal cost.
Feeding them is not a problem as they can eat both plants based as well as animal-based food. There are certain restrictions that we have discussed below, but apparently, the box turtle can be kept and maintained easily in a regular household.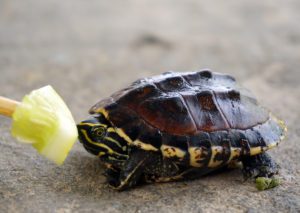 Their main food, fruits and vegetables:
Though these creatures can eat both animal and plant-based food, they can consume a wide range of fruits and vegetables. There are certain things that you should keep in mind while offering food to your boxed turtle.
Dark green vegetables are good for boxed turtle. You can offer them mustard greens, dandelion greens, parsley, escarole and kale safely. Also, green beans and cabbage of any kind will be suitable for them.
Do not offer them greens that are high in oxalate content, as this is the ingredient that binds the calcium and prohibits the absorption of it in the body of the box turtle.
Fruits that they can eat:
Safe fruits for box turtles are papaya, grapes, raspberries, blackberries, cherries, apples and cucumbers. There are some items like broccoli, cherry and cucumber which can cause diarrhoea if fed too often or in high amount, so offer them moderately. The same goes for strawberry and watermelon, which are loved by the turtles otherwise.
How you can feed vegetables and fruits to your box turtle?
The fruits and vegetable that you offer should be fresh and pesticide-free. Clean the items before offering them to the turtle. It is best to offer only organic items to your pet turtle.
The food that you offer to the pet turtle should have the right balance of calcium and phosphorus. The ratio should be 1.5:1 or 2:1. Now it is difficult to check the ratio in every food item, but you must check the overall diet of the food. The total food items should be checked so the right proportion of calcium and phosphorus is taken by the box turtle.
Foods that are high in one particular mineral should be fed moderately and for that, the owner should know the nutritional value of each fruit, vegetable or animal-based food that are fed to the boxed turtle. For example, a banana is such a fruit that is loved by a boxed turtle, but it has a high amount of phosphorus. So it should be fed moderately and never be included in the daily diet. Or else it will destroy the proper ratio of the boxed turtle's requirement. Also check out for these?
Which insects are foods for box turtle?
As box turtle also love to gorge on animal-based protein, the only form that they can have them is bugs and insects. They can eat them in raw form, so try to offer them live insects. Turtles are hunting creature when they are in the wilderness, so you must leave some live insects in their terrarium, so they can hunt and eat the prey.
If you prefer to keep the turtle outside and let them eat the free insects from the backyard or the garden, then you need to be more cautious about the condition and amount of the food.
The insects that are available outside can have pesticides on their body, which is sprayed by you most of the time to keep the garden pest-free. Now if the turtle eats those insects that have the chemical on their body, they can fall sick.
Another possibility is that the box turtle may not get enough insects in the garden and that way it will remain half-fed. This is not a healthy condition and you must not let it stay starved for days. So you should make sure to keep it well fed by providing the right amount of food like vegetables and insects at right time.
If you are not using any kind of pesticide then also, there can be mites or some not so useful bugs roaming in the garden that can be eaten by your pet turtle. This is a possibility that can get the pet sick.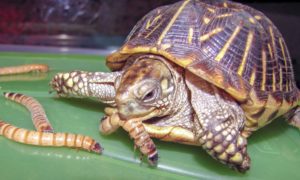 Safe insects for box turtle:
Now we will mention the name of the insects that are safe for the box turtle. Those are beetle, caterpillar, mealworm, cricket, earthworm, grasshopper, wax worm, super worm, snail, slug and red worms. All these should be availed from a renowned pet shop and kept in proper condition so the box turtle can have these insects at their daily meal.
How much the box turtle should be fed?
Box turtles should be fed three times a week when they get matured. Though this is a general direction, you must consult the veterinarian before feeding the turtle these many times. Also, there should be the right kind of food, and you must check the availability of the food that you can feed your box turtle with.
The case is not the same for the juvenile or the baby box turtles. As they are growing they need much frequent feeding. Your baby box turtle needs to be fed daily and also the food should have a good amount of calcium for its healthy growth. Vitamin supplements also should be added to their food.
What is the best thing to feed the box turtle?
As box turtles are carnivores they should have a balanced diet of vegetables as well as a low-fat protein food. They can have low-fat dog food which comes in canned form. There are various protein foods like earthworm, mealworm, beetles and crickets that can be fed to box turtle. Check out these best food for Box Turtles.
What cannot be fed to the box turtle?
There are certain vegetables that are harmful to the box turtle. You should never feed your turtle rhubarb, potato or tobacco plant. Also do not feed them the leaves or vines of tomato, poison ivy or any parts of avocado. The seeds, fruit and leaves of the avocado plant are not safe for a box turtle.
Which items can create a problem for the box turtle?
Other than toxic plants, there are certain food items that are great for humans, and those are tasty too. But when we keep a pet, we must remember that their digestive system does not work like ours. So we have listed certain foods that are really harmful to box turtle.
Dairy products:
Box turtles can consume and digest those foods that are available in their natural surroundings. They are not mammals, so they do not have the capacity or habit of digesting milk or milk products at any stage of their life. Also, they do not get milk to drink in their natural habitat, and thus their physiological system is not compatible with milk or other dairy products. You cannot feed them yoghurt, cheese or any form of dairy products.
Processed food:
If you are a busy person then you must be depended a lot upon the food that is canned. These foods make our life easy but you cannot offer these kinds of foods to your pet box turtle. There are certain preservatives present in these foods which are harmful to both us and the turtles. Also, these foods mostly contain a high amount of processed or refined salt that is not healthy.
Eating these foods can be our choice, but if we offer these foods to our pets, they might eat them and get sick. So it is a better decision not to offer them such food. The list also includes candy, chocolate or other treats which are not at all healthy and may cause various kinds of sicknesses in our pets.
How long the box turtle go without feeding?
The time limit that a box turtle can survive without food is quite long, and that is nearly 4 months. They can live by burning the fat that is stored in their body. But there should be a supply of water and they must drink to stay alive through this period.