The typical kind of reptile called Jackson's Chameleon is found at the area within Africa. In the wilderness of this tropical forest along with various kinds of weird creatures you will find Jackson's Chameleons. East Africa has quite a few of them in the tropical forests. They are named after the famous ornithologist Frederick Jackson.
How Jackson's Chameleons look like?
These chameleons are brownish in color and they get into a shade of bright green once they grow up. They get fully matured when they are 5 to 6 months of old.
You can also see blue or yellow marks on its yellow body. Also small brown horns are sometimes found on the male chameleons. They live up to 5 to 10 years.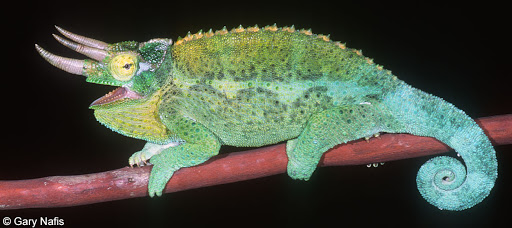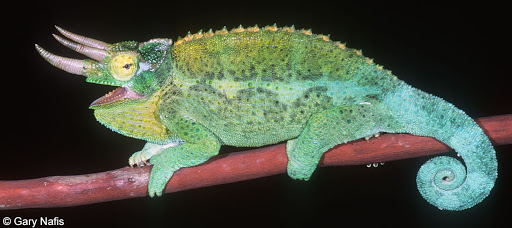 How to Care for Jackson's Chameleons?
Jackson's Chameleons is quite territorial in nature. They are not supposed to live together in the same cage. They prefer to stay alone other than the time of mating.
You must not handle them too much as they do not like to be handled. This actually stresses them a bit when you touch them more often. You must keep some vertical space in their terrarium as that is necessary for their living. You can learn more of caring for baby Chameleons here.
Housing of Jackson's Chameleons
Most of the users keep the Jackson's Chameleons in glass terrarium. Fiber glass or fine mesh may not be so much advised for them.
You must allow the cage to be well lighted and also fresh air should pass through it. This will prevent any kind of bacterial growth inside the terrarium.
You can keep the cage in the natural light if the temperature outside is not very less. Jackson's Chameleons stay healthy when they get to live in sunny and warm weather. However, overheating is not recommended as it may harm them severely. When you fix a heating arrangement in their cage, you must know when it should be switched off.
Plants in the terrarium
Non toxic plants are good option to be kept inside the terrarium. You can keep some live plants on the cage of the Jackson's Chameleons as it will make them feel stress free and homely. Chameleons love to explore the high branches of the plants or any other places that can be climbed on.
The plants that you place inside the terrarium must be of good strength so it does not break off when the reptile climbs on it. Also make sure that the plants do not contain any toxicity as the sap may become harmful for this reptile.
If you are not able to get any natural plant to keep in the terrarium, use artificial ones. The tree should have good number of branches and look natural. There should be more than one type of plants and they should be of different diameters so the chameleon finds it exciting to try all the types of branches to climb. Also they climb different heights to get accommodated with different level of temperature.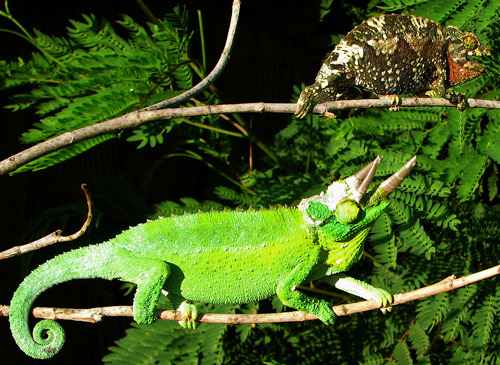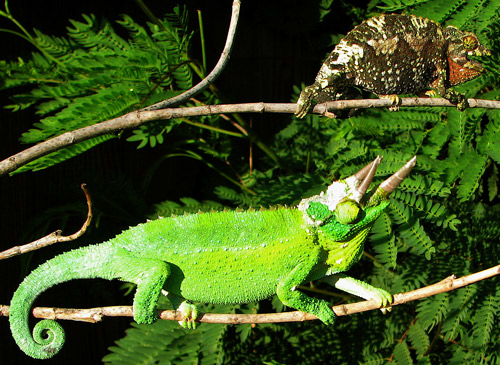 Importance of cleaning of the terrarium
It is not hard to understand that cleaning is of foremost priority. Bacteria, fungi as well as mold growth can be disastrous for the health of the Jackson's Chameleon. You can use paper towel or some healthy kind of substrate on the cage of the Jackson's Chameleon.
Peat moss is a good option for substrate as it keeps the humidity at a good level. Also you should select the substrate that will be easy to clean. There should not be wood chips allowed as substrate as that can be devoured by the reptile. You can guess the fatal consequence of such happenings.
When can you feed Jackson's Chameleons?
As the pet owners already know, Jackson's Chameleons are insectivorous and they gorge on many different kinds of insects. Crickets are one of their favorite meal items. Other options are mealworms, super worms, roaches, wax worm (limited numbers) and fruit flies.
Grasshoppers are also in the list of their chosen and edible insects. You can get the insects sourced from online portals or from super market. Those who have a backyard and can get ample insects from the garden are warned, that when you feed those stray caught insects to your chameleon, make sure that there is no trace of pesticides on the insects. The poison may be devoured by the pet chameleons along with the stray insects if you use any in your garden.
Any insects and worms that you feed the chameleon must be gut loaded to add the extra nutrients so the chameleon gets full goodness of its meal.
Fireflies are not a good option to feed Jackson's Chameleons, so stay away from it. Also make sure that the reptile does not eat them when it is let free to roam on the garden.
Sometimes some Jackson's Chameleons have seen eaten a bit of plants that are there in their cage. So you need to be sure that the plants placed there are not of any toxic quality. If you like to feed the chameleon some greens then the options are turnip greens, sugar snap peapods, mustard greens and collard greens. Do not be disheartened if the pet refuses to eat any of them as not all the Jackson's Chameleons like to eat greens, and that is absolutely okay.
How much should be fed?
The amount of food differs with age, size and weight of the Jackson's Chameleon. So you need to give it a certain amount of food to see how it reacts. Keep a check on how much food it eats and how much is left. You must make sure that the uneaten food does not remain on the cage, as that can be harmful in many ways to the reptile.
As Jackson's Chameleon are fond of live insects, if you leave them unattended and uneaten inside the  cage hoping the reptile will eat it later, then it can be dangerous. Those insects can bite or irritate the reptile which is not at all desirable.
Heating arrangement for Jackson's Chameleons
As we discuss the heat requirement of Jackson's Chameleon, it must be remembered that they live naturally in a heated area. So the temperature of the terrarium should be 70 to 80 degree Fahrenheit at the daytime.
The basking spot should remain warmer than the rest of the terrarium, so it should be 85 degree warm.
At night, they are used to sleep at 40 to 45 degree Fahrenheit so you can switch the heat source off at nights. This is the normal temperature inside our house so no extra heating source will be required.
Incandescent light is a good source to offer heat to the Jackson's Chameleons. You should use a reflector to increase its effect. Also a ceramic heating source will do a good job to keep the terrarium warm.
Do not make the mistake of keeping the heating source inside the terrarium as it may burn your adorable reptile chameleon. They are small enough to get burnt and in search of more heat they can often go near to the heating source. So avoid the accident by keeping the heating source out of the cage.
Importance of light for Jackson's Chameleons
UV and UVB rays are also a mandatory requirement to keep the Jackson's Chameleons healthy. The light rays should be full spectrum, so you must get a good quality bulb for this purpose. The bulb should be on for 12 hours a day to get the maximum effect of these rays.
These bulbs do not give ample rays after 6 months so you must keep an eye on the health of your chameleon and change the bulb after certain interval.
Natural sunlight is also a good source of UV and UVB rays so you can keep the Jackson's Chameleon outdoor as much as possible. But be aware of the temperature outside. Cold weather is deadly for this reptile so even if it is a sunny day, does not let it roam outside when the mercury is below 20 degree Celsius.
How much humidity is important?
Humidity level for Jackson's Chameleon is 80 percent maximum but it should never be drier than 50%. A good way of keeping the terrarium humid is misting the plants placed inside.
Keeping a water bowl full of fresh and clean water is a good idea but Jackson's Chameleons are not a lover of water drinking. They may get interested in drinking the drops off the branches of leaves of the plants inside the cage.
Also the misting on plants help the chameleons to stay hydrated. If you do not mist them chameleon and the plants regularly, your pet may face dehydration anytime soon.
Illnesses and hazards of Jackson's Chameleons
As we have already stated, dehydration is one prior problem faced by some Jackson's Chameleons when they do not get enough humidity or water in their system.
Parasites are also one of the main causes of illness among the reptiles like chameleons. You should be aware of the health condition of the reptile and if you see any scar or change in the color of its body, or lethargic attitude, then take it to the vet and get it checked.
Respiratory infection due to impaction of substrate or cold weather is another very common ailment found in the Jackson's Chameleons. Keep it protected in time of winter and make sure that the heating element is working fine.