For the beginner snake owners, ball pythons can be an easy pet. They come in various colour morphs that make them alluring to even the experienced snake owners. Feeding them is, however a problem for most of the owners.
When it comes to the items which are usually fed to the ball pythons, there is a difference between the items that they eat when they are in wild and when they are captivated. Like any species of snake, ball pythons eat mice and rats, whereas the young and small pythons live on small insects, fuzzies etc.
According to some owners, it is good for the ball pythons to be fed with only different sized and aged rats and nothing else. Also, note that if you have baby ball python then you should follow this feeding guide.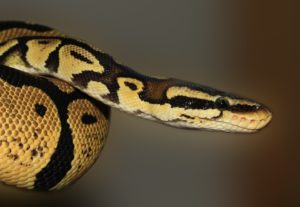 What to feed the ball python when they are in captivity?
Rats and mice are the common diets of the ball pythons when they are captivated. Also birds, chicken and quail can be in their diet. When the python is small, it can eat crickets and other small insects. To eat rats, they need to be fully matured.
How to decide the size of the food for the ball python?
This is a question that makes most of the owners confused. You can feed the ball python with any food, live or otherwise, that is in size of the widest part of the ball python's body. Usually, the middle part of the body of python is widest and that comes to around one inch in width. So the rat you will be feeding the snake should not be wider than one inch.
If the prey size is larger than this, then it may choke the ball python and regurgitation can happen. Also, the prey can get stuck at the esophagus part of the python which is a severe condition for the pet. So offering small creatures as prey is ideal for the feeding of the snake.
What to do when the pet ball python is not eating?
Ball pythons, when are in the jungle or in any natural habitat, then they hunt their prey. When we keep them secluded in a cage or terrarium, they get to lead a life of relaxation and they get the food at a time. If all other parameters are going right, then you can expect it to eat happily whenever you give it any food.
Is it alarming if the ball python suddenly stops eating?
Not eating food does not always lead to severe problems. When the snake is refusing to eat only a day or two, you can stay calm as they are perfectly healthy and normal. The digestive systems as well as the eating habit of snakes and other reptiles are pretty different from that of mammals. But keeping a track of their behaviour may help to understand the problem or the real situation.
When the snake is not eating properly, you have to be careful as long time starving can lead to several infections or even death. There are many ways to tempt the snake to eat, but you also need to seek the answer to its unwillingness to eat.
When the starvation is dangerous?
When the ball python is not eating for a day, and refusing more than two meals, then it shows that there is something problematic. You can make sure what is wrong with the digestion of the snake by guessing and understanding the below-mentioned causes.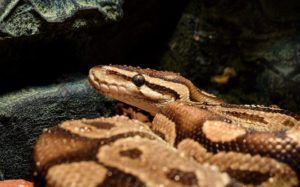 Ball Python Won't Eat? Here's Possible Reasons
Moulting
Usually known as shedding, the process of moulting is losing the old skin and getting a new one. When the ball python is about to shed the old skin, they may stop eating for a few days. You should check if the skin of the ball python has gotten dull and pale, as it will mean that it is going through the pre-moult anorexia.  Eyes of the python will also turn milky and blue when they are going through this stage. Week-long starvation is common in the case of moulting.
Hibernation
When the ball python, like any other reptiles, attempt to go to hibernation, they stop eating. Not all the snakes hibernate though, as the ones who live in a warm zone seldom feel the need for hibernation. But if you are living in a cool area, then the ball python in your home may hibernate in the months of winter and for that, they will gradually decrease eating. After a few days, they will completely stop eating and go to hibernate for some weeks.
Lack of care
If the terrarium or cage is in poor condition then there can be many issues of eating. The temperature as well as the humidity can be too low or too high which will lead to loss of appetite in ball python. You have to be sure if the ball python that you have kept as a pet, is a wild-caught one or a captive-bred.
There are differences as the wild-caught ones show more frequent signs of illnesses. There can be an issue with the appetite of the snake as well as other ailments. The reason being, they are not accustomed to the atmosphere of a closed terrarium.
New enclosure
This is a common issue when you change the inhabiting place of the ball python snake. The small one needs to be resettled in a bigger terrarium when it grows up and gets mature. But when they start to live in the new place, the change of the habitat makes them stressed and they stop eating. But this is not a persisting problem and they soon start eating after a day or two.
Offering different prey item
Sometimes the ball python gets bored of eating the same kind of prey. When they are in wild, they tend to hunt for whatever comes to their surroundings. The preys change as no snake can get to eat one single type of prey every day. But when they are in captivity, they are having the same meal every day as they are offered only the item that you can arrange for them.
So that can make them lose their appetite. You can try offering them different items which are not given to them on regular basis. If they are habituated with eating mice, offer them rat, and vice versa. Also, you can change the size of the prey which may help them to get interested in eating once more.
The wall
This is a particular time when the female ball python stops eating. After they get matured and weigh 800 to 1000 gm they stop eating for a few days. This is the time when they start getting their egg follicles. This time lasts for a few days and gradually they return to their normal routine. When you are seeing that the female ball python is not eating anything, offer it less amount of food and also decrease the times of feeding.
Daylight cycle
When the snakes are in the enclosure, they do not understand the difference between day and nights. The right light cycle is mandatory if you want to keep the pet happy inside the enclosure. Do not forget to imitate the duration of day and night cycle that happens naturally. When the ball python is in the wilderness they do not eat for 24 hours. Most of them eat in the daytime and stay calm and resting at the nights. But when you keep them in the enclosure and keep the light and heat source on for 24 hours, it confuses them and they get stressed. It affects their appetite as well.
Hideout place
The ball pythons need space to relax and move inside the enclosure, but along with that, they also need space to hide. There should be some hiding place inside the terrarium which can be formed by putting a cardboard box, or some stones. Some artificial foliage will also do. These hideouts make them feel safe and they do not get stressed out. When they are not getting any hideout in their enclosure, this may hamper their appetite.
Apart from these external and environmental causes, there can be several issues which are health-related. Ball python snakes face various health-related problems which make them eat less as they lose their appetite. Here are the details of such ailments.
Respiratory problems
Infections in their respiratory organs are quite common among reptiles like ball python.  They do not want to eat once they are suffering from any respiratory disease. When you find that the ball python is sneezing and saliva or some gluey liquid is dripping from its eye or nostrils, and then you can be sure that there is some respiratory infection causing it difficulty. Under this situation, they will eat less or stop eating, until they are completely cured. Take the pet to the vet to get it well.
Mouth rot
A very common disease among the pet reptiles, mouth rot causes loss of appetite. This is a particular type of oral infection that can affect, gum, tongue or another internal part of the mouth. You can understand the pain if you have gone through the toothache or sore gums. The pain in the mouth makes them eat less or starve as they do not feel like using the sore part of the mouth to eat the food. Taking the ball python to vet is the ultimate solution to cure this problem.
Worms
There can be worms in the intestinal part of the ball python that will result in loss of appetite. These microscopic parasites affect the intestinal part of any living organism and breed inside the creature. When they grow in number, it makes the python lose hunger. This one is hard to identify until you check the stool of the ball python, by smearing it or doing floatation. An exotic vet will help you to fix this problem and the snake will start eating its regular meal.
Impaction
Almost all the varieties of snake including ball python eat a mouthful or try to swallow some pretty which are bigger than their mouth size. This food, they cannot digest and it obstructs their food pipe. Also, this happens when they are not having water in adequate quantity. Obstruction and impaction can cause this choking and it will make them stop eating until the food that they have swallowed reached their stomach.
They can also stop faceting due to the impaction. You can give it a bath of warm water for 20 minutes daily or twice a day which will help them to facet and they will start eating in a normal way. Stool passing should be done regularly. So when it stops pooping you can give it a bath and ask the vet to give advice.
How to make sure that the ball python eats regularly?
You need to keep an eye on below-mentioned things to make sure that the ball python is having a good life inside the terrarium.
Check the temperature, humidity and substrate of the terrarium. The heat source should work properly to keep the python in good health. Also, the substrate should be comfortable. If you are using any new substrate and find that the python is not eating in the proper amount or the timing has decreased, change it. Bring back the old kind of substrate because it was more comfortable for the ball python.
The right amount of food in decent time is the thing you need to ensure. Do not give the food at a different time every day as that will make the snake get stressed and also it will lose its interest in food.  Make time for it and give the food at a particular time every day.
If the ball python is facing any severe health-related issue, you should be the first one to notice. Check it once in two days carefully to know if it has any swelling in any part of its body or it has runny nose or eyes. All these are symptoms of illness which should be treated at the earliest.
How long a ball python can survive without eating?
A ball python can be alive till six months after it stops eating. Not a single meal will keep them alive, as the body fat will help them in metabolism. If the snake is healthy and matured, then it can go longer than six months as well.