Bearded dragons have become quite trendy pets and people often seek to keep them as pets. They are easy to be maintained and much easy to get by. But if you think the common and regular bearded dragon is not your thing, then you can opt for some morphed bearded dragons.
These ones are pricey than the regular ones and also their requirements and life span differ from the regular ones.
The names of the morphed dragons are decided upon the fact-based upon the look and appearances.
The common ones are sand-coloured, tan coloured or beige coloured whereas the morphed ones are pretty different and distinct in colour and shades. Thus sometimes they are purple or sometimes they are albino morphed bearded dragons.
What is a morph bearded dragon?
When bearded dragons are selectively bred and the progenies come up with some specific colour, pattern and appearance. There is much-morphed breeding of bearded dragon. People who have a fetish for uniqueness often search for the rare and vibrant coloured morphed bearded dragons.
Best Varieties of morphed bearded dragons:
Based upon the texture, they are divided into some broad categories like Witblits, Leatherback, Translucent, German Giant, Dunner, Zero, Standard, Paradox or Silk back ones.
The colour variations are available in red, yellow, brown, and orange and white. Though there are various shading and difference in the colours of the morphed dragons.
Now we will discuss the best and most popular morphs of bearded dragons.
1. Classic or standard bearded dragon:
This type is also called the basic bearded dragon as they have the common look which is much similar to the regular bearded dragon. They can have different colours like red, tan, orange or yellow. There is no special gene found in this morph, so they behave like the regular ones, eat a similar type of food, and also follows a general lifestyle of bearded dragons.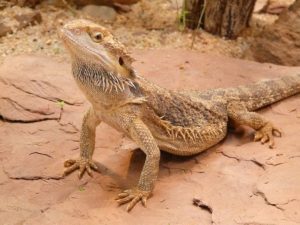 They also have small spikes on their back as well as the regular triangle-shaped head. They are not much pricey among the morphed bearded dragons. They are pretty similar to the wild-caught naturally found bearded dragon.
2. Leatherback:
This morphed bearded dragon is famous for its unique texture of back. They are pretty favourite morph for the breeders as well as owners. The most distinct feature of the bearded dragon is the smoothness of the back. There is no spike on their back.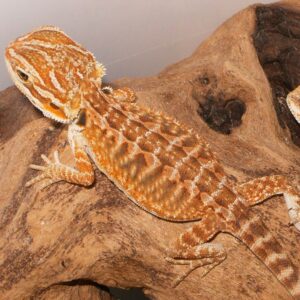 The smooth back of these dragons are spike-less and the colour, as well as the pattern, is well distinguished due to that reason. There are some spikes around the head though. Also, there are spikes around the body. But as the back is vibrantly coloured, these beardies are much in demand. There are a few variations like American leatherback or Italian leatherback. But nowadays these morphs had become obsolete as the characteristics of these morphs that originated in the USA and Italy have become indistinguishable. These ones are rarer than the classic ones so the price is higher.
3. Translucent:
The translucent morphed bearded dragons are named so as they have a transparent body. Their see-through spikes make them look really interesting and thus they are much in demand among the breeders and owners. They have the hypomelanistic quality in their body so they come always in some light shades.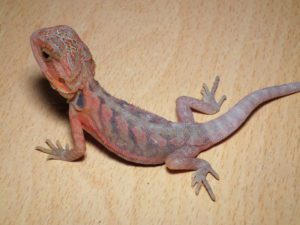 Their stomach is almost always much lighter in shade than the rest body part, especially when they are baby. When they get matured, they come up with dark-coloured eyes but without any visible iris. Sometimes they are seen with blue eyelids, which are unique and most distinct for this feature.
4. Dunner:
Kevin Dunner was the first breeder who had created this breed, and quite obviously this morph is named after him. The most distinguishable pattern that runs on their back is the unorganized and disoriented stripes present on their back. You can find the patterns and stripes through the whole body and that creates an appealing look. They seem to have speckles and spots, but not stripes, which is uncommon in bearded dragons.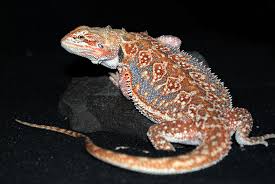 The dunners which are found in solid colours are not the ones that can be hard to distinguish from the other common bearded dragons or other morphs. Also, a few other features may help you to identify the dunner one. Their scales are arranged in a different pattern. The beard spikes on the neck are also downward in the common bearded dragon, but in dunners, the spikes can be seen pointing outwards. So the texture gets a different and heavier look. Sometimes the dunners are seen to hold the food while eating. They devour it slowly after holding it for a few seconds. The common colour variations of dunner are yellow and orange.
5. Hypomelanistic:
The most popularly called "hypo" morph bearded dragons are available in pastel shades. There are not much darker colours or pattern seen in their body. They also have clear and much identifiable nails which are not found in the other categories of morphed bearded dragons. They lack the presence of melanin in their skin which is responsible for the colouring of the skin. So they look much lighter in shade.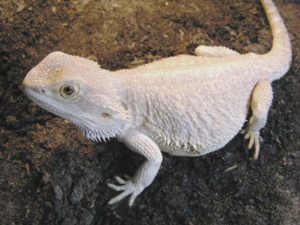 Sometimes the hypos appear in pastel shades, and the colour varieties of hypo-melanistic morphed bearded dragons are red, blood orange, yellow etc. According to the quality, there are originations like English Belgium, Hypo Het translucent, Hypo red crawly etc.
6. Silk back:
This is also one of the most sought after and priced variation of morphed bearded dragons. They do not have any spikes on their back. This point is much similar to the leatherback ones, but the texture feels softer than any other morphed bearded dragons. The absence of scales and spikes make them look much smoother and hence the name is given.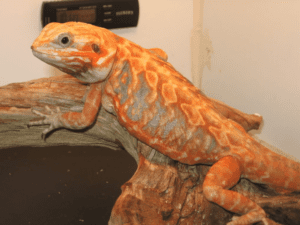 They also look much like a frog without the scales and spikes. But if you decide to get one silkback morph, make sure that you look it after pretty well. They are sensitive and vulnerable as they do not have much protection on their skin.  The decorations like rocks, branches and harsh ropes that are commonly used in the terrarium of the bearded dragons can hurt the silkback ones.
They look very beautiful with the light and bright shades, but caring for them is a pretty hard task. Some breeders refuse to breed silkback dragons as this they feel is kind of unethical. The dragons produced in this way are much prone to get into any kind of damage and accident.
7. German giant:
They are called so as they are much bigger in size than the regular morphed bearded dragons. The size is not to be guessed until they are fully grown, so if you wish to get a German giant morph, get it from a trusted breeder. Also arrange for a larger space where they will live once they are fully grown, as they are not fitted into the small terrariums needed for regular-sized bearded dragons.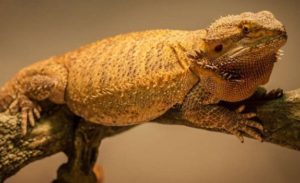 Being one of the rarest breeds, they cost around 500 USD. They are bred from selectively chosen larger bearded dragons, so the outcome is the huge bodied ones. They can be as big as 25 inches and sometimes even they are seen to be grown 30 inches. They have become extremely rare morph by now. You can treat it like a standard bearded dragon, only the food intake will be somehow more.
8. Witblits:
This is a comparatively newer morphed breed of the bearded dragon. They are mostly pattern-less and yet quite a few muted colours are seen in their body. They do not have any distinct marking in their body and thus they are pretty much in demand. They are also high priced breed among other morphs.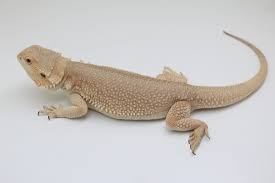 They were discovered by a breeder from South Africa, and the name witblits suggests "white lighting".  They were discovered earlier to the zero breeds of morphed dragons, so the name suggests they were the only type that is much nearer to the pure white breed of dragons. No pattern and sandy brown colouration are the distinguishing qualities of this morph type.
9. Paradox:
This breed of morphed dragons can be easily distinguished as they have a strikingly different appearance.  They are also one of the pricey options for the dragon owners as they come with beautiful shades of browns, oranges and tans. Also, the pattern in their back is much identifiable.  The most interesting part of this dragons' look is, there is no symmetry in the pattern or design. The name suggests that the pattern does not follow any rule and thus they are more like forming a paradox.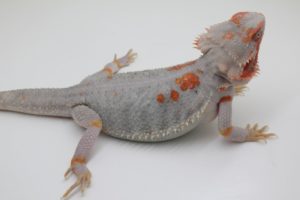 This morph is not much understood by the breeders for their unpredictability. Upon hatching, they look petty similar to the other bearded dragon babies but once they start growing up, will you see the patches and patterns appearing on their skin. The train of paradox dragon comes from many different genetic mutations so it is hard to predict which time a paradox dragon will be born.
10. Zero:
This one type of morph has become almost extinct. They are called so as they have actually no patterns and no colouration on them. The silvery-white colour of these morphed bearded dragons is much liked by the owner community of the bearded dragons, but they are much hard to get.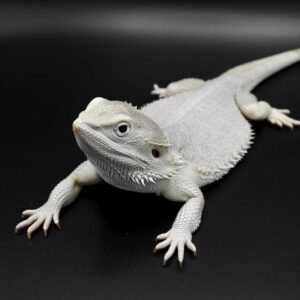 They are pretty hard to get and you can find them only in some famous pet stores. Some private breeders also offer these dragons. They cost around 900 USD when a regular breaded dragon costs 40 USD from a pet store or breeder.
Which one can be called a fancy designed dragon?
There is not a particular morph version of a bearded dragon that can be called a fancy bearded dragon. This is basically an adjective implying some different or special kinds of morphs that are not commonly seen. The classic bearded dragons look almost similar to each other, but the morphed ones come with some exquisite look in them. So they are called fancy bearded dragons. Not any particular genetic is mentioned as fancy bearded dragons.
Can there be a purple bearded dragon?
There is one type of morphed bearded dragon that is called, translucent. These bearded dragons have blue stomach and that is why they look purplish. But this colour is only seen when they are baby, and with age, this colour fades away. But if the translucent dragon retains the blue or purple colour even after attaining maturity, will it be called the purple bearded dragon.
Which ones are the rare kinds of morphs of a bearded dragon?
The rare kinds of morphs are those, that have less or no spikes at their back and also the colour on their body is more vibrant than the regular morphs. These reasons make them interesting creatures and more in demand. The purple bearded dragon and white or silver bearded dragons are some of the rarest morphs for bearded dragons.
Which are the expensive bearded dragon morphs?
The priciest bearded dragons are the zero morphs. They look much similar to the albino ones. This one costs 300 to 900 USD. The pure silver white colours of this bearded dragon make them quite unique among the morphs and also increase their value.
Conclusion:
When you are choosing a private breeder or a website to get the morphed bearded dragon, be sure that the picture shown on the internet has definite clarity. There can be some fake photos or the lighting of the shoot can make the morphed dragon look much different. Also sometimes the description can be misleading, like the terms like tiger or phantom are used to define the dragon. These are not names of any particular morph but only adjective been used to describe the dragons and alluring the clientele.  There is not dragon as fancy or pigmy. Sometimes the bearded dragon progeny comes out to be a smaller sized one, but that is not a particular trait to be followed genetically.
When you are deciding to keep a morphed bearded dragon, getting some knowledge about their lifestyle and taking care will not hurt. Also you should know that the color of the morphed bearded dragon can be faded or get brighter with time. The patterns also change and they also can be much prominent or hazy.  The lighting of the terrarium plays an important role in deciding the colouration and pattern design.