Guinea pigs eat various kinds of vegetables and greens and they are primarily vegetarian by nature. Their diet list includes quite a few popular items like peas, carrots, spinach, kale, tomato, artichokes, romaine lettuce, etc. But there are a few options that may not be much suitable for the pet guinea pigs, and when you are going to adopt one, you should know the items which should be avoided in their diet.
Parsley, a very famous green that is often used in the salad bowl and is a favorite item for humans, may or may not be ideal for the guinea pigs. Let us probe into this matter.
Is parsley good for guinea pigs?
There are quite a few variants of parsley and only the Italian parsley is good for the guinea pigs. This one is also popular as flat-leaf parsley. The leaf of this green as well as the stalk of the parsley can be offered to the guinea pig but in chopped form. As this green can be used by every part, there will be no wastage of this vegetable.
How good is parsley for the guinea pigs?
Parsley contains many helpful nutrients and thus your guinea pig will be benefitted by eating this green. The taste of parsley is also quite favored by the guinea pigs. When given in fresh form the parsley tastes crunchy and juicy which is just the right condition of greens for the guinea pigs.
But parsley should be offered to the guinea pigs on an occasional basis. The nutrients contained in this vegetable will be beneficial for the guinea pig but in a moderate amount.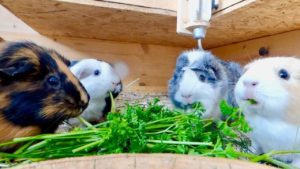 Why parsley is good for the guinea pigs?
Parsley contains nutrients like vitamins and minerals. There is vitamin K which is always necessary for keeping the blood flow intact. Also, blood clotting is possible when there is vitamin K in the body of the creature. Without vitamin K there will be huge blood loss in case of any accidental cut.
Also, vitamin C is present in parsley which is a vital ingredient to keep the guinea pig boosted in immunity power. There are quite a few diseases that can be prevented or cured by regular consumption of vitamin C.  The condition of the heart stays good when vitamin C is taken in a good amount.
Another point of eating parsley is, the body does not have the ability to hold or deposit the vitamin C.  So if it is taken daily then only the benefit of vitamin C will be perceptible.
Vitamin A is another great nutrient that will take care of your guinea pig's health and that will also be available from parsley. Vitamin A is able to take care of the eye and skin problems of your pet guinea pig. So when you are offering parsley to your pet, you can be assured that your guinea pig will not suffer from skin rashes or allergies easily.
An antioxidant is another good thing about vitamin C. When your guinea pig will get a good amount of antioxidants from its regular meal then it will fall sick less. Also, the aging process will slow down and the body will function in a better way.
Other than these vitamins there are a few nutrients like calcium and potassium in parsley. Parsley contains a good amount of calcium which keeps the bone structure well-formed.
Also, it helps the female guinea pigs to lactate so the milk secretion stays continuous. Potassium in the parsley keeps the water retention process ongoing in the body of the guinea pig. As a result, there is no chance of muscle contraction and the nerve system also remains good.
Is parsley good for keeping the kidney of the guinea pig better?
There is a particular type of antioxidant in parsley which is called luteolin. This antioxidant helps in cleaning the toxin of the body and thus helps the kidney in its work. So it works as a natural diuretic product and will keep your guinea pig healthy for years.
Can parsley be included in the regular diet of the guinea pig?
Parsley contains so many healthy nutrients and yet it is not advised to offer parsley on regular basis to the pet guinea pigs. It can lead to bladder stone formation and the guinea pig will become sick. Also, there can be the possibility of various gastrointestinal problems when parsley is offered on regular basis to the guinea pig.
Can parsley prevent scurvy among guinea pigs?
Parsley contains a good amount of vitamin C, and which is also a natural source of this vitamin. If you can gather only ten sprigs of parsley, then you have successfully accumulated 14 mg of vitamin C. This vitamin is not only essential for keeping the guinea pig immune to various diseases like respiratory problems and allergies but also the common issue like scurvy can be fought back when the rodent has an ample amount of vitamin C in its diet. This way parsley can cause some good to your pet guinea pig.
How do wounds of the guinea pigs get healed with the help of parsley?
Guinea pigs often get wounds on their body due to several reasons like scratching their body or fighting with each other. These wounds take time to get healed. But if you provide them with some amount of parsley, the vitamin K present in this green will show a wonderful result in healing those wounds. The blood gets clotted earlier and the bleeding stops faster. So the healing process is initiated smoothly.
How can you offer parsley to the guinea pig?
When you wish to offer parsley to your guinea pig, make sure that the parsley leaves are washed properly and well chopped. Do not offer only parsley but mix it with other greens and vegetables to make it like a dish of green salad. Always use fresh parsley to offer to the guinea pig.
Why parsley intake should be limited by the guinea pigs?
Along with a great variety of nutrients, parsley also contains a good amount of oxalic acid. But an adult guinea pig should not consume more than 50 gms of oxalic acid in a day. Too much oxalic acid can cause different kinds of complications in the body of the guinea pigs.
Different kinds of diseases are found in guinea pigs after feeding too much parsley
It has been seen that guinea pigs may suffer from diarrhea. This is rather a common problem of guinea pigs and this is a common reason for the damage of health of this rodent creature. As parsley contains a good amount of fiber and the digestive system of the guinea pig is quite sensitive, it may not be suitable for the rodent pet to have this green in good amount regularly.
There can be issues with the renal system of the guinea pig when you feed them parsley on regular basis. As parsley contains oxalic acid, too much of it can cause damage to their kidney. They can also have issues while urinating. Once the kidney is damaged they will not be able to get recovered anytime soon.
The calcium and oxalate present in the parsley can cause the stone formation at the bladder of the guinea pig as we have already mentioned. The bladder does not get cleared and the sludge that stays inside it later forms a stone. Any food that contains too much calcium will make the guinea pig fall ill, so on this ground parsley should also be avoided in too much amount.
More: