Rats are very cute, intelligent, active, and playful pets, and rabbits are also adorable, smart, and also equally playful pets. But it is not clear whether they both can live together in the same place. No, rabbits and rats cannot cohabitate or live together, not in nature nor in the same cage and it is somewhere not wise to put them together in the same place.
Because rabbits need their own space to rest and where they can sleep peacefully. Rats also need their own space where they can live accordingly. So in this article I will let you know each and every fact about the question can they both be kept at the same place, or is it safe to keep them together?
The direct answer to this is, that no rabbits and rats cannot live together safely but if provide them their own space which only belongs to them individually then there may be a possibility. Here are some reasons behind this.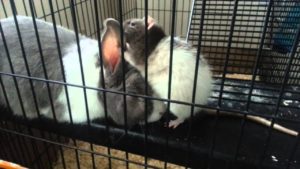 Reasons why rabbits and rats cannot live together?
Rats that are unvaccinated can transmit fleas and bacteria to the rabbits.
Rats can pull the fur of rabbits might think of it as playing.
Also, rabbits can kick the rat very aggressively which can cause injury to the rat.
There are several other reasons which are discussed below why pet rabbits and rats are separated.
1. Rabbits may injure rats:
Rabbits can injure little rats as they may be a nuisance to rabbits. It may not be intentional, but rabbits can cause serious injuries especially if the rabbit is of large size. Large rabbits may intimidate rats and if you leave both the pets alone and rats are chasing the rabbits. In such a situation, little rodents might get under the paw of big furry rabbits. It is very rare for a rabbit injures a rat but it might be a possibility as a rabbit has more strength than a little rat which is not good to keep with a rabbit.
2. Rats can also attack rabbits:
Pet rabbits are much less aggressive and remain mostly calm in their space than a rodent, still, rats pose some kind of danger and discomfort in their daily routine. As pet rats can attack furry rabbits, bite them or pull their fur, and ride on them which is very annoying and disturbing to the furry rabbits. Little rats may enter inside the rabbit's pen and can claim the place that can annoy the bunny who needs a space to sleep and rest in a calm place. So never trust leaving a rat with a baby rabbit.
3. Rats can eat rabbit food too:
Rats can eat anything as they are low-maintenance pets. So it is totally the owner's job to feed the rats a limited quantity of healthy food that provides them with all the nutrients that a rat's body requires. But if the rat lives freely then they will start munching rabbit's food too which would be unhealthy for a little rodent that will lead them to weight gain or even also cause organ damage. Food that is healthy for rabbits is toxic for rat bananas and mangoes which can even cause serious problems.
4. Rats can transfer microorganisms to rabbits:
If pet rats are kept in a good condition and environment, they don't get sick very often. There is no need to worry about pets if there is a proper schedule to visit the vet and provide proper supplements and medicines to them. A newly adopted rat may carry microorganisms that can transfer to your rabbit. It can be common for fleas and also rats to have mycoplasma bacteria from birth which they can transfer to the pet rabbit.
Also, there may be a situation where both rabbit and rat carry some of the bacteria and they can transfer to each other. If they do not have proper immunity to fight the bacteria then there may be serious health issues like rat-bite fever.
Can a rabbit kill a rat?
Yes, there may a possibility that a rabbit can kill a rat, but it is very rare. If the rabbit is being territorial and protecting babies then it will trigger the aggression in the rabbit if a rat is doing annoying things. Generally, rabbits are very docile in nature but circumstances may occur where there may be conflicts between both the creatures and which can lead to trigger the aggression of both them and can cause harm to each other.
Can a rat make a rabbit sick?
Yes, they can make it if they are wild rats. But if they are kept in controlled settings and a good environment then chances are rare in the domesticated environment. Here are some diseases that can be transferred both by rabbits and rats.
1. Rat-bite fever:
This infection is generally carried by the natural flora in the rat's mouth which is very rare in the United States and affects less than 10% of all the rats. This infection is also spread by rabbits, dogs, mice, and cats.
2. Lymphocytic Choriomeningitis (LCMV):
This is found in the wild mice that can pass to your pet easily if kept in the same place.
3. Salmonellosis:
This is found in the stool of infected pet rodents and can be spread through ingestion.
4. Leptospirosis:
This is a bacterial disease and humans get it from the contaminated food and water from the urine and feces of rats.
Ways to keep rats away from rabbits
There are several methods to keep rats away from rabbits and here are some methods that you should try.
1. Elevate your rabbit cage:
If you are lacking space in the house then you can elevate the cage of the rabbit from the rat's space. This method will not take up much space in your house and can put both rats and rabbits in their own places.
2. Rat proof the rabbit cage:
You can also use the cage with small wires from where a rat cannot enter. It will keep the rat away from the rabbit while both living in the same place.
3. Clean up the cage regularly:
Clean up all the residue of food spoilage or spilling of bunny so that rats will not try to eat the leftover food from the rabbit.
4. Put onions around the cage:
Spread the onion around the rabbit's cage as rats do not like onion and they will stay away from the cage of the rabbit.
Concluding Lines:
Rabbits and rats both are very adorable pets but they cannot live together not in the cage but also not in nature too. Depending upon the environment and circumstances they both can attract each other, both being the rodents. But at the same time, it is not safe to keep them together in the same place. They can harm each other if one triggers the aggression of the other.
They can injure each other and can also spread disease to each other. There are some methods which are discussed above on how to keep rats away from rabbits if they are near to each other but it is better to keep them at different paces.
So they can be happy when they have a space that only belongs to them individually and called it their own place where they can eat, play, and sleep peacefully and accordingly. It is better to keep them together at a young age because the other one gets too territorial if put together at an older age. So it is better they live in a different cage.