A rabbit usually cannot walk on the tiles because their feet automatically go in all directions when they move or run. This is the natural tendency in rabbits. Even their feet slide on the tiles when they move on the tiles this is due to the slippery surface.
There are different kinds of flooring that you can use so that a rabbit can easily walk or run on the floor like vinyl flooring which is the cheapest method. There are so many other options out there like mats and different floorings.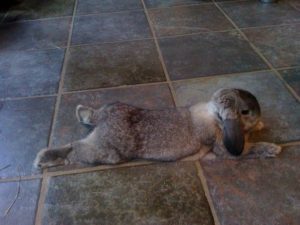 Why Rabbits Can't Walk on the Tiles?
The reason behind this is rabbits' feet are very sensitive and automatically move in all directions while they run or play. Home tiles are very slippery so their feet cannot grip the surface to move or run easily and they got the slip. So choosing the right type of flooring for your pet rabbit can go a very long way toward keeping them healthy and happy.
The best rabbit flooring not for their enclosure but also for some space in the house will make the rabbit feel more comfortable and at home in their environment. In this way, they not only live in their cage but also play around in the open space which makes them happier.
What is the Need for Flooring for Rabbits?
A rabbit that lives in its cage only will feel boredom and get into mischief because it will not be able to walk properly and play on the home tiles flooring. Therefore it will start chewing and scratching the furniture, shoes, clothes, etc out of boredom. So to provide, a happy place to run and hop around you should do the right type of flooring for your rabbit. It will make them feel happy and energetic all the time.
Here we are going to discuss the right kind of floorings for rabbits and also the pros and cons of each type so that it would be easy for you to choose the right kind of flooring and decide which one is best according to your space.
Types of Flooring for Rabbits
1. Vinyl Flooring:
This is one of the cheapest floorings that you can use and covers a large space. Also, it is easy for cleaning up around the litter box which other floorings cannot even match. You can simply sweep it and wipe it when it is dirty. Be sure to leave the extra corners outside the rabbit's cage while cutting and arranging the flooring. It is a synthetic material and does not let your rabbit chew it as it can be harmful to their health.
Pros:
It is cheap and covers a large area
Easy to clean
Perfect for around litter box as it will dry very fast
Cons:
Don't provide cushion for the sensitive feet of rabbits
Made of synthetic material and can be harmful if chewed
2. Rugs and Carpets:
Rugs and carpets are one of the best methods to cover a larger area if rabbit loves to run, play, and lounge as it provides them space to free run in the house. It also prevents the rabbits to slip or getting injured while playing and sliding like on tiles.
It is better to take extra time and effort to get natural fiber rugs and carpets because they nibbled on, it would be less harmful for digestion than other plastics. Also, choose a darker shade to minimize the appearance of stains.
Pros:
Chewing is not harmful is done
Prevent injuries and provides great traction
Easily available in flooring stores
Cons:
Becomes difficult to clean when wet
Too much chewing is harmful and leads to GI stasis
3. Straw and Grass mats:
Untreated straws or grass mats in the sophisticated solution if rabbits indulge in massive chewing as it is very harmful to them to chew the floorings fiber rugs. Though it is expensive but is a safe option for you. But try to prevent it from the litter of the rabbit if they get wet; there is a good chance of mold especially if the rabbit urinates on it.
Pros:
Prevents slip injuries and is good for traction
Better and safe for heavy chewers
Easily available
Cons:
It gets mold easily when wet
It is not as durable as carpet, vinyl, or rugs
Flooring for Rabbit's Cage
1. Linoleum and Tile:
These both are a common choice for rabbit houses and can be fixed to the ground also making them perfect for exercise. Choose a textured version to provide a grip for rabbits while jumping. These are best only for trained litter rabbits.
Pros:
Easy to clean
Easily affordable
Versatile and can cut into required size
Cons:
Not good for rabbits that are not litter trained
Can be chewed by rabbits
2. Plastic:
This is cheap and commonly sold in pet stores. Generally used y many first-time owners but is not that good because rabbits do not feel safe on plain, smooth, and slippery surfaces. So, do not forget to add the system of bedding of fleece pad, grass mat, or carpet.
Pros:
Easily available and affordable
Quite easy to clean
Cons:
Slippery and can be easily chewed
Not good for rabbits that are not trained for litter
Wrapping Up
A rabbit is a very active pet and cannot sit calmly in one place for a longer time. Their feet are very sensitive and slip o the house floorings them not able to play and run easily. Due to this they get bored and start to chew the things around them.
Rabbit flooring is required to provide a place to jump and play freely without getting injured. Choosing the right kind of flooring is very important and can make a great difference in a rabbit's quality of life and enjoyment. Try to provide them with as safe and natural flooring as possible.