Reptiles those we keep as a pet at our home are not usually aggressive by nature. That is one of the prior reasons they are chosen as pets. However, they have a set of sharp teeth, and for the first time crested gecko owners, it can seem frightening.
The nature of the crested gecko is not to be fearsome unless it is getting threatened. They are pretty territorial in nature and when two male crested geckos happen to be present in the same area, they may fight or show signs of aggressiveness.
Biting of the gecko should not be as much harm as they do not bite so hard that may tear the skin. They have tiny teeth but it looks vicious if you see them in their open mouth. Also, you can be afraid if there are kids at home and they can get hurt by the biting. So you should about the cause and effect of the crested gecko biting.
Does crested gecko get aggressive?
When in the wilderness, crested gecko hunts for its living. They prey upon small live insects and eat them. So they use their teeth to catch the insects. But when it comes to staying away or defending itself from the predators, they do not use any fighting skill. Rather they run to get far away from the attackers.
But this natural situation is not available inside the terrarium. They cannot run to any faraway direction to stay away from any attacker.
They do not even get to hide into any place where the attacker cannot reach them. So when you try to hold it by entering your hand from the open part of the terrarium, it may try to bite your hand since it has no other defence technique to apply then.
Why does the crested gecko bite?
Stress is a reason behind almost all the weird behaviour of the crested gecko.  If you see that the gecko is not eating its food and behaving lethargically then you should not try to hold it. Check the temperature and food in the terrarium and make sure that everything is okay. Also, let the gecko calm down a little bit and then you can hold it.
When the gecko is brought to a new home, it feels stressed and threatened for some days. This is a natural procedure and it takes its own time to get adjusted with the new place. Once it is properly settled down you can handle it. But if you try to grab it after bringing it to the new place, it may try to bite your hand.
How to be alert?
Crested gecko, like many other reptile pets, shows some signs when they are not okay. When you bring a crested gecko home, you need to read the signs which indicate it is not in good mood, or in great health. Such interpretation will come handy as you will handle the pet. You will know how to behave accordingly with it.
Mouth gaping is a sign which should be taken as a warning. When the gecko feels threatened or scared, it gapes its mouth widely. It is shown more often when it has been brought to a new home or new people are handing it. When you see it is gaping, it is better not to touch for a few hours at least.
Crested gecko can twitch their tail and it is a part of their threatening behaviour. It does so when it is trying to defend itself from some predator. They behave this way when they are facing some serious threat. This also means that the gecko is getting aggressive and if you handle it as this point, it may bite you back.
Geckos are supposed to be a calm creature and they do not utter many sounds. When you hear those uttering screeching sounds or barking like sound, then it may be under some tension and is showing its concern by uttering such sounds.
What happens when the gecko bites you?
When the gecko bites you, check carefully to find if there is some cut mark or red scar. If your kid has got bitten by the gecko, check if it pains. If there is a tear on the skin then you should first wash the affected area with warm or cold water, as per your convenience.
Also, apply antibacterial soap to wash this cut. Do not rub the place as that may cause more irritation. You can treat the cut with some antiseptic lotion. To protect the area, you should stick a bandage there.
Is the gecko bite dangerous?
After taking all the precautions and measure, if you or a kid at home gets bitten by the crested gecko, do not panic. The pain that is caused by the bite of the gecko is hard to describe. For some, it may feel really hurting but for others, it is a mild one. So the amount of shock that you or the kid will receive will be depending upon the degree of patience and shock tolerance level.
The teeth of the geckos are pretty small though many in numbers. So the bite will mostly feel like a pinch or a nip that happens when the piece of skin is stuck between the teeth. They do not have much biting power so it will surely not result in bloodshed. The teeth are weak enough not to bite the big fruit pieces or hard fruits.
If you have previous experience of getting bitten by fish, then you can imagine something very similar to happen when the gecko bites you. It is not much painful but the skin may tear in a tiny bit if the bite is too long.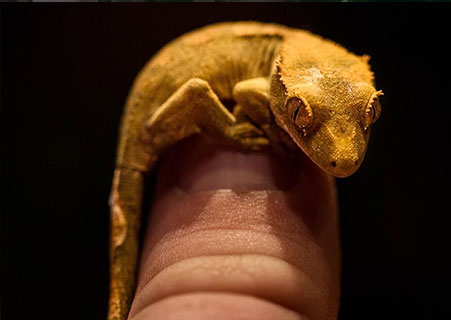 How can you stop its biting?
Since you have read so far, you know that to prevent the gecko from biting is, to let it be alone and settle down in an unsettled situation. After you bring it home, give it some time so it gets adjusted to the new place and calms down.
Settling down may take a day or two, so you should not disturb it within that period or enter your hand unnecessarily, neither you will let your kid do the same. Give the food and water slowly without touching the gecko inside.
Even after one or two days, when you can pet it or hold it on your hand, do not take too long to caress it. They are new to the environment. If it is a baby one it was not adjusted to human handling. So you should not make the handling session longer than 4 or 5 minutes. It may irritate the gecko and it can start getting stressed.
How to handle the gecko so it does not bite you?
There are certain precautions, those, if followed, will decrease the chance of getting bitten at any point by the gecko.
You should always wash your hand with antibacterial soap before and after holding it. You should check the gecko once in a week to make sure it is in good health and there is no cut or scratches on its body which can a lead to any serious problem. You can also investigate about substrate issues or any issue in tank.
Always check the gecko at the daytime. Crested gecko, like most of the reptiles, is nocturnal creatures and they stay very alert and active at nights.  While at the daytime they are often lazy and slumberous. So if you check them at that period, they will not be aggressive enough to bite you suddenly.
Always check the food and water plate and refill it at the later afternoon. By this time the geckos are well settled in their daily schedule and will not attack you when you will be entering your hand at the terrarium. This is actually the time when they fall asleep and thus they will not mind such intruding.
The settling period of the gecko depends on the individual creatures. Some geckos can settle and calm down within a week while some others may take a month's time to adjust. So you should not handle the gecko within the first month or hold it on for too long. This way you will be successfully avoiding any chance of biting from the crested gecko.
Conclusion
Crested geckos are somehow laid back creature and they can be a loving company if you give them time and attention in a proper way. Do not handle it forcefully and make sure to keep an eye on its day-to-day movement. This way you will be able to understand the various behaviours and act accordingly.
Want to learn more?