Yes, guinea pigs can bite you but they don't bite you without any reason. But you need to know that guinea pigs can bite but their bite is not harmful. Guinea pigs are wonderful pets and it is very important to handle them with care as they are very fluffy and small in size. Because of their small size, it becomes very necessary to care for them properly and avoid scaring them and injuring them.
There are many reasons which make them bite. So it is important to know the reasons so that you can avoid them as much as possible. The reasons maybe they get frightened or bullied. So you have to keep them comfortable.
Are Guinea Pigs' bites Harmful?
No, guinea pigs' bites are not harmful but may hurt sometimes. There is nothing to worry about in the bites of guinea pigs. Their bites are usually more of a nibble and a gentle peck sort of bite. If you ignore these warning bites, it becomes casual for a pet to bite you at any time to show their unhappiness.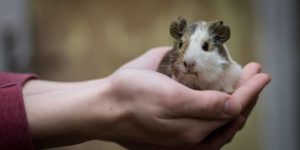 Why Guinea Pigs Bite?
By understanding why guinea pigs bite you may be able to prevent it in the future. So here may be some reasons why guinea pigs bite.
1. Guinea pig is in pain
While we are all in pain we become a little grumpy, but as a human, we call to tell others what exactly happen. But when the guinea pig is in pain, it will let you know by biting or gently nipping that it is in pain or suffering from health issues.
2. Guinea pigs may be stressed out
Guinea pigs need space and the company of other cavies with them. If they do not get all this, they become anxious, unhappy, and stressed out. So this may be one of the reasons.
3. May have skin problems
If your guinea pig bites you need to check whether the pet is suffering from any skin-related problems as they are quite irritating and painful. Guinea pig is more prone to ringworm, fungal infection, mites and lice. In this case, you need to take the pet to the doctor.
4. You smell like food
Maybe you may smell like food and when you pick your pet may continuously nibble you. Guinea pigs like veggies and food very much and if you handled them, there would be a chance it may bite your hand. So make sure to wash your hands properly before handling a pig.
5. Feel uncomfortable
Guinea pigs get uncomfortable if any stranger handles it or any family member holds it in their hands for a long time again and again. Especially, when your guinea pig is small or anyone handling it there may be a chance it feels uncomfortable and needs time to adjust itself to people. So it may do some extra nibbling to come out of your hands. You need to limit the holding time to one or two minutes and set him free in his space.
6. Exploration
A baby guinea pig explores their environment by nibbling or chewing things because guinea pigs are rodents, and like all rodents, they learn about their environment by chewing things. So there may be chances you get nibbles from the guinea pigs while handling them. They will also chew the new things you put in their space.
7. Feeling unwell
When your pet is feeling unwell it will bite you during handling. Nibbling is a primary way to communicate for guinea pigs while they are feeling unwell and also when they need to use the bathroom. If you feel that poor health is the reason for nibbling on your hand, the first thing is to take him to the doctor where they will tell you exactly what is wrong with your pet.
Fear and nervousness in Guinea Pigs
There are many signs which indicate that a guinea pig is uncomfortable. Recognizing these signs and putting a stop to the situations which cause anxiety and nervousness in the pets will help them to keep calm and cool down and become less fearful.
When guinea pigs open their eyes extra large, it is a sign that they are frightened. You can see the white parts of their eyes around the colored area. Also, they begin to squeak in an excessive amount. Another sign that they get frightened is that they start shivering and grinding their teeth.
How to stop Guinea Pigs from Biting?
Guinea pigs are very docile and they do not bite without any reason. These are not very hard bites neither they are harmful. Get to know your pets and their personalities to avoid getting bitten by them.
1. Give them plenty of space
Guinea pigs require a lot of space to roam freely and explore. If they have an unhappy and small cave it is more likely to feel stressed for a pet due to which they bite while irritated. So provide them a proper and sufficient place so they can play and jump around and be happy.
2. Wash your hands properly
Remember to wash your hands properly before handling them and hold them in your hand as they can smell the taste of food and can bite your hands by considering you are feeding them food.
3. Handle with care
First of all, you need to understand the likes and dislikes of your pet very well. Cavy should not be very hard or uncomfortable. Don't hold the pet for a long time if they do not like it. Do not hold your pet while eating or playing as they get annoyed and result in a bite.
How to treat Guinea Pig's Bite?
You need to take precautions and treat the wound quickly if a guinea pig bites you accidentally or otherwise. Here are some measurable steps you need to follow.
1. Clean your wound
You should clean the wound with some soap and clean water if a guinea pig sinks its teeth in your skin.
2. Apply antimicrobial ointment
To prevent bacteria from building up and spreading infection, you must apply any antibacterial ointment on the damaged skin.
3. Apply pressure
After cleaning the bite mark, if blood comes out from the wound you need to apply pressure with a clean cloth around the infected area. You need to stop the flow of blood from the wound and then apply a bandage to it. If it looks serious, then visit the doctor hurry up.
Concluding Lines
Generally, guinea pigs are docile and most guinea pigs have a pleasant and friendly nature. If a guinea pig bites you it is a symbol of something not going well and gives you indications about their problem. Sometimes the pigs are frightened as you bring them home but after sometimes they become familiar with you and your touch. In that case, you need to have the patience to know about the likes and dislikes of your pet.
But if you notice that your guinea pig is becoming aggressive you need to take it to the vet. Otherwise, their bites are not harmful so no need to worry and you need to understand their personality. They will not hurt you, and you should not be afraid to let the guinea pig nibble on your fingers to have a bond with you and let you know when it needs to go to the washroom.
More: