Pets are for adoring and for passing free time with relaxation and enjoyment. But they can also be a responsibility. You should be able to take care of the creatures that you are bringing home as they are lives that depend solely upon you for their well-being.
When you decide to get a rabbit, you must make sure to be well informed about the caring and upbringing of the pets.
Are pet rabbits hard to take care of?
Rabbits are favorite pets for their social and friendly nature.  They make great pets for people of all ages. But for beginners or for the kids, they are not ideal pets. Their management of housing, feeding, and looking after is specific and needs the proper attention of a senior and mature person. They also need to have activities to keep them away from stress and depression.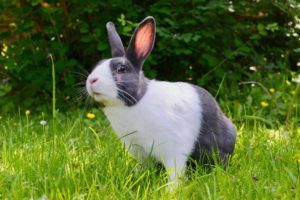 Are rabbits high maintenance as pets?
Rabbits are a pretty high-maintenance creature that requires a specialized diet. They should also have some exercises to stay away from boredom. Their regular health checkups are also mandatory as they are prone to various diseases at any age.
Rabbits also need constant attention and supervision as they have some destructive habits and they can become destroyers of any wire-made items or fabrics in your home. So before adopting a rabbit you should ensure that your house is ready for their arrival.
Can you litter train the rabbit?
Yes, this is an odd feature of this rodent pet, that they get trained better when they are adults. So it is better to litter train them when they are mature. However, they can be litter trained at any age. They are intelligent and can be trained when given proper time and attention.
Does rabbit poop everywhere in the house?
Rabbits poop or spread the pee in an area because they wanted to mark their territory in that process. You may not think that it is the difficulty of training as they do this kind of territorial marking when they are in the wilderness. You should be ready to bear with these habits when adopting a rabbit as a pet.
How do you set up the right housing for rabbits?
Rabbits are often kept free in the house, so that can be an option of keeping the pet rabbits at home. But for that, you need to keep the house or the room where the rabbit will be, a rabbit-proof area. They need a large space to move and roam and that keeps them healthy, both mentally and physically. You should be aware of the number of spaces that you can provide to your bunny friend.
You should also be aware of the fact that the escape routes should be closed properly. When you are keeping the rabbit in a large area, there would be some windows, pipelines, or other spaces from where it can escape. Rabbits are intelligent in the way that they would get adventurous and would find some way to enter or move out. So you must keep all the openings closed before keeping the rabbit in that place.
Do not choose a room or place which is isolated from the rest part of the house, as rabbits do not feel good without the company of other human family members around them. They can best be kept in the living room where there will be people around them.
How can you bunny proof your house?
When you are bringing a bunny or rabbit at home, you would like to ensure that the space is completely bunny-proof. The space should be open and wide enough and it would not many furniture. You should remember that your rabbit may collide with the various items on the floor so the floor should be kept empty as much as possible.
The wires and coverings should be kept aloft by 3 to 4 feet from the floor so the rabbit does not get those wires in reach.
If you have a wooden floor or baseboard on the floor, then you can be assured that it would be gnawed by the rabbit. To keep them protected you must cover them with plastic guards. Keep the chewable items like books, papers, and plants at a height that the rabbit cannot easily reach. These items can be destroyed if kept lower at the level of the pet rabbit.
What is the favorite food for the pet rabbit?
Fresh hay is always a favorite food item for pet rabbits. This is also important for the rabbits to have it mainly on their diet. There are varieties like alfalfa which is ideal for baby rabbits, and the other ones like timothy hay or oat hay are particularly good for adult rabbits. To keep them fit and healthy you should always provide them with fresh hay which they would like to eat as well.
There are other supplements as well, which keep the pet rabbits fit and fine. You must provide them with seasonal vegetables which will make up for the deficit of certain kinds of nutrients and minerals. There are fiber-rich pellets which are also suggested to be provided to the pet rabbits, as fiber is always good for their digestive system.
A good part of the rabbit's diet should consist of greens of a different kind. There are certain greens like dandelion greens, broccoli, lettuce, kale, celery, and parsley that are favorite items to munch for the rabbits, and also these ones are pretty healthy for the small rodent.
These greens also keep the water level of the body of the rabbit high as they tend to drink lesser water than is required by their body. But too much green is not good as well, as the greens do not have enough nutrition or calorie to provide enough energy to the rabbits.
Water is a necessary part of their diet and you must always keep in mind that a good amount of water should be provided in a separate bowl for the pet rabbit.
Which foods are to be avoided by the rabbit owners?
Any food that is high in starch or fat should be avoided by the rabbit owners as these kinds of foods are not well digested by the rabbits. There are cereals and oats too, which are not ideal for the rabbit diet. Certain other items like corn, items with refined sugar and wheat, or other grains are to be avoided by the rabbits to avoid various illnesses.
How can you set the litter box for the pet rabbits?
As rabbits poop and pee randomly in any part of the house and more specifically the area that they love the most, which is probably the living room, you need to instill the habit of keeping a litter box in the same part of the house. The place should be chosen wisely, keeping in mind which area is the favorite of the pet rabbit for this job.
You can keep a medium-sized cardboard box, also a storage bin of medium depth will do. The bottom of the box should be covered with recycled newspaper so you can easily take the feces out of the box every time. Wood shavings or clay are not ideal options for the spread of the bottom of the litter box as it would create more mess, and wood shavings can be chewed or swallowed by the rabbits and that can choke them.
On top of it, you can put some hay, as the pet may like to chew on some hay while pooping. This is a common habit seen among pet rabbits.
How can you keep the pet rabbit entertained?
Lots of space is one of the foremost important aspects of keeping the rabbits happy and healthy. But to keep them entertained and save them from getting bored, you need to be more tactful and innovative. You can get some interesting toys from the online or offline pet stores but can also build some interesting items out of the thrown-away things.
You can get a cardboard castle out of the cardboard, which will keep the rabbit entertained as well as engaged. This will be the hiding place for the rodent when it needs some alone time. It can move inside it, come and go from various entrances and that would be a fun and exciting game for it.
Hiding places is important for rabbits. These areas also act as resting places for them. They should have some hay spread there and the litter box or pan should be near that place. The hiding area should also not have any wires, as we mentioned before in this guide, as then it would end up chewing and tearing the wires.
Use some bedding that is well absorbent of moisture as they can pee in that area too, but make sure to use something that does not stay wet for too long. Carpet pieces are not suitable for bedding or flooring for this purpose.
The toys that you can get from the stores are logical toys or some chew toys. However, if you can make time for the pet and play with it, there would be nothing better than that. It can enjoy your company and you will also feel refreshed after spending some playtime with the pet rabbit.
How can you groom your pet rabbit?
Rabbits are able to keep themselves naturally clean and so you need not worry much about their grooming requirements. They wash when they are in their natural habitat. They like to stay clean and neat. So bathing the creature is not required as their fur coat gets damaged by shampoo or any other product you may use for cleaning.
They do shed at particular times of the year and you need to be specific about brushing their body at that time. Or else they would consume some fur of their own and that can be proved to be lethal. The coat can be kept intact by brushing, but not too often and you are done with the grooming of the pet rabbit.
Nail clipping is an important part of rabbit grooming. You must not forget to clip their toenails can get snagged when they grow or else the nails can curl up inside the rabbit's paw, which is often painful for them. Use the proper tools to clip the nails and learn the process from a trained vet for the first few times.
How can you prevent the rabbit from going to any place in the house?
As rabbits are energetic creatures, they may love to explore the whole apartment or house and may not prefer to stay stagnant in a secluded area made ready for them. However, it is not possible for the owners to bunny proof the whole house or keep all the destructible things out of the reach of the bunny. So using a puppy pen or baby gate would be much helpful.
The baby gets are used to keep the baby away from going to the riskier parts of the house, and the same thing can be used when you do not want your rabbit to move around in the whole house. Also, you can leave the rabbit inside the area and leave the place, as you can be assured that there is no way the rabbit would be able to cross the gate.
Can you keep the rabbit caged outdoor?
Yes, rabbits like the outdoor weather quite a lot so you can keep them caged for a while outdoor.  But caging them for long hours is not healthy for the pets. Also, you should be well aware of the outdoor weather. If the temperature rises too much or the sky becomes cloudy and it starts to rain it will be harmful to the pet rabbit.
Keep the rabbit outdoor as long as you or some other people are there to look after it. You should never leave it outdoor without any supervision as that may cause anxiety in the pet and also it can cause some severe illness due to harsh weather. Rabbits are well prone to heatstroke and rain can damage their coat very much.