Hair loss in guinea pigs is scary and it is an apparent sign of dermatological disease in rodents. There are many reasons for hair loss in guinea pigs either natural or mechanical reasons. Most importantly aging does not cause any hair loss in the guinea pigs.
Why Guinea Pigs Lose Hair?
When you spot the alopecia in the guinea pigs, it is probably due to infection and most the infections are caused by improper care. But it is good that the problem of hair loss can be treated and tried to prevent in the future. Here we will discuss various reasons behind the hair loss problem in guinea pigs.
Natural hair loss:
Shedding hair
Naturally occurring bald spots behind the ears
Mechanical hair loss
Self Barbering
Barbering
Abrasions and war wounds
Some other factors cause hair loss in the guinea pigs.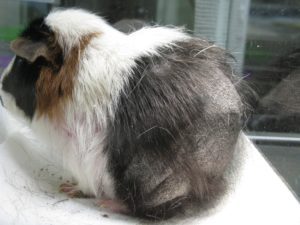 Reasons behind the hair loss of guinea pigs
1. Shedding hair:
Guinea pig shed their long hair and it is normal. If some guinea pigs shed excessively, then it may be a sign of fungal infection or parasite. If this shedding occurs frequently and there is excessive scratching, sores, and dandruff then these are the indications that your pet needs the treatment quickly.
Brushing with a metal greyhound comb can help you to remove some of the loose hair of guinea pigs and can lessen the shedding among them.
2. Bald spots behind the ears:
Bald spots refer to the hairless areas having a diameter of about 1.5 cm as no hair grows on that region and sometimes scatter hair may be seen in some places on the body of a guinea pig.
3. Self-Barbering:
Some guinea pigs barber their hair themselves. There are some species of guinea pigs that have 3 to 4 inches long hair and they have to trim their hair. Barbering is sometimes triggered by gas, bloat, pain, or discomfort and most of the time tumor has been found internally in the barbered location of your guinea pig. This is the high time your guinea pig needs treatment.
4. Barbering:
This is the natural habit of guinea pigs to chew the hair of their cog mates or sometimes of themselves as they need to chew most of the time because their teeth grow throughout their life. This is the natural tendency of guinea pigs and it can be prevented by applying apple cider or some other things so they do not chew the hair.
Abrasions and war wounds: Some guinea pigs are a fighter in nature and these skirmishes can result in hunks of hair being pulled out from the body of the pet by some other more aggressive guinea pig. So it is better to put that pig in a different cage.
1. Fungal Infection:
Fungal infection is one of the most easily spread infections and appears as ringworms mostly on the face its common symptoms include dry skin, hair loss, and itching. Fungal infections can also affect human beings, especially children, and are caused by trichophyton imentagrophytes. It will cause itching in guinea pigs and also bald spots on the body.
2. Parasite Infection:
In guinea pigs, the most common parasite infection is mites or mange mites which can spread directly from another animal or indirectly by clothing tainted with that insect and also by poor hygiene in their cage.
Signs that your guinea pigs have mites are:
Frequently losing hair
Dandruff on the skin
A lot of itching
Seizures
This itching can create wounds that make you think that these scars are due to fighting with other animals instead of mites. This might leads to the spreading of the disease to other animals.
3. Ovarian Cysts:
In this condition, a female guinea pig gets affected and can attack both ovaries of guinea pigs for over five years. Swelling or hair loss may occur around the abdominal area on both sides. Hair growth will be more around the face and body of the female guinea pig. Hormonal imbalance may also occur due to the excess androgen in the body, causing alopecia and thinning the hair in female guinea pigs. It is difficult to recover from this kind of hair loss but may be possible with the help of proper treatment.
4. Scurvy Infection:
Scurvy is caused due to the deficiency of vitamin C characterized by hair loss, a rough hair coat, wobbliness, and lameness. All these are common symptoms of some other diseases also so it is difficult to identify the scurvy infection. You need to visit the vet to give the right treatment. This may further happen due to the loss of vitamin C content in the diet of the guinea pigs. So it is essential to include Vitamin C in the diet of guinea pigs which should include green leaves, vegetables, and fresh fruits.
5. Pododermatitis:
It is an inflammatory condition that occurs always with lots of pain. Pododermatitis is caused when a lot of pressure is applied on the soft tissues causing inflammation and sometimes death with a lot of pain in the affected area. The death of these soft tissues can lead to the secondary stage of this bacterial infection. No age limit is there for this disease ad occurs in guinea pigs with overweight and one born with lame conditions. Therefore in such a situation, walking and standing become very difficult for them.
6. Greasy Seborrhea:
This problem mainly occurs in male guinea pigs whose skin becomes more and smellier due to the excess secretion of glands which sometimes causes infection noticed along with slumps. A grease gland comes up during puberty and is more prone in male guinea pigs. For this problem, medicated baths are preferred to treat this kind of infection. Also, it is advisable to clean the grease glands frequently otherwise it may build infection in guinea pigs. This infection can not affect the small guinea pigs as grease glands grow during puberty.
7. Drooling:
Drooling in guinea pigs occurs due to overeating, they might have eaten excess, and thus drooling occurs that leads to hair loss. It is totally in the hands of the owner to control the diet of your pet. Sometimes drooling in guinea is normal, but sometimes it can lead to some severe problems. Drooling also leads to dental problems in which front teeth are okay but back teeth suffer from the problem. Overgrowth of the back teeth can cause tapping of the tongue and an immediate solution to this problem is giving a mash of dry food and water to a guinea pig.
8. Slobbers:
Slobbers are a condition in which hair below the jaw and neck remains wet due to the dripping of saliva by a guinea pig which is usually caused by the overgrowth of molar and premolar teeth. So it is necessary to check the growth of molars and premolars from time to time because the excessive length can cause the wet area all the time leading to hair loss.
Wrapping Up:
There are so many reasons behind the hair loss and bald patches of a guinea pig. In female guinea pigs, factors like hormonal imbalance, ovarian cysts, and fungal infections can lead to hair loss. You should not consider it a disease and in any case, you should consult the doctor as soon as you can. Also, you have to give your pet a proper diet that includes all the essential nutrients and keep the surroundings and guinea pig clean.
More:
Are Guinea Pigs Good Pets For Kids?