Afador is a lovely breed of dog which combines Afghan hound and Labrador retriever. They are usually a smart and intelligent dog breed.     This is a hybrid dog and is known for the intelligence and love for sports. This dog can be professionally used for rescue purpose and even it can be a good watchdog. It can also do the job of herding, tracking, sledging or police work like narcotic detection or lure coursing.
They live for 10 to 12 years. They are not suitable for apartment life. These dogs are affectionate and independent by nature. They are pretty alert so they can be a good nanny dog as well.
They need to be groomed and taken care of. The maintenance is quite high in terms of time and money. But when you will think of the affection and attachment that you will receive from it, it all seems worthy.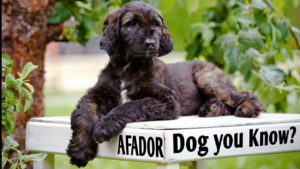 The origin of the Afador dog
This rare breed of dog came into existence in 2000 in Alaska. So this is a pretty new breed among the rest of the dog breeds. This is not a purebred dog as we have already mentioned. They are the result of the multi-generation cross. They are yet to be evolved as breeders are working still too distinct the personality traits of this dog breed.
Afghan hounds are the breed from Afghanistan and they have been there since the pre-Christian era. They have the quality of hounds like the aloofness and energy of an athletic dog.
Labradors are intelligent, loveable and they can be very good guard dogs. They are friendly as well as protective. They like to play outside and also love to stay home. When you take them outside they can be a guide dog as well.
The afadors are protective watchdog by the quality of afghan hounds. They can retrieve random small animals outside even when you have to direct them to do so. They are the watchdog and that comes naturally to them.
They have a body shaped like the Labradors while the head is similar to the afghan hounds. They have the qualities of both the breeds successfully. Thus they have patience, affection and caring nature like the Labrador and courage, dignity and loyalty like the afghan hounds.
This dog can be adapted by families with grown-up kids, or an older couple who has a fenced house. This is because afador dogs contain a hound-like nature and they do not like to be prodded, which is a general habit of young kids. Also, this athletic breed can knock down or hurt young kids by pushing them down while playing.
Playing fetch is a good exercise for this dog and when you have grown up kids, you can engage your kid for that purpose. There are a few off-leash movements that can be practised with the afador dog. They are pretty easy going when it comes to their nature, and do not usually get irritated with small gestures so they have a good patience level.
They need time for daily exercise so working young people will not be much beneficial for the afador. They are a handsome breed of dog and no family or first-time owner will be able to manage the spirited personality of these dogs. They contain the genetic similarity with the afghan hounds so they need to be trained properly.
They are pretty tricky to train as they are rather intelligent kind of dogs. They need an experienced dog owner to make them obedient and properly trained. They can be quite well-behaved ones after a good training session. They are a very loyal breed and once you train them, they will become superb guard dog for older people, provided they have assistance to walk and exercise the dog regularly.
As this is the breed of dog which loves to exercise, they need to do that regularly. You need to exercise it at least 45 minutes every day. But if the owners are not able to make it work out regularly then it can become lazy as per the Labrador's trait. Then there can arise quite a few health-related issues arose in this dog breed.
Afador physical appearance
The afadors are mostly in height of 30 inches or less. They are pretty strong and their weight comes from 60 to 75 pounds. They have a shiny, smooth coat of straight hair that grows from medium to long.  They come in various colours, grey, brown, black or tan. The coat is long, silky and straight. They do not shed usually so you can be worry-free about the couches and cushions while keeping a similar breed at home. Their face is covered with dark and fine fur.
They have the shiny coat that is guaranteed from the breed of Afghan hounds and it should be maintained with proper care. You need to groom it regularly by brushing and washing it with proper shampoo. If you find mites in the hair, which is common in afadors as they love to play in the puddles, then you may need to use some medicated shampoo as prescribed by the vet. Do not let the hair get matted or get dirt accumulated in the hair.
They are considered to be a medium-sized dog, but as in the case of other mixed variety dogs, the size varies from one dog to another. However, female ones are sometimes smaller in sizes than their male counterparts.
They have a large round head and a tapered long muzzle. Their nose can be black or brown. They have almond-shaped eyes which is dark in shade. They have a curious expression on their face. The long ears are drooped when folded.
How to take care of Afador?
They have a coat that is long silky and straight. You need to take good care of the coat to keep it in good condition. You need to brush your coat twice a week to maintain the good health of this. They sometimes shed moderately. So you need to brush them with metal combs and bristled brush. You need to comb it from the bottom and once at a handful. This way the hairs will be tangle-free more easily and without hurting the dog. However, they need a good amount of brushing which keeps the blood circulation in a good state.
You need to shampoo the dog with a mild shampoo once a week. They have long furs and they loiter a lot outside so they need to be cleaned from the dust and mites that may be present in their coat. The shampoo that you use should be recommended by some veterinary doctor.
They are well maintained in the colder climate than in warmer surroundings. If the temperature drops too much, then you can arrange for a winter coat which will protect it from the cold weather. This breed of dog is much thicker and stronger than the original breeds. The second-generation dog is much unique in its qualities than its parent breeds.
The owners of the afadors mostly complain about the hardship of training. They need a time-bound and constructive program that can imbibe discipline in them. They are headstrong along with being intelligent so it can be tricky to train them. They often will not act as obediently as needed, but you should be strict about your direction and keep a stern mentality to make them work as per your wish. If you are unable to do it yourself, get professional help for this purpose.
If you have other smaller pets, like a turtle, cats or guinea pig then you should make the afador dog learn that they do not prey objects but family members, so they do not get harmed by this dog. They start to socialize with other pets and the kids at home once they understand their place in the family. This is a bit hard to keep the afador dog fit into apartment life, as they need space to move and also the dogs bark a lot.
To keep this dog in your house, you need to fence the house. Remember this dog has qualities of a hound so they can jump over six-foot fencing also. They are pretty athletic in tendency so your kids can exercise with this dog pretty well. They are not lethargic like the pure Labrador breed.
Afador Puppies
Afador pups are pretty intelligent when compared to another breed of dogs. They are friendly and yet determined. They are friendly and can socialize a lot. They do not get the aloof nature of the Afghan hounds at the tender age and so they can interact with other pups of other breeds as well as strangers if they act friendly towards them.  At a young age, they are jolly and fun-loving pups, they love to play a lot like any other pups and they are much energetic until they are one year old.
They look fluffy and fuzzy at a young age. Not much grooming is required to keep them in good shape. The coat remains short and thus you can easily manage it by brushing once a week. Bathing is not a big issue and you can give it a bath once a month if you are living in a cold zone.
They are not allowed to play outside, so there are fewer chances of getting muddy or dirty by running through the fields. At a young age, you should keep an eye on them so they do not eat anything picking up from the ground. They are hypoallergenic and can get about of allergy by consuming any random food pieces or dirt.
Clubs for afadors
As the afadors are hybrid dogs they are not enlisted in the panel of the American Kennel Club. But it is a member of the Designer Breed Registry as well as Dog Registry of America, Inc.
Afador diet and feeding
Afadors can consume two to three cups of premium dog food. As they tend to bloat, they should not be fed several small meals. You can ask your veterinarian if you need to feed it more times. Good quality hard food is what you should get your afador dog. Here are some of the best afadors food that you can check out.
When you are providing it with some kind of dog food, the bag will have the directions written on them. Depending upon the size and age of the dog, you should feed 1.5 cups to 2.5 cups of food daily.
They should be eating a healthy diet and can overeat if given a large portion of food. This may cause fast weight gain and the dog soon will become obese. Proper exercising is a must to keep the dog in good health. The diet of the afador dog, like any other breed, changes in portion and in types from puppyhood to adulthood and when they are old. Only your veterinarian can get you to help with the different kinds of food containing different nutrients that are appropriate for the age group of afador dogs. Weight, energy and health need to be kept in mind while recommending a particular type of food for them.
Other than bloating, food allergy is another problem suffered by the afador dogs. Certain food ingredient can cause allergy and that varies from one dog to another. You need to check the aftereffect of feeding any particular type of food. If you see the dog getting bloated, you may think twice about the particular type of food. After trying once or twice you can omit the food brand and try another one. Consulting the veterinarian is always the better idea.
How is life with an afador?
The energy level of the afador in cold weather is good but when it is kept in a warmer climate it ca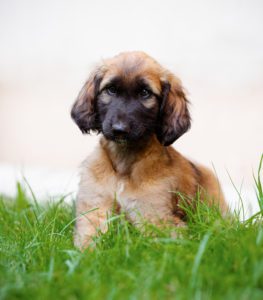 n be not so energetic. They are good as family dogs, but as said earlier; they should not be living in an apartment as that can cause much destruction due to their high energy level.
If you plan to keep an afador in an apartment, get help from a good professional dog trainer, who may help the dog to be trained and fit for apartment life. Young children at home should be directed properly not to tug the tail or ears of the afador breed dog. They have the afghan hound blood in them which can result in the dog attacking the kids as well. To avoid such a situation you need to be discreet with the children and train the dog to be calm and composed.
They are pretty loving and social dog and can be a good family dog if given the proper environment. If you have very small kids then the dog can be of no harm as then the kid and the dog will grow up with each other and will be accustomed to each other's temperament. The energy and playfulness of the dog make them a good companion for the kids if they do not harm each other.
They have a hunter instinct and they may come back after a walk with some small creatures picked up from the surrounding area. This is a natural trait of the afghan hounds, though not all the afador dogs can have this trait. Make sure that the small pets of your house are away from it when it is first brought home. Later you can train the afador dog to not harm the other pets of your home.
They have a loud and distinct voice. So when they bark, in an apartment it can be a cause of trouble for your neighbours. They are good as guard dog and even if not trained, they will keep an eye on strangers. They are not much fond of unknown strangers and can attack if someone unknown tries to come near them. So your guests should be duly informed about the dog's presence and habit.
Playing and exercising schedule
As mentioned earlier, the afador breed dogs need to exercise for a good 45 minutes at least to stay in good health. You can take it for a walk in the dog park or in any surrounding area if Dog Park is not available nearby.
Afador dogs love to play with other dogs and that is natural, so playing in the dog park will keep them happy. However, you need to make sure that it is not carrying any mites or not getting infected by any parasites after the playing session.
If you are living in a spacious home and it comes with a high fenced backyard, then the dog can play there. You can let it roam off-leash and play fetch with a tennis ball. The regular routine of playing and exercising should never be interrupted unless it falls ill.
This breed of dog is a good jumper so they can actually jump over a six feet tall fence. If you accompany it while playing in the backyard, you need to be alert so it does not try to do the same. Also, make sure that it does not harm any small creature roaming in the garden. Running is a very good exercise for this kind of dog as this helps to stretch the leg muscles and work the full body out. Also, the high energy level gets spent with the rigorous exercise schedule and they can keep calm inside the house.
The regular ailment of this dog breed
Afadors are not usually to fall sick. They are one of the healthy dog breeds. Though there can be some illnesses that are predisposed off by the Afghan hound or the Labrador breeds. Like any other pet dogs, they need proper periodical health check-up to stay fit and fine.
Without the regular exercising routine, the afador breed can become a couch potato and obese. So they must get plenty of exercises. If you do not take an active interest in its exercise, and let it play on its own in the backyard, the chances are, it will sit lazily without moving much. Also, they can get destructive and can harm little animals that are present there in the garden. To make it an effective round of exercise, you need to walk with it for 45 minutes and play fetch. Also if you walk it daily, it will build a bond between the dog and you which will have various other good impacts on its behaviour.
They fall prey to hip and elbow dysplasia and subaortic stenosis. They can also experience retinal and hip dysplasia and gastric dilation volvulus or bloat. Other minor diseases are entropion, cataracts, Fanconi syndrome, diabetes and haemophilia.
Regular check-ups
Your dog should be regularly checked by veterinarians, so any health conditions can be detected at an early stage. Also, you have to follow the caring routine that the vet will suggest.
The ears of the afador dogs need to be checked once a week. Cleaning them is an essential part of their health care routine or else wax can get build up inside and that can cause various kind of infection. As their long ears tend to flop down, the inner part of the ears should get cleaned with a damp cloth once a week to keep them free from infections.
The breed of afador dogs has a low threshold of pain so they may get hurt even due to a minor injury. So you should be aware of the accidents and damages that are hurting it after it comes home from a long walk or playtime.
You should do the tests like x-rays of parts referred by the vets, eye examination, blood analysis, complete physical examination and cardiac test yearly once.
Conclusion
The Afghan hound is one of the oldest breeds of dog. Labradors are famous for their friendly nature and guiding as well as a working dog. As afador is a designer dog breed they consist of the streaks of both the variety's personalities. But most of them end up in shelters. So if you are thinking of bringing one to your home, first contact the local rescue groups so a homeless afador dog gets its permanent home.