Keeping the Pacman frog happy in its artificial habitat is not easy, but it is not very tough as well. You need to replicate the original atmosphere where they belong to. Greens are a part of their place of origination and they love to climb on trees, at least some species of them do so. Also, the moisture that is provided by the trees and the damp atmosphere is much loved by Pacman frogs.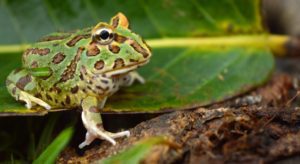 Which live plants are safe for the Pacman frog's enclosure?
There are plants that look pretty but they are not safe for the terrarium of the Pacman frogs due to various reasons. Some of them come with toxic leaves whereas some others are not fitted to be inside the terrarium.
When selecting plants for decorating the terrarium of the Pacman frog, you must keep in mind that the plants should not disturb the regular habits of the frog, nor should they create any health hazard to your pet.
Thus we are here selecting a few plants which can be safely placed inside the terrarium of the Pacman frog.
1. Anthurium
This plant is mostly known for its flamingo flowers or so it is called due to the excellent design of the flower. This one is also called a spathe flower. The foliage of this plant makes it an ideal item to be included in the Pacman frog terrarium as it provides a good hiding spot for amphibian pets.
This plant can live with a minimum amount of natural light and it does not need sunlight for a great part of the day. This one is too pretty so it will add some glamour to the terrarium and also make the living room a nice place if you chose to keep the frog there. It can be supported by soil or epiphytically.
2. Philodendrons
This plant is a fighter when it comes to living in all odd weather and atmosphere. Once you bring it to the terrarium of your Pacman frog, you can be assured that it will only grow healthier, with a minimum level of attention. In fact, it grows so rapidly that often you need to prune the branches.
This plant comes in different species so you can choose from plenty of varieties. It grows perfectly alright when the light is low but if the terrarium comes to the contact of bright light for long hours, the color of the foliage of this plant gets brightened too.
3. Ficus pumila
This is yet another flowering plant to add some beauty and brightness to the terrarium of your pet frog. This one is also known as creeping fig. bright light is one of the necessities of this plant but you can see it growing even when the source of the light is artificial. It is better to be placed in the background as there it will have plenty of space to grow. Humidity is much helpful for this plant so it will adjust to the much humid atmosphere in the terrarium.
4. Wandering Jew
This plant also comes in several species and most of them are indoor plants, and thus, terrarium friendly. This is a very strong plant and will live in any adverse condition. This one needs little patience or maintenance to grow, so you can keep it in the terrarium without being much bothered.
The color variations of this plant are red, burgundy, and Bolivians. All of these varieties have some differences in the color scheme of the leaves. The leaves of this plant are small but dense and this one grows healthily in the terrarium so often you need to prune.
5. Aptenia heartleaf ice
This plant can be grown in direct sunlight or indoors. This one is a succulent one and blooms in attractive pink flowers. A little amount of water is necessary for this plant so you do not have to water this plant inside the terrarium every day. Also, the damp weather is helpful for the growth of this succulent.
Good drainage is an essential part of this plant's growth. So you have to drain the soil out completely before watering it. In winter you should water this plant even lesser as this is how this plant will stay healthy and grow.
6. Croton
This plant can become a shrub if planted on soil and allowed to get ample light and air. You need to prune it to make it suitable for the terrarium. Too much humidity is not very helpful for this plant but the moderate amount of humid weather will not do any harm. Watering should be done in a moderate amount too, do not water it frequently or it may get rotten. Let the soil dry before repeating the watering.  This plant does not need much sunlight and can be grown with the help of artificial light.
7. Bromeliads
This plant has the ability to store water and in the wilderness, many insects, as well as creatures, use this stored up water in the forest.  This plant has quite a few species like a fireball, zonger and doe, and many more. Flowers are seen in this plant which is held inside a cup.
This plant absorbs all its nutrients from the air so you can call it true epiphytes. But if you wish you can keep this plant-based on moss or soil and then also it will grow at a good speed. Do not keep this plant away from light, be it natural or artificial as that may cause this plant to lose the shiny dark green color of its leaves.
8. Peperomia
Humid weather is a friend of this plant and thus it is much suitable for growing inside the terrarium of the Pacman frog. This plant comes in taller varieties as well as bushier and shorter ones. But bushier and shorter ones are preferable for the interior of the terrarium.
The tall peperomia will be broken if the frog tries to climb the branches. This plant has soft and brittle stems. Do not use water to keep this plant as stagnant water will perish the roots of this one.
9. Pilea
This plant also comes in several varieties.  This one can be grown inside the terrarium much easily and also it will be coming in lovely hues of different shades.
The species are named Red Stem tears, creeping Charlie or baby tears. This plant looks much delicate but actually is a fighter when it comes to survival. Air circulation is not a vital requirement for this plant's growth so you can expect it to flourish in the terrarium pretty well. Some of the varieties of this plant need moderate to high water levels to stay fresh. So watering should be done not occasionally but on alternate days.
10. Pothos
This common plant is often seen in the living room window or balcony and it is a famous decoration piece for many plant lovers. This plant can work in a multipurpose way as this can be both substrate and background of the terrarium.
This plant needs a good amount of water to grow, so do not forget to water it every alternate day, unless it is winter. Regarding the light requirement, this plant is also pretty flexible. You can keep it inside and some days of the month can bring it on the sunlight. This luscious green plant offers freshness to the terrarium.
What qualities help you to decide the plants to keep in the frog enclosure?
While keeping plants in the Pacman frog's terrarium, you need to check if the plants are long-lasting. It is not possible to keep changing the plants every week. So if the plant dies soon when kept inside the terrarium then that will not be counted as a suitable plant. Philodendrons are a sure choice on this aspect.
Are succulents good for keeping inside the frog's terrarium?
Only if your terrarium has good air circulation then you can think of adding succulents to the Pacman frog's habitat. But it is not actually an ideal option for keeping inside the enclosure as too much air circulation in the terrarium can dry up the substrate, which will not be helpful for the frog.
Good drainage is another important requirement for succulents and on this aspect; a terrarium can be a nice place for keeping the succulents. The substrate of the terrarium should be well-drained so the moisture remains there but water does not get clogged inside the terrarium.
Does the Pacman frog eat succulents?
There is less chance that the frog will eat succulents when these are placed inside their terrarium. Also if they find that the plant is soft and not hard enough to carry its weight, they will not try to climb upon them. Do not be afraid of getting the plants or succulents damaged by the Pacman frog anyway.
More: