Among the mixed breed dogs, one cute and surprisingly distinct dog breed is affenhuahua. They are the result of breeding two pure breeds, affenpinshcer and Chihuahua. This is an intelligent breed which looks more like the affenspinshcer but the charismatic behavior of this breed reminds us of Chihuahua.
These small sized dogs are sassy and petite in look. They are the best compilation of the qualities found in affenpinshcer and Chihuahua. Sometimes they are also called affen chi. This is designer dog breed and they are sometimes found in shelters and rescues, from where you can get them a safe forever home.
Where did affenhuahuas descended from?
This toy breed dog is first bred in USA. They are the descendant of Chihuahua and affenspinshcer breed. Chihuahuas are lap dogs and they are pretty much energetic. They are likeable as a family dog but do not like to socialize much.
They are also not famous for liking children, as they can snap at small ones as well as strangers when met or touched suddenly. They are small creatures and thus they get afraid of their diminutive size. So they start active defensively when face someone of their similar size.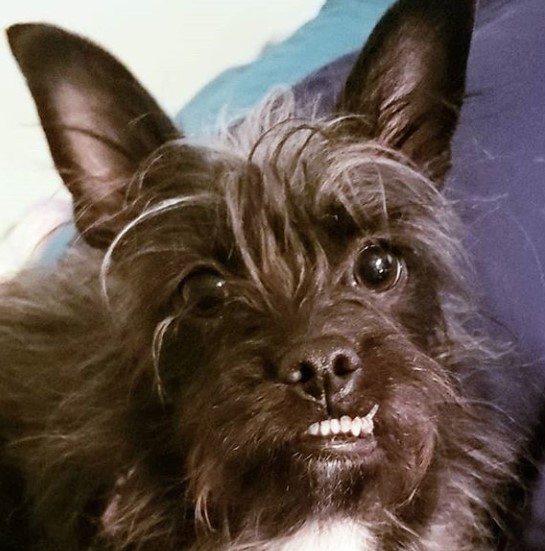 The name Affenspinshcer comes from the French language and it means the mustached devil. Quite apt for this mischievous dog breed, that is also charming and inquisitive. This dog breed is otherwise playful, but if intrigued, it can show the sign of excitement and irritation.
Though small in size, they are fearless and much loyal to its family members. They need good training to live within a family.
Affenhuahua contains some of the characteristics of both the breeds. They are likeable and can be a good family dog, but they are not very friendly with the small kids, especially when they are not trained. They are friendly and manageable. They love to play and have fun. Their look also combines the look of the parent breeds. The size is small and the fluffy hair in the head makes them look accurate as a toy dog.
They may have short of long fur, and as they come from the breed Chihuahua, some of them can be hypoallergenic.
Their snout and beady eyes specify their origin of Chihuahua, and the shade of their fur is closer to affenspinshcer which is brown or black. Their playfulness and love for human is something that is found in both the parent breeds.
Affenhuahua Breed Appearance
This is a short sized dog with high energy level. They mostly come in shades of black, white, off-white, or brown. They live up from 13 to 15 years. It has a short muzzle and snout. There are two main coat shades of this dog found. Either it is dark grey or black to any darker tone.
They grow up to be 8 to 12 inches when fully grown up. Their life span is 13 to 18 years so for a pretty long time you can enjoy its company.
Affenhuahua Nature and Behaviours:
They are alert and bright, you will never find an affenhuahua which is lethargic or quiet. They are much playful and they want a companion with whom they can stay busy with. They love to stay with human and thus are fitted for apartment lifestyle.
Good breed for the first time dog owner
This dog breed is perfect for the novice dog owners as they can be maintained without much hassle. They are easy to be trained and mostly easygoing when it comes to treat with them. They are not assertive or independent thinker which makes it manageable for the novice owners to handle them.
For the first timers, it is advised to get a senior dog rather than a baby pooch. The adult affenhuahuas are less demanding and it also has lower level of energy. You need to be cautious about the food supplements about the old dog so it stays healthy and lively.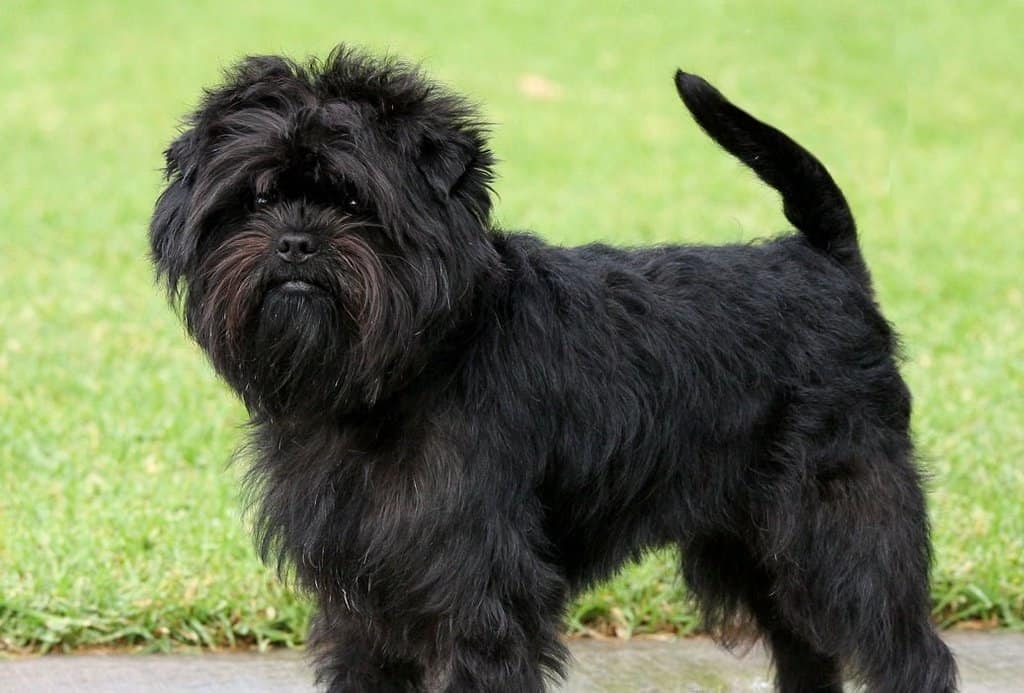 Much resilient and tolerant
This breed is easygoing, as described earlier. So that means this dog is much resilient and low on sensitivity.  If you keep such a dog in the household, you do not have to be bothered much about the chaos that takes place in any regular household. These dogs are capable of handling such scenes without much bothering. Even the loud and assertive owners can have less impact on this breed of dog.
Does not stay alone
For the families which do not stay in home for a longer part of the day, this breed will be of much help. If they want to keep dogs, the breed should be able to handle the loneliness as most owners leave their dog alone in the house while going for work.
However, affenhuahuas are too close to their humans and they will suffer from stress and anxiety if you leave them alone for the whole day, five days a week. Anxiety causes them many disturbing behavior like whining, barking, chewing of any random house objects and destruction in the household. So if you have a family member staying at home whole day, that will be the perfect condition for keeping an affenhuahua at home.
Cold weather does not suit them
As affenhuahua is a short furred dog, they cannot take harsh winters. Their body is unprotected against the chilling weather. So this dog should not be kept in a house which is not warm enough, if the owner lives in a cold zone. Also you can get some warm clothing for your dog, if you wish to have them in your house while staying at a cold area.
Adjusted to hot climate
People who are living in a hot and humid area can easily keep the affenhuahua dogs as they are much easily adapted to warm area. Unlike dogs with thick coat, this breed of dogs can manage to stay healthy and lively even if the temperature rises a bit too much. However, if it is too humid, these dogs should not be let out in the sun and be kept inside the house.
Adaptability
Affenhuahua are pretty well adapted to the apartment lifestyle. They should get some playtime with other dogs regularly so they get along well with human members as well as different dog breeds. The age of three to four months is crucial for any pup so if you have time to train the dog, adopt one that is really young. It will adjust to the home life as well as with the family members without much fuss.
If you are too busy with a hectic schedule then looking for a grown up and confident affenhuahua is what you need. But in that case, make sure that there is no toddler at home, as leaving a kid with the affenhuahua is not an advised thing, both for the betterment of the kid as well as the dog.
Due to the small and compact size as well as the temperament, this is the perfect dog to be kept in apartments. Neither do they need large space to move around, nor are they much hyper in activities.
They are the perfect companion of young working people or single people who need a good companion. This dog will deserve much of your attention and time, so be prepared to be on your toe when you are bringing one affenhuahua at home.        .
Loves the human family
Unlike some big dog breeds, who are much independent and aloof to the human members of the family, affenhuahua are close all the family members. They are aware of the individuals' presence in the house and also they try to create a bond with all of them. They take interest in playing with all the family members and try to initiate the bonding.
Also they are not the one master dog. Even if one singular person feed them daily, still they will allow other family members to caress them or play with them. It will have affection for the family members and also it will shower the admiration for all the members. Then should grow up with the family members which will make them better bonded with the humans in the house.
Unfavorable for the company of children:
The dogs that have a big body are calm and composed enough to handle the petting from the kids. They can stay sturdy while kids can jump around them or throw some tantrums. But for the small bodied ones like affenhuahua, kids are not really good companions. Unless they grow together, affenhuahua can be perturbed by the petting and hugs of a kid.
Dislikes other dogs:
Small dogs are often pretty close to the grown up humans but that does not mean it will be friendly enough to other varieties of dogs as well. These breeds often look up at the humans as their protector, while dogs which are short or big, give them threatening feeling. So you cannot expect them to act friendly when a neighbor pays a visit with their pet dog.
Disliking for strangers:
Affenhuahua does not like the proximity or the presence of strangers, when they see them for the first time. However, as they are generally fond with grown up humans, they can take time to build the bond with even the strangers with repeated visits.
Is training required for affenhuahua?
Training is an essential part of the upbringing of any affenhuahua pup. You need to make the dog breed ready to live with young kids only after a proper training. They are friendly to some extent, and when they are left with children they can be somehow protective too. You can get all the basic activities for affenhuahuas.
Do you need leash to keep them calm?
Affenhuahuas are one of the most vigorous dog breeds. If you bring them home, you need to keep a leash on them to make them understand your commands and also keep it distracted from doing any destruction. Even though you keep it leashed, you can feel the pressure it is using to pull itself to some other direction while not obliging you.
Even when they eat or drink they do that with great force and energy. A big gulping is what they do when they are offered food or water. Training is a must if you want your pet to behave properly and for that leashing is important at the preliminary level. However, you can let it be free within the home when it gets a good traning
How to make affenhuahua dog friendly?
If you want to train your affenhuahua to be a well behaved dog that will not react with the presence of other dogs, then you should train them properly from the time of adopting. Submission and dominance should be taught which is learnt by them when they are left with other pups. They should learn to submit against a dominant dog's aggression and that can be their defensive skill when they grow up.
You need to take the affenhuahua to the ground, dog-park or other places where it can meet other pups of its age but of other breeds. From the age of eight months they can be taken out. Also send the dog for play dates to the neighbor or other dog owner's place, but make sure that your dog as well as the other one is vaccinated and dewormed.
Also you can sign up for a puppy school for kindergarten classes where the small dogs will also learn to behave without the leash. Also inviting other dogs with their owners to your place and expose it to the various breeds of dogs from the pup age will make it less shy. Then it will not feel threatened even when it is grown up and facing another huge sized dog.
Can you carry affenhuahua while travelling?
As this breed is pretty small in size, you can take them along with you when you are going for a tour. Of course you need some special equipment to carry it, and you should also carry the essentials like the food and water for it while on the go. This small dog can be carried by the help of a carrier which will make the accompaniment easier.
Is chewing everything common among affenhuahuas?
Chewing almost anything that is left within its territory, or rather mouthing, is a part and parcel of affenhuahua's personality. They will nip or play-bite the human owner, though playfully. They bite in a soft manner that shows they are not trying to make a scar, or hurting your by any means. This is a common gesture of this small pet dog and they love to gnaw and chew on the small soft things or toys that are provided to it.
If you want this habit to get off, then you need to train the dog in proper manner. Also you can play fetch with this one so it's chewing habit channelizes into the game.
Some interesting facts about affenhuahua:
The affenhuahuas are pretty energetic dog and they can be taken for at least half an hour's walk will make them composed as their energy will be well spent. Also active play sessions are good for the affenhuahua as they will be enjoying the company of yours.
Affenhuahuas come with short fur coats so they are less prone to spread allergy. Also they shed much less than many breeds. Dog lovers with allergenic tendency can adopt this toy dog breed as they will not cause them much trouble.
They are better being in company of older people or grown up kids. If your small wonders loiter around the small dogs, they can harm them unintentionally and also intrigue the dog to attack them when they will feel terrified in the presence of the small kids.
They like to be the only pet at the house, and may not like the presence of other small pets or other dogs. If you wish to keep them with other pets they need to be trained properly so they do not create much nuisance over the issue.
They are quite potential of alarming nature, and they can alert you of any potential danger. They are smaller in size and that makes them super protective of their territory. A mild knock at the door will make them charged up and run to protect its owner.
Barking is pretty common and you cannot expect this dog to keep calm for a few hours at a stretch. On this aspect, the affenhuahua act mostly like a watchdog, and they assume most of the strangers to be suspicious. So if you have some elders living with you or a young kid who can be disturbed within sleep by the barking of the dog, reconsider your choice of getting affenhuahua.
They are one of the rarest breeds. There is high chance that you will be the sole owner of an affenhuahua in your locality. If you want to meet another of the same species, you may need travel far.
This small dog has the tenacity of a terrier. Originally these small species dogs were used to catch and kill rats in the farms. So they are fast runner and behave not very well with the small creatures, even though pets, around them.
They are not much obedient, so you can expect an attached pet but not the one who will readily jump at your command. Rather they are sassy who loves its human to follow its wishes.
How healthy is affenhuahua and how to keep them healthy?
They have the similar chronic disease possibilities like the Affenpinshcer and Chihuahua. They are not easy to fall ill or sickness prone, so you can be worry free most of the time when you adopt a baby affenhuahua. However, with age and in some exceptional cases, the young ones too, can face problems like collapsed trachea or hip dysplasia. Some dental diseases are also common and so is patellar luxation.
Also weight gain is a common problem with affenhuahua that are adopted by owners who are busy to walk the dog regularly. They have high energy levels so if they do not get to spend the energy, they will get fatter.
Regular checkups with the veterinarian are necessary. This will detect any disease at the preliminary stage. Also half an hour walk with your dog will keep the pet as well as you healthy and fit. If it shows some reluctance in walking, then you can assume there is something wrong with its health.
You need to check the ears of the pet to make sure there is no debris or wax collected inside. You also need to clean them with proper care and equipments as suggested and directed by the vet. Trimming the nails make the dog free from the chance of any infection that may occur due to the collected dirt under the nails.
Oral health care routine is the most vital part of an affenhuahua's healthy lifestyle. Dental health deteriorates more often than other medical issues. Brushing regularly like humans, and in proper way is mandatory. Ask your vet to know the way to do this.
How to properly feed affenhuahua?
This small breed with high energy level tends to gain weight fast. So you can feed it with the regular amount of food, as per the direction of the vet.
The amount of food depends much upon the size, age and maturity of the individual dog. If they get overweight, do not cross the limit of the amount of food as referred by the dietician or vet and also treat offering should be limited for some period.
How to maintain the coat?
This dog, as mentioned earlier, comes in black, brown or fawn colored coat. Most of them are short furred but some are found with longer coats. However, they are allergy safe and do not initiate this disease. You can brush it once a while to spend some time with the dog and also to check if any kind of mites have infested in the coat. But bathing the dog once in a week is enough for keeping their coat clean and groomed.
Conclusion
Affenhuahua has some monkey-like facial expression and that is due to the affenspinshcer that is usually called monkey-faced dog. They are shorter ones with a regular crescent shaped tail. They are funny and playful and if you can keep good company to it, it will be a nice loving part of your family.