Owning a dog offers you plenty of options to bring happiness to your life. You can exercise with it, can have fun and can sometimes find a friend to whom you can unburden your thoughts. Having an Affenpinscher is a great idea when you need mental support as well as a cause to be happy in mundane life.
By taking care of the dog, by seeing it grow happy and healthy, you will be achieving the joy of a parent, a creator and a friend, who gets to share his life with a marvellous creature.
They are pretty adjusted to apartment life and stay active all day. They can be kept in the house which does not come with a yard, as they will run and jump inside the house mostly. They have long hairs on their coat so you should keep them at moderate temperature. Those who live in a hot zone should take additional care to keep the dog in a cooler place.
Their prey drive makes them unfit for living with small creatures kept as pets in the same house. However, if you bring them as a pup and they are brought up with the other pets; they will not mind staying peacefully with them. They are not much good with kids though. But if the kids are well behaved, you can keep the dog with them.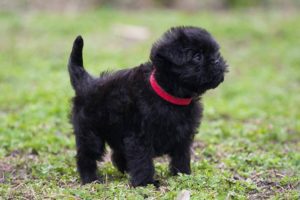 Should you own an Affenpinscher pup?
As we have spoken about the positive points of the life of a dog owner, similarly, you should be aware of the hazards and burdens.  When you are adopting a dog, you need to pay a price for the pup, or else if you are going for adoption, then you need to pay the adoption fee. This amount varies from place to place, but it seems a hefty amount that will allow you to bring a dog into your life.
Other regular expenses to consider
The cost of food is quite bulky. Meat heavy diet is what you could get for your Affenpinscher to keep it healthy, as grains or vegetables are not the right sources of nutrition for the dogs. You can keep an Affenpinscher on a moderate budget, as they are a smaller breed and does not need a huge supply of meat every day. If you wish to keep some huge bodied dogs, then you need to make sure to provide them with a good amount of meat to satisfy their hunger.
The bills from the veterinarian cost a bomb. So you should be aware of the booster dose once you bring the Affenpinscher pup at home.  Like human kids, they also need proper vaccination and for that, you have to pay the bills. Even if you are offering the Affenpinscher good food and making it exercise regularly, still you should get the medication as necessary. Or else you will make the dog prone to various diseases and risk its life.
Regular grooming also is something that cannot be mitigated by a small amount of money. Breeds like Affenpinscher that comes with long hair needs proper trimming. Also, their nails need to be clipped once in a while. All these need an appointment with a dog groomer. Doing it yourself is also possible but you need to be careful and much efficient while trimming and clipping.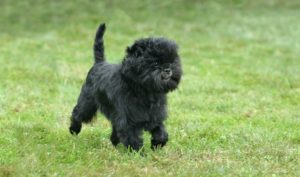 There are several cases when you need to ensure your dog for some sudden ailments. Also if there are medical emergencies, then you need to pay for the surgeries. Affenpinscher is a breed that often suffers from hip dysplasia and such bone-related disease. Then the medicines and other costs have to be born by you.
If you are a working person, then you cannot leave the Affenpinscher at home on itself. These small dogs need attention and care. So you should arrange for some dog nanny or a dog crèche to keep the dog in the best environment. They need grooming, exercising schedule, two times meal and house barking which is only possible when you or someone professional stays with it for the whole day. This requires a monthly allowance which will be spent from your earning.
Price of Affenpinscher pup
The Affenpinscher pups cost around 1800 USD to 2000 USD depending from store to store. They live for 12 to 14 years. You can also adopt them from any adoption centre near your location. They are purebred dog and come in black, tan, beige, grey or red colour.
How to adopt an Affenpinscher pup?
If you wish to get one adopted, check the rescue centres. There are some rescue centres that specialize in Affenpinscher. There are several websites where you can get information about your chosen breed of dog and from where you can adopt one. Websites like adoptapet.com work worldwide so you can get the notification if you get some similar kind of dogs near your location. Also, other options are petfinder.com and affenpinscherrescue.org which will help you to get the pet dog.
These rescue centres often take good care of the dogs, so you are likely to own a happy and healthy Affenpinscher pup that had been abandoned by its earlier owner. Also, you will be doing a great job by offering it a forever home by bringing to from the shelter.
Formalities to adopt Websites as adoptapet.com works worldwide so you can get the notification if you get some similar kind of dogs near your location.
Cost to adopt Affenpinscher pup
You need to spend 300 USD to adopt an Affenpinscher pup. This is the amount that you need to pay for the looking after and care of the Affenpinscher pup since it was there in the shelter. To buy the pup you need to spend more amount as the breeders will ask for 800 to 1500 USD for a rare mixed breed dog like Affenpinscher.
As we have earlier mentioned, Affenpinscher is good to keep in the apartment. They are not bigger than 11 inches when fully matured. They weigh up to 10 pounds and they fall under the toy group dog.
Age plays a vital role in the maturity and behavioural change of the Affenpinscher pup. They are much energetic and active by nature, but when it comes to the age of six to nine months, they start getting calmer. Also, this is the ideal time to train them as their attention span will increase and they can follow the directions. The puppy energy will be done away when they will reach the age limit of 2 years. This is the time they get fully matured.
Can Affenpinscher be left alone?
When you are adopting a dog from a smaller breed, you have to remember they are not safe to be left alone. Especially if you have kids, you should not let the dog and the child is on their own, without any supervision of an adult.
Also if you take them to the dog park, do not lose the view of the dog. The risk of getting into a fight with a bigger dog is much with the Affenpinscher. This is due to the characteristics and personality trait of the Affenpinscher, which, after being a small body dog, approaches the bigger sized dog and teases them. You need to keep supervision on them to make sure that your pet does not get hurt in any situation.