Bulldogs are a famous pet for dog lovers and there are varieties of French and American bulldogs, which are pretty similar in looks but do not match so much when it comes to characteristics. These breeds of dogs are famous for their squishy and blunt faces which makes them look cuter.
People usually believe that French dogs can swim. This is due to the fact that they overheat very easily and since water is a great place for them to cool down, therefore, it is often believed that the French bulldogs can swim.
So, while you might find it quite tempting and great if you want them to swim but it is important for you to know that they basically can't swim.
The Bulldogs and other dogs which have short or no snout make it difficult to breathe due to the scanty passage in the nasal area. They often snore while sleeping due to the less air that they can inhale at the time of breathing.
There are various respiratory issues that take place when the French bulldog is suffering from brachycephaly. These respiratory problems often take place when the dog is young and that is why they are unable to swim
Can any French bulldog swim?
There are few videos that show bulldogs are swimming but that does not mean that the bulldogs are generally good swimmers. There are exceptions and that should not mean that you will allow your French bulldog to be in the pool for swimming.
Even if you are interested in letting the dog be in the pool make sure that there is enough protection to keep the dog safe in the pool or any water body.
The dog may also get exhausted and it can become lethal for the dog to stay in the water. Do not attempt any experimentation on your dog as that can be life-threatening for it.
The bulldogs have a unique appearance and this is one of the most important aspects of their life. They have adorable faces along with thick necks and short bodies. Therefore cannot swim. In order to be able to swim, they have to apply a lot of force to keep their head above water.  Also, when they tend to swim like other dogs, they are likely to sink like rocks. They like swimming but they actually cannot.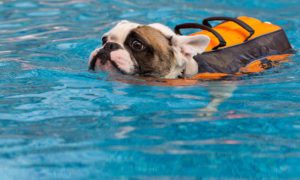 Why do the French bulldogs find it difficult to float?
As we have discussed the physical characteristics of this breed of dog, they are not being able to float because of their short legs and wide and heavy body. Their body is shorter in length but it is wide. Also, they have a big head on their shoulders which makes them even heavier.
The body proportion of the French bulldogs is not perfect to be a swimmer, so floating on the water is a troublesome task for them.
Does the French bulldog hate water?
Dogs do not hate water usually. So if you have adopted a French bulldog, then you can check its interest level in water by offering it a baby pool in the backyard. It may find it entertaining, especially at the time of summer days.
The water level of the pool should not be higher than its shoulder, so it does not get choked when it enters the pool. Make arrangements so the dog gets encouraged to be in the water, if not be a pro-swimmer.
They like water and absolutely love it. Even if you do not take them to the pool they want to be in the water. It is tough for you to teach them that the human-sized pool is not that suitable for them as they can drown in it. You can definitely take your dog to a children's pool and a beach.
How can you encourage the bulldog to be in the water?
If you are a good swimmer or a water baby who loves to spend warm days in the poolside or love to spend the vacation on seaside beaches, then you must take the pet French bulldog with you. The time you two spend together will double up the fun.
You should always go for shallow pools when you are taking your French bulldog with you. Even a sprinkler will do fine. But you have to confirm that your dog loves water. Do not force an unwilling French bulldog to the water as that will not be healthy for it.
A live vest is also an important investment for the learning session of swimming.  Do not take the dog into the pool or any broader water body without putting the life vest on. Also, make the dog wear the life vest beforehand, or it will be tensed when you will suddenly make it wear the life vest just before going into the water.
Give it some treats when it wears the life vest and puts it on for a few minutes. The French bulldog is usually calm in nature, but it needs constant reassurance to become confident about new things like swimming.
It is advised that the French bulldog's owners should not go swimming with their pets without a good swimming jacket.
Some people are not aware of the fact that these dogs can easily drown in the shallow waters and they have to struggle even to keep their noses up.
Due to these efforts, they get tired very quickly and they are not able to inhale the air all at once. Also, it might turn out to be very fatal and that is why it is very important to have a life jacket.
Talking about buying the summer essentials and the preventions of overheating, it is advised to take a freshwater bottle along with you. They need lots of water during the summer months so that they can easily escape the hot heat stroke.
How do the short snouts make it difficult for them to swim?
While swimming the head should not be tilted upward, rather it should be on the same level as the neck and that is the problem with the French bulldogs.
They cannot keep their heads at the water level as that will cause them choking and their breathing will be discontinued. Thus they need to keep the head up, but the body balance will be disturbed when the head is tilted, and that is how their attempt to swim will be failed.
Do these dogs float?
No, they do not. They cannot float because of their body shape and the muscle density they have. Basically, if we see they have more muscles and less fat. So, that makes them heavy due to which they do not float.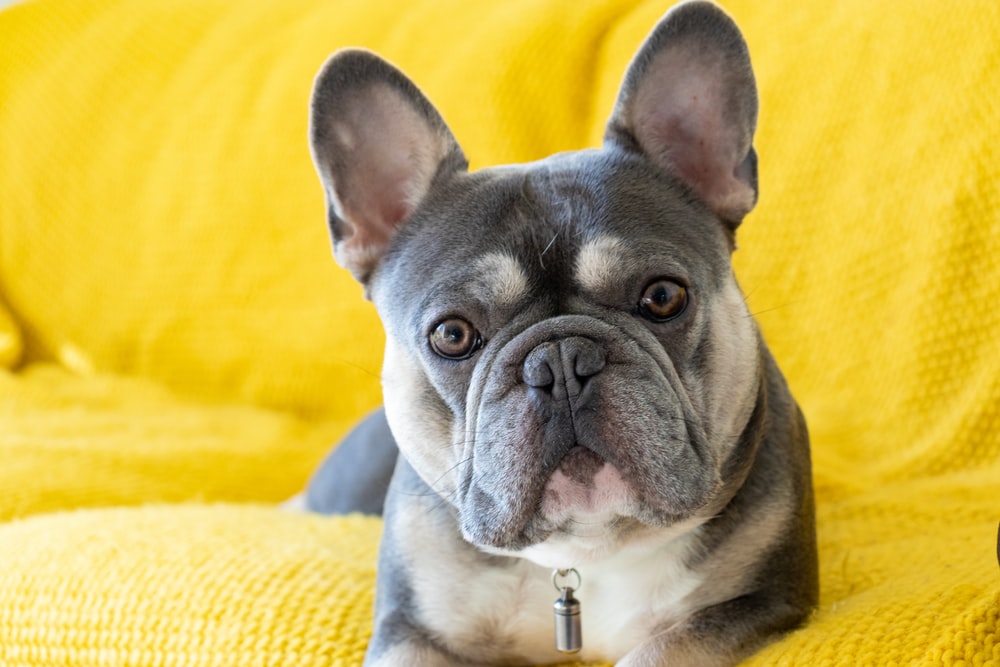 Can they still enjoy water?
Yes, surely your dog can enjoy in water but it cannot be left unattended. You can follow the below-mentioned ways to let your dog have fun.
Life jackets:
In case you want your dog to play and have fun with the family then you are lucky. You can use the life jackets that are specially made so that it can fit the dog completely and also gives them great bounce and help maintain their heads above water.
In case you are buying the life jackets then you need to be sure that the jacket should not be enough tight. Also, these jackets serve as an inflatable floatation for small children. The extra floatation can keep the dog above water but in some cases, it is important that you observe if your dog is fin in the jacket.
Wearing the life jacket as well we see that that the French Bulldogs' nose is barely above water and the face of the dog is compact therefore you need to supervise the dog while it is underwater.
The ocean has many waves and therefore you should avoid such places from your French bulldog. Also, you should be strict with the fact that when your dog enters the pool it is wearing a life jacket.
Teaching your dog to swim:
Even if you take care of the floatation it is important that you teach your dog how to swim, and how the dog can safely exit the pool. This can be helpful in saving their lives and this is basically when you are not around.
It is also recommended that you swim alongside your dog with paddling and a life vest and help them in keeping their heads above water.
Treats are a great way to train your pet and treats are one of the best post swimming rituals. You can rinse your pet and dry them ensuring that they exit the pool safely.
Children pools:
This is one of the safest options that you can prefer and t can help in keeping the dog safe and even help it enjoy in the water. You surely need to supervise your dog so that it does not drown and you can keep it above water.
Also Read: Can French Bulldogs Live Outside in Hot or Cold Weather?
Physical features and their effect
There are certain physiological features that often create problems for the dog. Here, the cute-looking French bulldogs suffer from Brachycephaly which happens because they do not have the long snout-like many other dog breeds.
Bluntnose
Their nose is stuck into their face which is roundish and chubby, so they have to keep their head up to breathe easily.
Short legs
Also, the legs of the French bulldogs and some other dog breeds are shorter. These legs do not help them to swim as these legs are not much efficient to move fast and keep the body weight floating over the water.
Also, there are several respiratory problems found in the French bulldogs, which can create trouble if you keep the dog too long in the water. They can catch a cold and also they can be the victim of arthritis or rheumatism due to the lack of vitamin D and calcium. These problems can affect their health as well as their swimming ability at the same time.
Top-heavy structure
The dogs that have wide torsos or bulkier builds find it difficult to swim. In the case of French bulldogs, the wideness of their shoulder and all-over body structure does not help in swimming. The short legs are not able to make the body float easily.
Conclusion:
The dogs that do not know swimming can still love the fun activities in the water. You can give the French bulldog of yours some time to learn swimming if it is willing. It needs patience and consistency to make the dog pick up anything new, just like the kids.
So take your dog to the water when it is summer, as that will not cause them any infection related to coldness or breathing trouble.
Do not let it play in the water when the sun is high and scorching, rather keeping the pool at a shaded place will be a good idea. Make it drink water a lot so it does not get dehydrated or drink pool water when it becomes thirsty during swimming.
More: