American bulldogs are famous for being protective and friendly towards the human master and his family. Though they look intimidating with a heavy and broad physique, yet they are one of the friendliest dogs when it comes to getting along with humans.
In fact, they need to be trained to become attacking towards strangers or intruders. But when it comes to mixing with another breed of dogs, the owners are yet confused about their reactions.
Are they really friendly towards the other dogs or do they seek only the company of their own breed? All will be answered in this guide.
Are bulldogs good with other pets?
It has been seen that bulldogs act often friendly with other small pets that are present in the house. They do not possess much threat to the pets like cats, squirrels, lizards, or frogs that cohabit with them. Their protective nature makes them be friendly and guards the little creatures that they see around them.
There is some misconception about the nature of the bulldogs that they may act aggressively when they see some smaller creatures in the same territory.
But when they co-exist with them for a long time then they get protective and loving towards them. Also if the other pets were there before the bulldog came to the house, then they would think of the other pets as members of their family and will never attack them.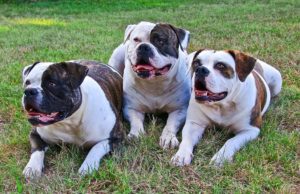 How do the bulldogs respond to the presence of other dogs?
When the bulldog is accustomed to living with another breed of dogs, that is, if there are other breeds of dogs as pets kept in the same house as the bulldog, then they do not react much to the presence of those dogs.
But when they meet some random dogs at the street or at the dog park where they are taken for the exercise or walking session,  then they may not act much friendly with them. They do not seek the attention of another breed of dogs that are unknown to them. Even they are not okay with the presence of cats, which are much smaller in size if they are not known to it beforehand.
Not always will they act aggressively to such unknown dogs or cats. But if the other animal provokes it or comes much close to it, then the bulldog may try to attack as it may become aggressive.
Are American bulldogs aggressive by nature?
American bulldogs are a friendly dog breed and they do not usually pose a threat to the family they are living in. They are not even scary to the children of the house and also they behave protectively with the seniors as well as kids. So they cannot be called an aggressive breed in general.
But the grooming can make them turn hostile. They love to be surrounded by humans and are not prepared to live alone. If the owner lives a hectic life and is bound to leave the bulldog alone at home, then the nature of the dog will change. It can become frustrated or anxious which will be reflected in the behavior.
It will become habituated to living alone, and when it will face other dogs or humans other than its owner, it may act aggressively
Does the male bulldog show more aggression than the female one?
Yes, it has been seen that the male American bulldogs often act aggressively while they meet other male bulldogs. When two bulldogs of opposite gender meet, there may not be much aggression or confusion.
If the owner wishes his or her bulldog to behave properly with other dogs, then the training for socialization should be started from an early age. The bulldog needs to be taken to Dog Park, where it will learn to become friends with other dogs.
Are all bulldogs aggressive towards the other dogs?
Dogs become naturally aggressive as they live in a group or pack, and they try to protect themselves from other stronger animals when they are in the wild. They need to stay in their own territory and protect it from any other animals or even other dogs. Thus most dog breeds are genetically designed to become aggressive.
Bulldogs are not naturally aggressive but when they get afraid of something or needs to protect their family, then they may act aggressively, as they think the other dog or the other creature to be its enemy.
How do the bulldogs show their aggression when faced with other dogs?
When it comes to showing aggression, this is a complicated emotional state. When the bulldog is showing some behavior that threatens the other creature, or if the dog is actually trying to attack the other creature, then it can be called aggressive behavior.
The American bulldogs show aggression by growling. If not handled, they can try to attack the other person or creature that is before it. They are very loyal to their owners and need early training in socialization.
How can you make the American bulldog mix with the other dogs?
As aggression is a behavioral problem, this needs to be handled and the dog needs to be trained from an early age so it gets mixed with other dogs. But the training should be done in a proper way as sometimes the behavioral management can go wrong and it can worsen the American bulldog's nature.
The nature of the dog should be analyzed and the cause of the aggression should be detected. If the American bulldog is getting scared of other dogs or some other creatures, then socializing is the key to solve the problem. But if the dog is facing anxiety-related issues then that should be treated with utmost care and that will be a long-term procedure.
Conclusion:
Not all American bulldogs react in the same way as they have some differences in the bloodline and genetics play a pivotal role in the behavior.
Like their body structure and complexion, nature also gets varied. Also, their upbringing makes some difference in their behavior. When all these factors are manipulated, you can get the best pet dog in an American bulldog.
More: