French bulldogs are loveable and sweet-natured dogs that prefer to stay in the company of their owner and family members. Though the look that they contain is quite threatening, the nature of this breed is quiet and they are also protective about their owners and kids.
But the nature of French bulldogs can be different altogether and that depends upon the individual characteristics. Some of them are pretty lazy and do not wish to get up, play or exercise during the whole day. While there are others that love to stay active. Sometimes they act so energetically that they create problems for their owners and other members of the house.
Are French bulldogs hard to calm down?
French bulldogs are always hyper in energy level when they are at the puppy stage. However, some French bulldogs learn to behave in a well-disciplined manner or they get lazy as and when they grow up. But this is not true for this whole breed.
French bulldogs are usually much smart a breed and they are hard to be led. They are intelligent in a way that leads them to act independently. So undoubtedly they are not easy to be tamed. They love their owners and that is the only key that the owners can use to teach them some manners.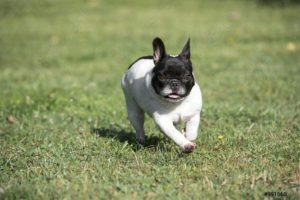 Why do French bulldogs act so hyperactively?
This breed of dog is full of energy. They are unable to exercise too much or are barred from doing any outside activity. Their physical structure is not fitted for much physical activity and that is why they need to spend a good amount of energy while they are indoors.
Also, they seek the attention of their owners or other family members. If they are not getting enough attention or do not get enough scope to spend the excess energy they become destructive and act hyperactively.  Younger ones consist of more energy and they tend to show more vivacity, whereas the older and mature ones often become lazy and calm.
We would like to discuss this matter in a deeper way, and there are some probable causes of the hyperactive nature of your French bulldog.
Insufficient diet
When the French bulldog is not having enough food then it can have an irritating temperament, which can be seen in its hyperactive nature.
If you find that your dog is not having the proper meal, like it is not finishing the meal that you are serving it and yet it stays hyperactive for the most part of the day, then it can be the reason that it is not having good digestion. This can be the reason for its tantrums.
You can check the food that you are offering, to know if it is not liking the flavor of the food or not finding it alluring enough. You can change the food brand if you are giving it some commercial food. If you offer it a home-cooked meal then change the ingredients and see if any improvement is seen in its nature.
Also check: Some of the Best French Bulldog Bowl
The environment
It may happen sometimes that the bulldog does not stay happy or content in its natural atmosphere. This can be the cause of its suspicion which does not let it be at peace. There can be some new addition in form of a guest or member of your family or a new pet, which may irritate the bulldog. They are not very welcoming when it comes to strangers or new pets.
The French bulldog's behavior will normalize after it gets adjusted with the new member of the family. This is a matter of time and in the meanwhile, you have to be patient with this pet of yours.
Loneliness
As we have mentioned above, French bulldogs are seekers of attention. If you stay busy the whole day and there are no other family members at home to keep it busy, then you may feel alienated. The tension and separation anxiety of this dog will be expressed via its activities.
Keep it busy by offering it some toys. If you are not at home for long hours, then you can arrange for a dog sitter or a doggy crèche where the pet French bulldog can stay for the day. This way it will learn to socialize and also it will become better groomed in presence of people or other dogs.
Lack of exercise
Bulldogs do not love to spend time outdoors, partially because they are lazy in nature and partially they prefer to stay in the house for the moderate atmosphere. But when it comes to spending the energy, bulldogs need to be taken for a walk at any feasible time of day. If they stay inactive for the whole day, they get stuck up and that can be seen in its rushing and hurrying movements around the house. You need to also learn how To Train A French Bulldog?
This excess energy needs to be spent up and that is why you have to take time and take a walk of 30 minutes with your French bulldog necessarily. This is the only exercise that can keep the bulldog healthy and also mentally relaxed.
Does bulldog get hyper more often?
Until there are some obvious reasons, French bulldogs will not show any agitation or any kind of unusual tantrums. They love to keep their owners happy and when they do not obey the orders from him or her, there is something wrong with the dog. French bulldogs sometimes act more actively than the regular times, but if that condition does not persist for longer than a day or two, then you can wait and let the phase pass naturally.
Otherwise, you have to locate the reason for its hyperactivity, which can be caused due to the presence of a kid at home, or some small pet that you have brought home recently. Also, it can be feeling unwell and try to convey that to its owner by showing its hyperactive attitude. Whatever is the reason, if your dog does not act the way it used to, and then you need to get it checked by the vet.
How should you handle the hyperactive behavior of your French bulldog?
French bulldogs, like any other dog breed, love the presence of their human. So when you come back after a long day at work, they will jump around you and try to express their joy in several ways. If you stay calm then it will gradually relax and this hyperactive session will pass. This is normal for the bulldogs and you need not be worried about such gestures.
Keeping it busy with some play or play with it yourself is a good way to calm down the French bulldog. If not regularly, then make a schedule to spend some quality time with your dog during the holidays. This will satiate its quench for your company and eventually it will calm down.
Neutering is another way of calming mature French bulldogs. That is when it will stop showing any excitement when it comes near any female dog in the vicinity.  This is also good for their general health, as it has been often seen that the bulldogs fight with other dogs of same-gender when there is any female dog around them. This may cause them other health issues while getting attacked by the more powerful dogs in any severe way.
Conclusion
French bulldogs are faithful and they generally do not create much nuisance when trained properly. So when they behave hyperactively then you need not punish it or being rude to it. Just gentle and calm behavior will be enough to keep it pacified.