Being a new dog owner can be an unnerving experience. Much like welcoming a new baby, the process is exciting and overwhelming. Having a dog, especially a puppy, means a lot of responsibility. You must feed, train, and take care of your furry friend round the clock.
As a new owner, it is easier to find information on certain breeds of dogs than others. Popular breeds like Labrador Retriever and French Bulldogs, both of which rank high in popularity among dog owners. Yet, for some breeds information is scarce. Goldendoodle happens to be such a breed.
To get a detailed idea of what type of dog a Goldendoodle is read the rest of the article. This will prepare you for getting a Goldendoodle.
Breed History
There is not much of a history when it comes to Goldendoodles. While these dogs have become increasingly popular nowadays, they had not existed until the 1990s. Goldendoodles are what we consider hybrid dogs or designer dogs. This is why the American Kennel Club does not officially recognize them as a dog breed.
Goldendoodles are a cross between Poodles and Golden Retrievers, both of which are popular breeds of dogs on their own. People who own Goldendoodles even now usually get them by crossbreeding Poodles and Golden Retrievers.
This relatively new type of dog is fast becoming a popular choice among dog owners. Goldendoodles carry the physical characteristics and personality of two wonderful dog breeds.
Physical Characteristics
Since Goldendoodles are a mix of poodles and Golden Retrievers, it is only natural to expect them to possess features of both types of breeds.
They are medium-sized dogs and can reach heights of 20 inches to 24 inches. An adult Goldendoodle can weigh between 50 pounds to 90 pounds. These dogs vary drastically in size depending on the type of Poodle they originate from, medium or small.
The fur is wavy and dense, which is not surprising since Poodles have curly fur while Golden Retrievers have thick flat fur. Goldendoodles are white, cream, gold, or beige. Some, however, can be brown and black as well.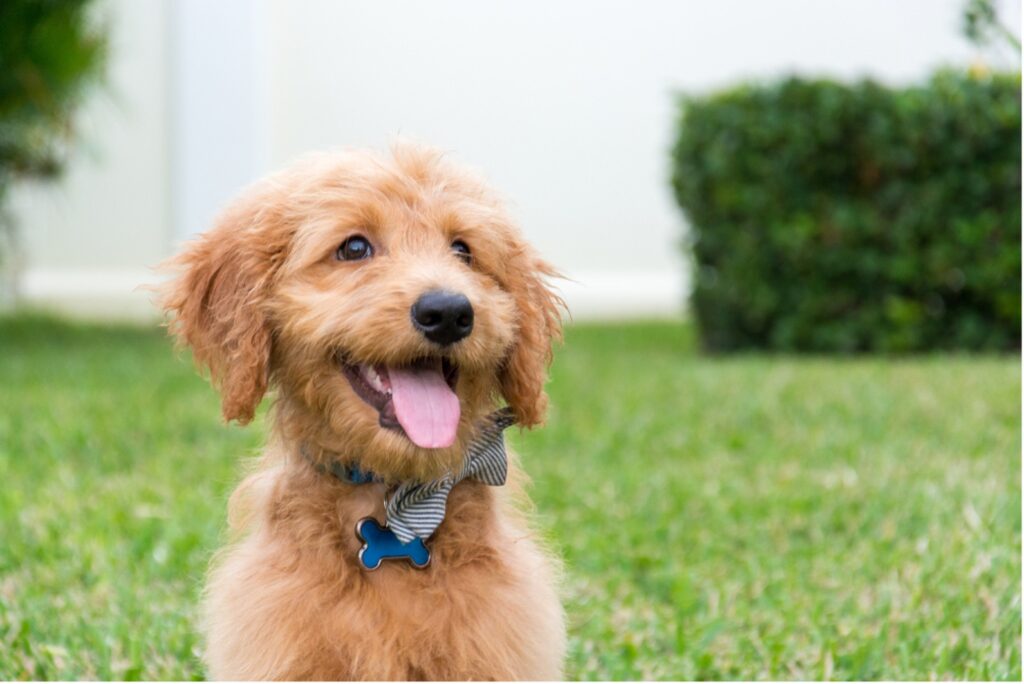 Since Goldendoodles are designer dogs, their physical characteristics can vary greatly. The overall look ultimately depends upon the type used to cross breed with a Golden Retriever. This is because the latter generally do not have much variation within their specific breed.
With so much variation it can be hard to figure out what your Goldendoodle will cost you. Here is an excellent article on Goldendoodle price that you can check out.
Personality Traits
Personality wise Goldendoodles are an excellent dog to have. They make wonderful family dogs because they are super friendly. They adapt well to new environments and enjoy socialization. Much like their parent breeds; Goldendoodles are intelligent and listen well to commands.
Goldendoodles are very active and playful. They are easy-going which makes them great dogs for first-time owners. They do experience anxiety when they are not able to socialize and this needs to be kept in mind.
Much like Golden Retrievers, Goldendoodles require socialization at an early age. Additionally, they do well when they get to experience new environments.
The Do's and Don'ts of Raising A Goldendoodle
There are not many stipulations when it comes to Goldendoodles. Their cute look and friendly nature, along with low maintenance requirements, make them a good fit for first-time owners.
Goldendoodles get along with kids well. They need attention and companionship, which is why they work better as family dogs.
They have standard grooming requirements. This means regular bathing, hair trimming, nail clipping, dental hygiene, and coat brushing. Despite having a dense coat, Goldendoodles do not shed much at all. This is a major pro because Golden Retrievers shed a lot.
These dogs are usually healthy and fit. Goldendoodles are active, though not as much as some other breeds of dogs. Owning a puppy means getting vaccination done and going to the vet regularly. If you follow your vet's recommendations, your Goldendoodle will remain healthy and happy for a long.
Health issues that Goldendoodles most frequently encounter include hip displacement, ears, and eyes infection, skin issues, and heart troubles. You can find out more about Goldendoodle's health issues by visiting the link provided.
Goldendoodle FAQs
Are Goldendoodles good choices as first-time pets?
Yes. Goldendoodles are easygoing and are excellent pets. They require little upkeep and are easy to train.
How long do Goldendoodles live on average?
Goldendoodles can live up to the ages of 10 to 15 years on average.
Can Goldendoodles act as service dogs?
Goldendoodles make excellent service dogs.
How much exercise do Goldendoodles require?
A daily exercise session of 20 to 30 minutes is necessary to ensure your Goldendoodle remains healthy and fit.
What makes Goldendoodles better than Poodles or Golden Retrievers?
The breed you choose is a matter of personal preference. Goldendoodles combine the best characteristics of Poodles and Golden Retrievers.
They are friendly, social, and easy to train. Goldendoodles are not as high maintenance as Poodles, whose fur requires special grooming. Additionally, they do not shed much unlike Golden Retrievers.
Owning Goldendoodle Puppies
Owning a Goldendoodle puppy is truly a blessing. They are the best companion any could ask for. Puppies do require a lot of love and care. You will have to do everything for them initially.
once, however, you are done with the puppy phase and your dog can learn new tricks, you can enjoy owning a dog more. You will have fewer responsibilities and the bond between you and your Goldendoodle will be stronger.
As they are active dogs, Goldendoodles make for the perfect companions when you go outside. They love to socialize and experience new things.
Goldendoodles are full of affection. They display love openly and are generally very expressive. They are also very caring so they can act as service dogs. Loyal, friendly, and lovable, Goldendoodles have some of the best traits of any dog breed. This is because they are fast becoming a popular breed among dog owners.