For the ones who are not much sure of the differences between a hamster and a guinea pig, this guide will be of much help. A nice pocket pet is what people want when they do not have a luxurious house to keep huge pets like big dogs or other such massive-sized pets.
The idea of pocket pets also is interesting as you can carry them with you, not exactly in your pocket but along with you in the car or when you are walking without any extra management.
This is why we need to keep some pets that can keep us company when we are traveling or just resting in our home on lazy days.
The similarities between guinea pig and hamster
There are so many visual similarities between these two rodent species that sometimes it seems that it is difficult to tell the one from the other. They both have small beady eyes, fur-coated roundish bodies, and small paws. But the visual similarities end here and they are very different in terms of behavior, diet, living space, and socialization.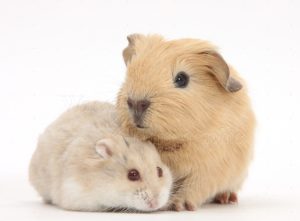 Which pet is better for the kids at home, guinea pig or hamster?
When you are seeking pets to keep the company you have to be wise. Guinea pigs are quite messy in terms of pooping and they need lots of cleaning. They will not be confined to their own shelter all the time and will move around the house. So you have to keep a keen eye on them as well as the kids to see if the baby is safe with them.
Also, guinea pigs are nocturnal creatures and if they get attached to your kids, they can create problems when your baby will be sleeping. They would not budge from the baby's side and that can be an issue with the kid's sleep.
Are hamsters cheaper than guinea pigs?
Yes, hamsters are less popular pets than guinea pigs and thus they are cheaper in price. Hamsters are not long-living creatures and so if you want a pet that will give you company for many years, then you should pay some more and get a guinea pig.
Guinea pigs are nervous initially but they do not like being left alone for long hours. They rather like to be around humans and also loved to be petted. In fact, bringing a single guinea pig home is not suitable, and it is advised to bring them in a pair. They need regular attention and thus they will be good pets when it comes to showing affection and attachment.
On the contrary, hamsters do not bother much about the attention from their owners. They are many aloof creatures who live a secluded life in their own habitat. They are happy with their food and shelter and do not seek attention like the guinea pigs. So keeping hamsters means you will be able to watch them for hours without trying to make friends. They will not be interested in playing with you.
How different are guinea pigs and hamsters in terms of temperament?
As guinea pigs are fond of human company, it will not be a hard task for you to tame them. Once you bring home some guinea pig babies, you can be assured that you will have good company within 3 -4 days of its arrival. They are also much easy to calm down when there are some reasons to be anxious or tense. They love their shelter and do not try to move or run away from it.
Hamsters are, on the other hand, much anxious and usually get tensed by any little agitation. They are mentally palpable and cannot be tamed that easily. So when keeping hamsters you need to be cautious about the causes that can intrigue them.
Handling is not much liked by the hamsters and they can jump down from your hand when you try to hold them.
Hamsters are also very good at escaping. They keep running away from their cage and thus, you also need to pay attention to the details of their habitat. Make sure that it is well protected so the hamster does not find any loophole and escapes through it.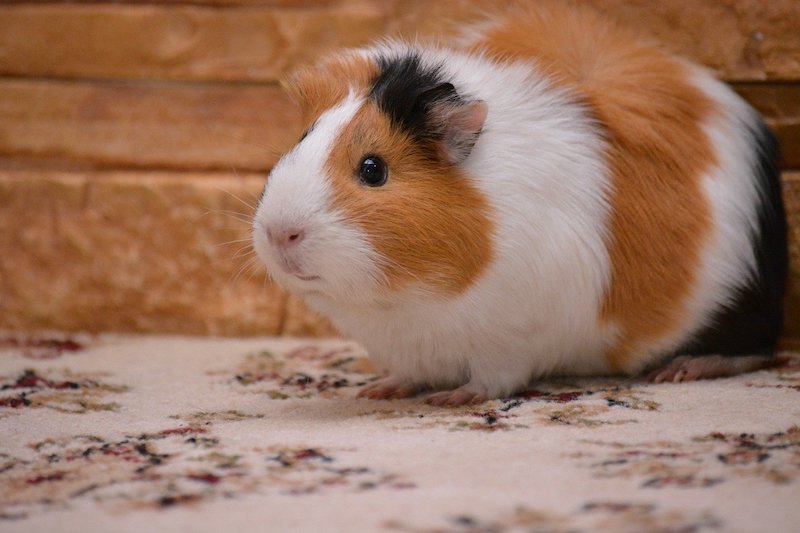 Which one smells worse, the hamster or the guinea pig?
This question can be answered by the guinea pig and hamster owners honestly. Hamsters will earn brownie points in this regard, as they do not smell as bad as guinea pigs. Though both these creatures smell bad when they are not taken proper care of or they are left unclean. But the guinea pigs are more prone to give out foul smells whereas hamsters do not stink that easily.
However, both these creatures need proper and regular cleaning. Not only their body but also their shelter needs to be spot cleaned. Also, the food remnants should be taken away and the bowl of water should be scrubbed. Their cage as well as the substrate needs to be cleaned. When the cleaning is done in a proper way, neither of these creatures will stay clean and odor-free.
Do the guinea pigs need higher maintenance than the hamsters?
All the pets, including hamsters and guinea pigs, need a lot of care and affection to stay in good shape and health. You have to allow a good amount of time, not daily but at least weekly, to make sure that the creature stays in proper health, without any viral or bacterial infection, fed well, and rested.
Both hamsters and guinea pigs have some positive sides for the owners as they need not be taken so much care of as the pet dogs or cats do.
You do not have to take them for a walk or arrange for a sumptuous meal. Only pellets or hay and sometimes some fresh vegetables and fruits will be sufficient to keep them healthy.
You need to take the creatures to the vet once a while for a general health check-up. These two creatures need vitamin supplements so they stay healthy and get the immunity to fight illnesses.
So for the pet owners who are willing to keep a pet but cannot dedicate much time of his or their busy daily schedule need a hamster or a guinea pig to keep company. They are also much inexpensive and less time-consuming if compared to other pets.
However, when it comes to the comparison between these two creatures, guinea pigs are somehow more expensive than hamsters. They need somehow larger space for staying.
They are not very large creatures themselves but their habitat needs to be spacious so they can roam around. Also, they need to be kept at moderate temperature and need to be taken outside often. This is, however, can be compensated when you get to spend more years with the guinea pig, and that is obviously more than the years with the hamster.
How costly is it to keep a hamster or a guinea pig?
Buying a guinea pig is a costly affair and you have to spend a good amount and another bulk will be spent on their cage and other accessories like food bowl playthings and so on. As they need a large home to live in, the cage should be wide enough and thus it will be costing a good amount.
Guinea pigs love the company of the same species creature or other species of creatures. You need to buy a pair of guinea pigs if you do not have any other pets at home, or any family member to keep it company or play with it. Keeping a guinea pig alone is not healthy for it. It can become morose and thus its health will be affected.
In the case of hamsters, a small cage will do. Not many play instruments will be required as they get satisfied with a few things only. You do not have to think of their playmates, as they can stay alone without much bothering. Their health also stays fine and they do not need any privileged condition to live happy and healthy.
How many variations are there among guinea pigs and hamsters?
In comparison with the hamsters, guinea pigs come in lesser varieties. Only 13 breeds of guinea pigs are commonly available whereas hamsters are available in 24 varieties commonly. However, all of these creatures come in great bright hues and they are quite appealing to the owners.
Not all these breeds are fit to be pets, but only a few ones, like five breeds of hamsters are suitable to become pets. Same with the guinea pigs, there are many more varieties available, but all of them are not suitable for living with a human family.
How the hamsters and guinea pigs will suit themselves in a calm household?
Some families consist of elders, senior members, or very young kids. These houses need pets that do not make much noise. The sleeping pattern or the resting hours of the babies and senior ones keep changing. So in such places, guinea pigs will not be welcomed.
Guinea pigs are nocturnal creatures and so are hamsters. But guinea pigs are prone to live near their humans and they can invade the beds of their owners if not prohibited. So your young kid will be disturbed in sleep when the pet guinea pig will come near it or ride over its bed.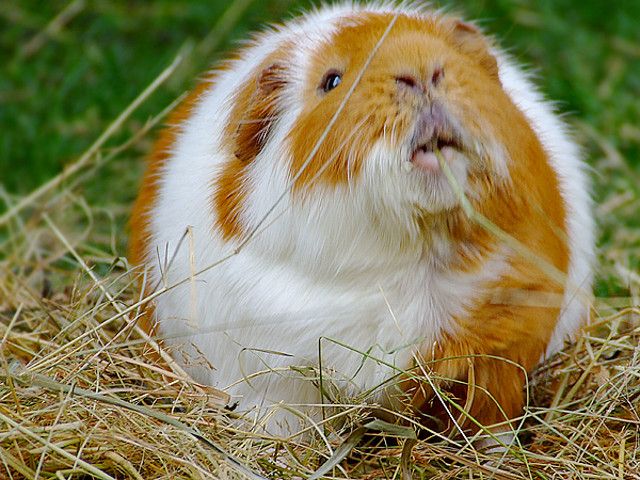 Same with the old ones in the family, their sleep also can get disturbed by the presence of the guinea pigs. Guinea pigs make much sound. The chattering sound that they make almost anytime they get excited, angry, hungry, afraid, or joyful.
These sounds can be annoying at the dead hours of the night, as the guinea pigs do not sleep at night. They are nocturnal creatures and stay awake and active during the night.
Hamsters are not much quiet though, but as they do not prefer to stay near their humans, the sound that they make will not be much audible or disturbing to the family they are pets at. So in this ground hamsters will be more preferable for the less noise making habit.
How much space is needed for keeping guinea pigs and hamsters?
If you need a pet and only have a small space to accommodate, then a hamster will be a better option than the guinea pigs. Hamsters are smaller in size and need smaller space to stay than penguins. These we have mentioned earlier that guinea pigs need larger space and that means you have to arrange for a good wide space when you are going to keep these pets.
But in a clumsy and squeezed space, you can keep hamsters easily. Hamsters need small space to live in. Also, they are solitary creatures and you do not have to arrange for their playmates in form of other hamsters. A single hamster in a small cage will be sufficient to keep away your loneliness.
Also, hamsters are happy with minimal objects or play instruments. They can seldom get bored and can move on the wheels for hours. But this is not the case with the guinea pigs, you have to keep open space for its movement, as well as make arrangements for multiple toys or exercise accessories, to keep it busy.
Are hamsters more suitable for handling or guinea pigs?
There are two kinds of pet owners. Some like to handle their pet often. They are much committed to their pets and do play with their pets when they have some free time. They actively enjoy their pet's chores and also get entertained by their company.
Such people will love to keep guinea pigs. Guinea pigs are fond of human company and they quite enjoy cuddling, handling, or petting.
Hamsters are not so fond of human handling. They prefer to stay alone and also do not stay happy when there is too much human handling is happening. The owners who prefer to stay at a distance and only watch their small pets move and roam around will love to have hamsters. Hamsters will also not come much near to their owners unless it is for some exceptional cause.
More: