French bulldog, that adorable, chubby, and wrinkly pet dog is high on demand due to its docile and calm nature. The apartment owners often buy this breed of dog as that one does not need much space to live in. Being calm-natured ones, they do not need much space to play or run, as they are not habituated with too much exercise during the day.
Does French bulldog need a lot of space?
This dog breed is a small-sized one, and that makes them comfortable even in a small apartment. Though they need some fresh air and outdoor activities like walking for half an hour, which can be possible if you have a nice small backyard. Also, you can take the dog to nearby areas like the roadside walk or in the dog park or other regular park for their quota of exercise.
Can the French bulldog be active within a small space?
This is a worry for many probable French bulldog owners, which if they bring the dog home, the small houses and rooms will not be sufficient to keep the dog well exercised.
Exercise is necessary for any dog breed. They can become aggressive when they are not given enough time and space for doing some physical activity. Also, they need the time and attention of their humans while exercising.
How you can keep the French bulldog puppy at a small home?
When you bring home a French bulldog puppy, it takes time to get adjusted to the new home and environment. At this phase, it is better to keep the puppy in a crate.
There are different styles of crates available and you should get a medium-sized one for your French bulldog puppy.
Even when the French bulldog becomes mature, it does not get longer than 11 to 12 inches and thus they can manage in a medium-sized crate alright.
Do you need to keep a fence in the backyard for your French bulldog?
Yes, a good quality fence is needed for keeping the French bulldogs. Though we have admitted that this breed is much calm but there can be streaks of aggression in them sometimes.
Also, they are pretty forceful and if they wish, they will chew up the thin strands of the fence. So it is necessary for the dog owner to build a good quality fence around the backyard so the dog does not pass through it or break it.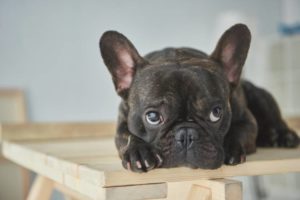 How convenient are the French bulldogs while living in a flat?
The French bulldogs love to be around their owners and another family of the human. So if your dog is around you then it will not be a problem for it. It does not need much space to roam around as they are mostly calm in nature and do not like to jump or run around in the house.
They need some amount of exercise only because it may keep them healthy. But what keeps them mentally healthy is the companionship of their owners. So make sure to not leave the dog for long hours and that is how they will be perfectly okay in the small flats too.
Can you take your French bulldog in the car with you for traveling?
As French bulldogs can live in a small space for a long time, you can take this pet of yours for long trips. In fact, the French bulldog is one of the rare breeds that does not fall sick or create any hassle while traveling with you.
They can easily accommodate within the car space, so you need not have arranged for a large caravan while taking the dog for the trip. Only make sure that the French bulldog does not suffer from the scorching sun or too cold weather when they are outdoor.
Is the big place really good for the French bulldog's upbringing?
According to the dog owners, and the vets, French bulldogs do not really need a large space to stay healthy, physically or mentally. The need for a spacious area depends a lot upon the energy level of the dog. The French bulldog is never counted among the many active breeds.
Even when the question of their mental health arises, it has been seen that French bulldogs feel safe and secure when they are in the proximity of their owners.
When they are left in a huge hall or a large mansion, where they seldom see other human members of their family, it makes them feel anxious and insecure.
Is toilet training a problem for the French bulldogs while living in a small apartment?
French bulldogs look really cute and small when they are at the puppy stage. But they should be groomed at this early stage only, so they get ready for apartment life.
If you are unable to take your dog outside for its excretion then it is better to keep them groomed. Within the apartments, it is highly unhygienic for the dog to pee or poop anywhere. So make sure that the dog gets groomed enough to use the proper method when they have to follow nature's call.
Conclusion:
It has been said that French bulldogs were earlier the companions of the lacemakers. They used to curl up under the lacemaking looms.
Later they became a fashionable breed of dog and people of aristocratic society started adopting them. But staying in a small space comes naturally to them, and thus they are perfect companions for the apartment residents.
More: