One of the most ancient breeds of dog is the Afghan hound. They are somehow distinct and unique in their nature and behaviour. Their aloof behaviour and much aristocratic nature keep them apart from all other breeds.
We mentioned this as an ancient breed, and their look defines their personality traits. They come with long silky hairs on their body, which can be easily called the crowning glory of this dog. The coat is there to protect the dog from any kind of harshness by the climate. They are originally from the mountain regions and thus the cold weather can make them sick unless they have this thick fur coat on their body.
They are hound and that shows they are much powerful, along with being elegant. They have a sharp eye and a keen sense of protection for their owner. Alongside they are physically well built and can fight against strong enemies.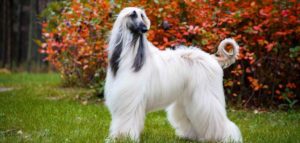 Are Afghan hounds dangerous?
As Afghan hounds come from bigger sized family, they are not hateful towards other small pets at home or small kids in the family. They are much fast and can attack human or any other animal if they feel threatened or can sense any danger. They can be irritated at the small creatures that are not pets and can kill them.
Are Afghan hounds intelligent?
As it is said about many huge sized dogs, they are kind of standoffish or dumb in nature. But that is not always true, and definitely not true about Afghan hounds. They seem somehow aloof and not much perturbed by the incidents happening around them. Also, they are not very curious and react much less than other dogs. So it can seem that they are acting dumb.
They are also pretty stubborn when it comes to training. They do not like to be trained and act independently rather than following directions. They are pretty smart when it comes to guard their property and attack enemies.
How many babies the Afghan hounds can have?
Usually, they can have not more than seven pups. The puppies do not resemble the matured dogs. The coat gets thicker with age. It even does not come out as thick in their juvenile stage. Later only it grows thick and the shine comes into it.
They are much energetic than their adult counterparts. You can think that the calm disposed nature of the Afghan hound is a myth if you bring home an Afghan hound puppy, and they are much playful and excited.
What is the origin of Afghan hounds?
This dog breed actually originates from Afghanistan which justifies their name. The earlier name of this breed was Tazi. They have come into existence in the pre-Christian era. This is a costly dog and is a purebred one.
Nature of Afghan hounds:
They are a good breed to adopt as they are affectionate and adorable. This dog is from the hunter breed so they are always ready for some action. They do not like to be punished or harshly treated. This will make them act more obstinately and they will refuse to obey any direction.
They are a very confident dog breed and do not always seek attention like toy breed dogs. They can be left alone as they are not of a destructive nature. They have some contradictory characteristics in them. They stay aloof most of the time, but when given a chance or they wish to be, they can socialize pretty well. They have a calm disposed of nature but they can turn hostile when threatened.
They are not the usual playmate of the young kids but can be a good family dog where there are senior ones or mature kids. They are not much complaining about attention or company but needs to be in the position of leader.
They can be a good example of a nanny dog and also can be a caring and productive family member when you need one. To train them, the owner needs to be clear about his or her directions and guidelines. They need a good amount of exercise to stay fit, or else they will become timid and slow.
Physical stature of Afghan hounds:
They grow up to 29 inches when matured, female ones grow a little less. Their weight differs from 22 to 34 kg. They are seen in various colours so there are not many dominant colours of this breed. Though you will be seeing most of them in tan brown, dark or light shades of brown and sometimes even golden ones are seen.  Brindle and blue are somewhat offbeat colours of afghan hounds.
The dense hair of their coat needs good grooming. The flowing pattern and soft texture of the coat make it a really good choice for people who like their dogs to be stylish and fashionable. Grooming and maintaining the dog is an obvious task. It does not only consist of taking care of the mane but also nails that need to be trimmed once in a while.
Grooming should be started from an early age unless the dog will not behave accordingly with the groomer and will disobey him or her. The adjustability level is much lower at the tender age and thus that is the ideal time to start with the grooming and trimming process.
Temperament or nature of the Afghan hound:
This regal looking dog breed is pretty intelligent and dignified. They are loyal to their masters, but not famous for showing their affection hugely. They are sociable and love to stay in the company of the known people, or the family members it is living with. But when it comes to contact with unknown people, they get extra cautious and the hound-like protecting quality comes out. They are pack leaders and prefer to stay disciplined if the owner manages to train them in the right procedure.
They are family dog and can be compatible with people of all ages, except the toddler ones. If they get to spend time with the dogs of their own breed, they become extremely happy.
They are not much into playing with the young kids or following the owner around the house. As they have some independent kind of personality, they prefer to be busy on their own.
They need a large space to live, as they need some exercise and also moving with a huge body is not possible in a cramped up apartment lifestyle. Big houses with a wide backyard will be ideal for the Afghan hounds.
They also have a low pain threshold and thus they should be left in a place where there are fewer hurdles or obstacles. This way you can decrease the chance of getting the dog hurt while moving around the house.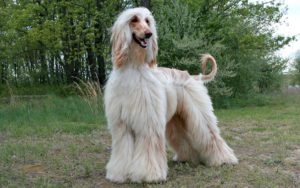 Need for exercise:
This tall and serene looking dog needs lots of exercises to stay fit and healthy. They are pretty much energetic but if the energy does not get to spend, and then they can become lazy and can be unfit. They are athletic in nature and their body should stay well-toned by means of an ample amount of daily exercise.
A comfortable atmosphere at home is as necessary as an outdoor walk in the morning or evening. Running or a long walk is good for them. It should be a regular habit, so if you are busy or lazy to take it out for walking, arrange for a professional dog-walker.
Health issues:
Afghan hounds are many healthy dogs. Other than some genetic issues, this breed of dog can have genetic problems like any breed. Also, some common ailments are always on cards and that cannot be avoided in any circumstance. Age is also a reason for causing different kinds of bone-related diseases like dysplasia and hypothyroidism. Also, allergy towards many kinds of food is commonly seen among afghan hounds of different age.
While suffering from the attack of allergy, the symptoms of Afghan hounds are much similar to humans, like sneezing, itching, hair loss and nasal or eye discharge. Allergy should not be ignored; neither should it be handled by the owner. Taking the dog to the vet is the right way to deal with this problem. Also, take the advice of the vet regarding the cause of the allergy so you can be aware of them beforehand in future.
An ear infection is another problem faced by afghan hounds. The symptom is easy to notice. When you see the dog is shaking its head often and repeating this behaviour often, then you can make sure that there is something bothering it in the ears. Also, you may see some flakiness or redness in the dangling ear lobes. This is a common ailment faced by dogs with pendant ears or hanging ears. This type of ear does not get enough air to pass into it and thus bacteria breeds inside the ear.
Eye problem caused by the long fur around and on the eye is pretty common too. Eye infection can be severe and it can even cause the loss of sight. Also, Afghan hounds are prone to get a cataract. If you see the hound is getting bumped into walls and cannot see the toys or other things that are laid on the floor, you can get its eye checked.
A vital health issue faced by afghan hounds is cancer. There are several symptoms of cancer but the commonest form is a sore area anywhere on the body that is refusing to heal. Also, you can see the loss of appetite and lethargy, weakness and weight-loss. Also, difficulty in breathing and bleeding from any part is seen. Doctors can suggest the cure and chemotherapy can be suggested by the vet.
Food of the dog:
With respect to their size, afghan hounds eat much less. You should offer them good quality dog food which will keep them well and the quality of their fur will be maintained. Vegetable oil can be used with dog food for supplementation. Also, the oil will keep the skin and coat nourished. You should take care of the ears so that does not go inside the food when they are eating. The food particles, if gone inside the ears, will cause various ear infections.
Training requirements:
You should be patient while training an afghan hound. They are stubborn so need gentle handling and frightening leads to complete disobedience. So you need to put enough effort and passion to train the dog and also make it an obedient one.
Do not let the dog be off-leash.  This dog runs very fast and is usually a hunter by nature. If it finds some small creature moving around in its vicinity, it may gallop to find it and kill it.
Unique features:
They are from the hound family and their side viewing ability is outstanding. They can be superb hunting dog as they can see from the angle of 270 degrees and not the usual 180 degrees. The skull shape of this dog is dolichocephalic and that improves the viewing ability. The circumference of the sight makes them able to catch the view of prey from any angle.
The breed looks exquisite and they are called "runaway supermodels" because of their look. They are seen in various advertisements in print media and online, for some luxurious products. The fur they have on them is quite fine and almost near to the humans in texture and thinness. Only except for the back part, the rest body of the Afghan hound is covered with this hair.
They can hunt powerful animals like gazelle, deer or even leopard, so they can run much fast. Their ability to run is around 40 miles per hour which is great keeping the fact in mind that they are dogs.
They have hypersensitivity to pain. So the owner's responsibility is to look after them really well, as a small hurt can give it much pain and hampers its movement.
They can sustain in any weather and in any kind of terrain. They are hardy and can be well adapted to warmer zones, though they are basically from the cold area.
Their most unique feature, the long silky coat, needs to be taken good care of. So if you plan to adopt an Afghan hound you should dedicate a good amount of time to its grooming, or engage a professional groomer.
They need a high and intensive energy exercise routine. Their muscles are strong and tenacious, so keeping them in good shape requires lots of running and walking. Again you need to take out time to take the dog for a walk of 30 minutes or appoint a dog walker.
More: