Afghan hounds are mostly admired for their beauty and calm nature. But they are a big breed of dog and they can also act as guard dogs. We will now discuss the qualities they contain to be a good guard dog.
Keeping a dog means additional security to many. The name of the Afghan hound suggests that they will be a good watchdog as hounds have the quality to watch over unwanted and unknown people. The speciality of the watchdog is, they warn their masters when they find someone unknown or outsider from the family approaches him or her.
Afghan hounds are usually one master dog so they will be offended if they see some guests coming their way. But to stop the intruder they need special training. They are not much easy to train as they have a personality and manage to stay aloof when it comes to following directions. But with time and the right techniques they can be taught to be watchdogs and can attack the intruders.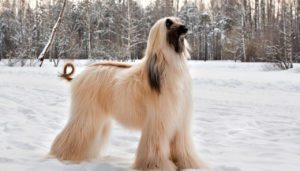 There are various characteristics of Afghan hounds. They are pretty intelligent and alert in nature. Though they generally stay unattached and distant to the incidents happening around them, they do not take it very well when they see some strangers or guests.
They have laid back personality but they prefer to bark when they sense some negativity around them. Also, they do not prefer to be petted by guests.
Female afghan hounds are more protective than male ones, which is why they will be more active as guard dogs. Their alertness level is almost the same, but the female dogs bark louder than the male ones. So they may be able to shoo off the strangers more effectively.
How can you train the afghan hounds to be a guard dog?
The Afghan hound breed is lazy and that is what makes it hard to train. You need to take the help of treats to make them follow the directions. Also, they are pretty stubborn and that is why they will not obey the directions immediately.
There are certain varieties in the characteristics of Afghan hounds, and they are somehow unpredictable. One day they behave obediently and the next day they will start acting independently.
Patience is much needed during the training process as they will not be trained if you punish them or make them afraid. They get stubborn and act much vehemently when they are threatened. So you need to be loving and caring when making them follow the directions.
As they are intelligent dog breed, they do not prefer to be under the master; rather they want to be the part of the pack and do the job assigned to them. They are much dependable when it comes to guarding and protecting their master's house and property.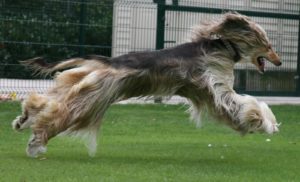 Are Afghan hounds aggressive?
Afghan hounds are not aggressive by nature.  They are mostly known for their composed and calm character. They like to stay aloof and sometimes they even stay without interacting with the human around them. They are not much into barking or playing, jumping around their master or play fetch. So they cannot be called aggressive. Though if you have small kids at home and they poke a lot, they feel irritated.
Are Afghan hounds safe to keep with children?
Afghan hounds have low pain tolerance so they cannot bear small injuries. Kids, specifically toddler or very young ones tend to poke the dog, often pull the tails, pull the ears or try to play with it. In this way, they can get hurt which is not a good sign. So if you plan to keep an Afghan hound at home, and you have small kids at home, and then make sure there are elder ones to take care of the dog and the kids or else you have to take them with you..
Are Afghan hounds safe to keep with seniors?
Yes, Afghan hounds can be safely kept with seniors. This breed of dog is playful yet aloof natured. So there will be no harm if the ones at home are not playing with the dog. They will love to just be around and not be attended to all the time like another small breed of dogs.
So this is perfectly well if you keep the afghan hounds with seniors at home.
Does the Afghan hound bark a lot?
Afghan hounds prefer to stay faithful to one master. They are committed or dedicated to one person. So they do not like strangers or guests for obvious reason. This is one of their guard dog qualities, as they will bark at the guests, who are strangers to them. Also, they are not much friendly to the guests, so even if the master introduces them to the hound, it will stay aloof and will not welcome the guests by its indifferent gesture.
More: