The Airedale Terrier is popularly known as "the king of terriers" by many people especially those who love this dog breed and that is why due to its popularity it is preferred as a good family pet. Also, the terrier is the largest of the terrier breeds and that is why it is so famous and also it is one of the first breed trained for police work basically in Great Britain and Germany.
These dogs always have been a good family pet because it is known to be a smart minded dog, clever and also a charming one. Though it is not easy to handle an Airedale Terrier if it is not trained from its childhood. In this article, we will discuss everything regarding an Airedale Terrier in order to understand them better and know what type of dog breed it is.
Characteristics of Airedale Terrier
The Airedale Terrier as we discussed earlier is the largest of the terrier which has personality traits such as they are hard-working, independent and an athletic dog. They usually do a lot of digging, barking and chasing which is an instinct of a terrier.
They are a lively breed and are basically for the owners who love excitement, thrill and also do not have much problem with the hassle created by them. But for those who need a calm and hassle-free pet dog and who does not create any type of fuss this dog is not for them.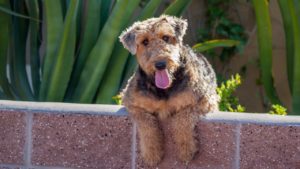 Airedale Terrier is also a reliable watchdog and feels very proud when it protects his family as they are fierce guardians but has a friendly nature with his family members and the people he is familiar with.
They do not like to be left alone and this could lead to destructive behaviour so try to be with them and also if you have time do try to play with your Airedale Terrier. They need to have early socialization and exposure to different people at a very young age as this will help in shaping the Airedale Terrier into a well- trained and a well- behaved dog.
You can rely on your Airedale Terrier and they will be helpful to their owners only if you train them properly otherwise they will be difficult to handle and will create a nuisance for you, so well trained Airedale Terrier is a must.
Health of Airedale Terrier
The Airedale Terrier is known to be a healthy dog breed but still, they need care because they are prone to healthy diseases and it is very important for us to know about all these diseases so that we can give them proper treatment and if proper care is taken then there will be no such diseases occurring to your Airedale Terrier.
The various types of diseases that occur to the Airedale Terrier are listed as below:-
1. Allergies
Allergies are some common disease that can happen to any dog and so does it happens to the Airedale Terrier. They can get food allergies, contact allergies and inhalant allergies which can occur due to various sources you need to keep everything clean around them so that they do not catch any sort of allergy. Also if something happens to like them give them the proper type of treatment so that they can sustain themselves to various environmental changes.
2. Hip Dysplasia
Hip dysplasia usually occurs because it is inherited and in this condition, the thigh bone does not fit properly in the hip joint. In this condition, the dogs show signs of pain and some do not show any sign of outward discomfort. With the increase in age, arthritis occurs to the dog and it is recommended that the Airedale Terrier with hip dysplasia should not be bred in any condition as this may carry forward.
3. Cancer
As we know that cancer occurs in humans but it also occurs in dogs too and also many different types of cancer are there that occur to them and the treatment for all types of cancer are different. There are many reasons for the occurrence of cancer and many treatments are given related to the type of cancer that has occurred in your dog.
4. Hypothyroidism
Hypothyroidism is a disease that occurs in the thyroid glands of the dog and is responsible for many critical conditions in your dog such as alopecia, epilepsy, alopecia, obesity, hyperpigmentation and various other skin diseases. You need to give medical attention to your dog in such a situation.
5. Progressive Retinal Atrophy (PRA)
Progressive Retinal Atrophy is an eye disease in which the gradual deterioration of the retina occurs and which leads to night blindness in the beginning and with time they will start losing their vision during the day also. The dogs need to get treated for such diseases and that is why early treatment is a must in such cases so that this disease does not spread.
These are the various health issues from which an Airedale Terrier suffers and we should be aware of all these diseases so that we can give proper treatment to them at the right time and also so that they can live a healthy and fruitful life without any sort of problem and can enjoy their life with their owners.
Feeding
The way we feed a dog is very important as the dog's health generally depends on the type of food that we are feeding them and the way we are feeding them. Keeping your Airedale Terrier in a good shape is a must because then only they can perform various activities as we know that they are lively in nature and for that, they need energy which will come with the right type of food given to them in them and that too in the right amount.
It is recommended a daily amount of high in quality dry food a day which is divided into two meals and approximately 1.5 to 2.5 cups of dog food should be given. Remember not to overfeed your dog because that is not good for them and they will become lethargic and will not be much active so that is why healthy food should be fed to them and only feed them with good quality dog food.
Good quality dog food will help them to stay healthy because of all sorts of nutrition that is important to them. Try to give them the food that is healthy for them and within the right quantity so that they enjoy their food without any risk to their health.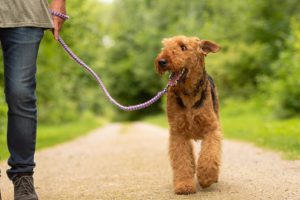 Grooming of Airedale Terrier
The Airedale Terrier has an amazing hair coat and it has a unique two-layer coat, it has a topcoat that is thick, dense and wiry and another layer of hair coat which is the undercoat that is short and soft. A lot of shedding does not happen in the Airedale Terrier but still bit of shedding do take place at a certain time of the year.
So you need to do regular brushing which helps you to keep the hair coat in good condition. You do not need to trim the Airedale Terrier on regular basis, but if you want some neat and clean appearance of your dog you can professionally groom them.
You can brush the teeth Airedale Terrier at least twice or thrice a week in order to stop the bacteria built and also brushing prevents all sorts of gum diseases and other mouth-related diseases.
You can even trim their nails for better hygiene and also so that you can prevent the nail tearing problem in them that is why you need to trim the nails at least once or twice a month. You need to groom your dog properly in order to give them a healthy lifestyle.
Does Airedale Terrier make a good family pet?
The Airedale Terrier makes an amazing family pet because it is a fun-loving pet and even they are amazing watchdogs that can be helpful for the protection of your children. The children also love playing with these dogs as they are not at all harmful to them.
But if the kids are too small do not keep them near the Airedale Terrier because they are very active and intensive as sometimes by mistake they can hurt them, be careful with them. Also, they are independent dogs and if they are not trained properly they can be quite tough to handle, so it is recommended to train them from a very young age so that they can understand you and know what you are trying to say to them.
You just need to socialise them at an early stage so that they can get well along with all the family members and even the friends.
He can be aggressive with strange dogs and strangers if they think they pose a threat to them or their family members. But it is friendly with the dogs and with other pets that are kept at home. They are hunters so they will definitely chase other animals especially the ones that are smaller in size so for that reason you need to train them so that they know what to do and what not to.
General description of Airedale Terrier
The Airedale terrier is known as the kings of the terriers and it usually weighs around 30 to 35 kg and the female Airedale Terrier weighs around 25 to 30 kg. The height of the male Airedale Terrier is 60 cm and even the females are also usually the same height as the males.
The energy level of the Airedale Terrier is quite high as they are very energetic in nature. They usually have a life span of 10 to 13 years which is a great life span for a dog. They have a moderate tendency to bark, a high tendency to dig and they need lots of social attention otherwise they can become quite destructive because they do not like to be left alone.
They have amazing 2 layered hair coat that protects them from harsh weather. Even after having a thick hair coat, they do not need much hair grooming as compared to other dogs that have thick and long hair coats. The Airedale Terrier is a friendly dog and is perfect for a family dog and can also be treated as a police dog if trained properly.
What are the cons of having an Airedale Terrier?
The Airedale Terrier is known to be a highly energetic breed and that is why they need to do or need to be involved in lots of exercises or physical activities otherwise they can show their negative behaviour like lots of digging and chewing.
They can bark a lot if they are left alone because they do not like to be left alone they need lots of attention and giving that all the time is not possible.
The most important thing is one should train an Airedale Terrier at a very young age as they have an independent and stubborn streak and if they are not trained properly, it can create a lot of problem for their owners because they are highly active dogs. So you need to keep in mind all these points before you are planning to keep an Airedale Terrier as a pet.
Conclusion:
As discussed earlier an Airedale Terrier is an amazing dog that is highly active and a smart dog with an intelligent mindset. The most important thing is the training, if they are trained properly they are one of the best dogs to be kept as a pet and they are friendly in nature because of which they can easily build a bond with their owners.
The Airedale Terrier is a beautiful dog that has an independent mindset and is also known for being an outstanding watchdog because they feel pride in protecting their family and also they are good with the children because they love playing a lot and that is why they bond well with them.
Learn more: