We see that life of dogs is somewhat similar to that of humans. Sometimes these dogs have a lot to do and sometimes they are too bored.
The American Bulldog is the same, they will do the walking and play for some time and when they are done doing this they wait for the next activity. But our lives are so occupied that we cannot keep our dogs always busy.
The American Bulldogs are very interested in everything that human does. But there are some signs of boredom and laziness that you might notice in your bulldogs.
Is Your American Bulldog Bored?
All dogs have different habits and the American Bulldogs are also the same. This is the thing that we most like about them and we also depend on their character to speed up their feeling. If they start to get annoying then you need to know that your bulldog is getting bored.
When they are bored they might seem disinteresting. If they do not show interest in the game or toy then it means something is wrong. Also, if they whine or bark it means they want to have your attention and want you to know that.
It is also important that you know the American Bulldog, so in case there are changes in the behavior you can know that.
Keeping your American Bulldog Busy
These dogs need your attention and this is similar to the other dogs. So, it is very important that you respond to them and make them feel loved. Also, they like to be a part of everything you do, so do include them. Also, it is not possible to take your dog everywhere and we also need some alone time so there are some simpler things that you can do:
Take your bulldog with you around whenever you can do so. Also, when you go shopping you can take your dog along or let them wait outside.
Keeping them engaged in a play. Throw balls for them so that they can catch them and bring them back to you. Moreover, if you allow your pet to sleep in bed with you then it will help to make it feel close to you even if you are not present for him for the rest of the day.
There are various toys that you can get from the market. These help to keep your American Bulldog occupied for hours and they will find it interesting as well.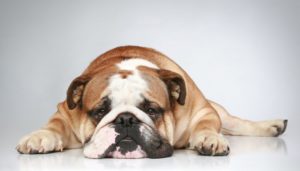 Does your bulldog feel lonely?
We see that it is not possible for the dog owners to take their pets along with them all the time but we also see that when the work situations are different you can maybe spend the entire day with your pet instead of leaving it alone for long durations.
In case are worried about leaving your pet alone at home while you are out for work you can even go for the Tailsters boarding and walking service.
In case you find that even after trying a lot of activities and things with your pet might even be suffering from separation anxiety. So, it is good if you take it out for a check-up.
Also, there are a number of ways by which you can decrease the dog's anxiety level, so you need to try out something and help your dog.
Sometimes you just need to make simple changes and it will create a much bigger difference in the overall wellbeing of your dog.
Are the American Bulldogs usually lazy?
If your dog is bored then it might surely appear to be lazy or not interested. If your bulldog is not showing interest in the favorite game or toy that you have then it means that something is not right. So, try to give your dog some of your attention so that you can prevent it from being lazy.
Can American Bulldogs be left alone?
Yes, you can definitely leave your dog alone but only when you have provided it the necessary training. Also, these dogs are companion dogs and they thrive in the proximity of their owners. If you leave them alone it might feel separation anxiety and even some rude behavior.
If you are looking for a playful and active dog then you should possibly go out for the dos like:
Corgi
Jack Russell Terrier
Australian Shepherd
English Springer Spaniel
Portuguese Water Dog
Let us now look at some of the problems that you might face with the American Bulldogs.
These are little lazy dogs. But you cannot call them exactly lazy as when you are not engaging them in any activity, not taking them around, playing with them then they might feel lonely and bored.
Also, if you keep them disconnected from you for a long long time then they might suffer anxiety and this is not good for your dog. So make sure you spend enough time with your dog so that you can prevent such situations.
Exercise:
The dog is a strong and high-energy dog that needs around 1-2 hours of good exercise a day. This might include walking at a moderate pace and off-leash of around 30-45 minutes. Also, they need some high-intensity activity so that their muscles get toned up.
American Bulldogs are playful and they need some high exercise routine for themselves. Also, they are great for those families that are able to provide them the active and playtime and along with that long walks.
Do American Bulldogs sleep more?
Yes, these dogs sleep a lot in a day. But this is absolutely normal and you do not need to worry about it. As long as you help your bulldog to get an exhausting walk or play routine then it can enjoy a good sleep and after that.
If they are bored and disinterested then they might appear to be lazy. If your dog is not showing interest in the game or toy that you are giving it then it means that something is not right. So, you need to give your attention to your dog and they are trying to make you aware that they are bored and you need to do something interesting for them.
These dogs are friendly and very affectionate. So, this makes them a great choice for the family dogs, but they have high exercise needs and they need a responsive owner who can spend time with it.
This dog is one of the most popular breeds and some people are scared because of the protective nature of the dog.
Conclusion:
Thus, we see that the American Bulldog is a lazy dog but if you engage in any play or exercise then it stays active and interested.
More: