Usually, the dogs are good drinkers and they drink the water themselves. Dogs need to stay hydrated as they often sweat and that is why they get dehydrated easily. Also, the cooling process of them is sweating and panting, and when they are dehydrated, the cooling process does not work. Now we will discuss the cause and effects of drinking less of your French bulldog.
How do you get your French bulldog to drink more water?
If you find that your dog is not drinking water in adequate amounts and that is not due to any illness, then you have to find ways to make it drink more every day. The simple way of doing so is adding more water to its food. If you are offering canned food, then it already contains a good amount of water in it.
Offering water mixed with food
Giving the dog wet food instead of dry food is just a good option for increasing the intake of water. You can follow this process for at least a month to see the change in your dog's health.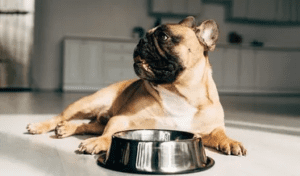 A nice water bowl
Offer it water in a clean and colorful water bowl that you can get the list here. However, make sure that the bowl is regularly cleaned. Do not keep the same water in the bowl for too long, as it will be the birthplace of fungi. Make sure that the water is fresh and contains minerals. Purified water sometimes lacks the minerals which are necessary for the dogs.
Placement of the bowl
Always place the water bowl near its playing area. If you keep the water bowl at a corner of the room or on the balcony it may not notice. Also, you can use the double bowls which contain a set of bowls, while one holds the food, the other may contain the water.
Water fountain
Placing a water fountain in the garden or the backyard is a nice way of making the French bulldog drink more water. They usually love to see the flowing water from the fountain and that helps them to be interested in drinking more and more water.
It has been seen that even when there is no fountain, they love to drink from the water sprinkler that is set in the garden for watering the plants. So it means that they want some fun element to be induced in the simple water drinking process.
Broths and smoothies
When the plain and simple water does not attract the dogs, then you can offer them chicken broth, which is always a great snacking option for the French bulldogs. Serve it in a clean metal bowl so the dog enjoys it and be happy to get a treat.
Also, you can offer the French bulldog some delicious smoothies made from fruits and vegetables that are safe for its consumption. Do not add sugar or salt and just keep it natural by mixing some water into it. Fruits and vegetables usually contain a good amount of water along with necessary vitamins and minerals, so the smoothie will serve the purpose of water intake as well as compensate for the number of vitamins in their system.
Ice lollies
This is another interesting form of water that allures the French bulldogs. As French bulldogs usually get hot too fast and their body does not work well when it comes to cooling down, they love to have ice lollies and ice cubes. When you will offer them fruits or vegetables smashed and refrigerated in cube form they would love these treats.
In the summer afternoon, they would love these treats after a playing session. But you have to remember that too much ice is injurious for the health of the French bulldogs as they tend to suffer from respiratory problems too often.
How long can a French bulldog go without water?
As an owner, you must know that your dear pet should not stay away from water for a long period of time. If you are too busy with your hectic life schedule then also you need to keep an eye on the water intake of your cute pet.
For the same reason, you should know how long the dog can go without drinking much water. Scientists and vets have declared that these dogs can survive at least 2 -3 days without water. However, this is the time limit within which they should drink. If they are going for 3 days without water, then they will surely suffer from dehydration and that will be a severe state.  So keeping a tab on its daily water intake is a must.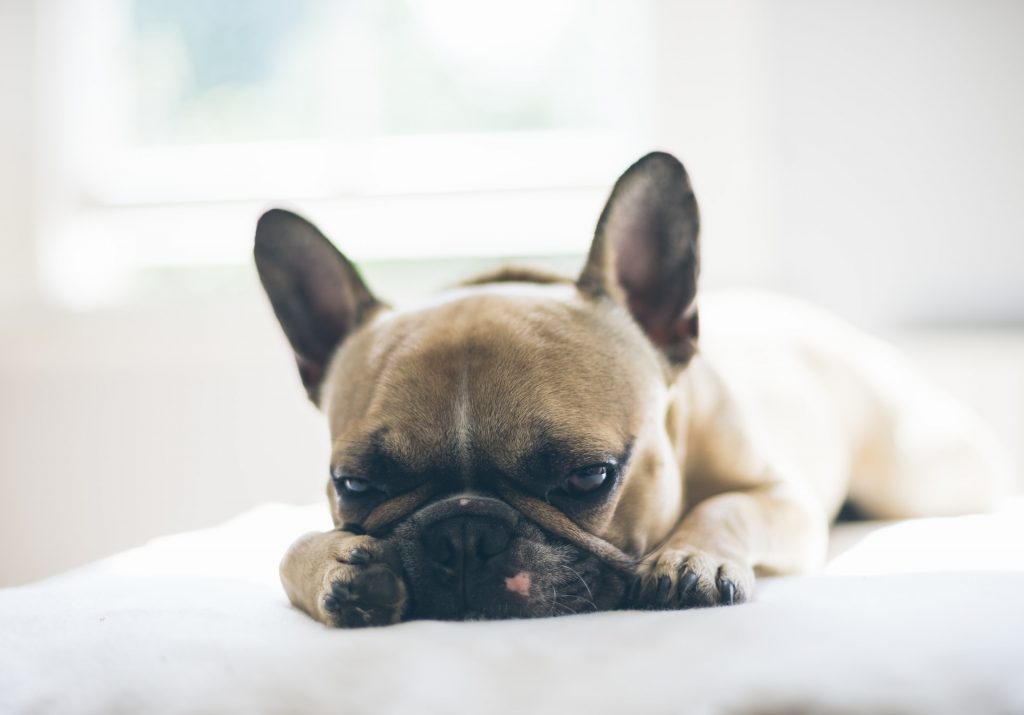 Why my French bulldog is eating but not drinking?
There can be several reasons behind these weird habits but this is not a very uncommon complaint among French bulldog owners. Sometimes the dogs act picky and they chose not to drink water even after or before having a meal. It can depend upon the weather, as the cold weather makes them less thirsty and the water quotient in their wet food quenches their thirst, and they do not feel like drinking water separately.
If the weather reason does not suit the case of your French bulldog then you may check the stool of your pet. If it has eaten something rotten or poisonous and not pooped regularly, or excreting smelly poops then it can be that there is some infection in its stomach. That is when you will get the dog checked by the vet to get it cured.
Can you force your French bulldog to drink?
Forcing something never works for the dogs, and you must learn that you have to only use tricky ways to make it drink water. You can ask it to drink water and offer several bowls of water placed at various points in your house.
Also adding some flavor sometimes work, and the French bulldogs get attracted to the special flavors and drink water eventually. But this should not be practiced in a long term or in a regular basis, as fresh and clean water is needed to keep the health in good condition. Added color or flavor is not appropriate for the health of your pet dog in the long run.
How much does a French bulldog drink normally?
French bulldogs drink lots of water like humans. When they are tired after a long walk or after a strenuous playing session, they drink lots of water to their content. So you must be ready with a fresh and clean bowl of water all the time if you keep it as your pet.
As they drink so much water, they naturally stay hydrated. Unless they are suffering from any physical problem they will not stop drinking the regular amount of water.
However, measure the amount of water the dog is having daily. If you see that the dog is getting tired very often and drinking much more than it usually drinks, then it can be a symptom of any illness.
How will you understand that the French bulldog is suffering from dehydration?
When the French bulldog is not drinking enough water for a few days, there will be a chance that it will suffer from dehydration. The regular intake of water should not decrease or else the fatal condition of dehydration will be inevitable. The symptoms that you must check on your dog are many.
Loss of appetite is one vital symptom of dehydration. Along with that, you may find the dog to get tired easily. Panting frequently and vomiting after food intake are also seen among French bulldogs. The nose will become dry and so will be the paws.  Check if the gums of the dog have become sticky and then you can be sure that the dog is suffering from dehydration.
How to understand the problem when the French bulldog is not drinking?
As dogs are unable to talk, the owners need to learn the way they behave and communicate. If they are suffering from any problem then the owner should understand the indications and get the pet proper treatment.
If your French bulldog is not drinking for some days then you may check the change that is happening around it at that point. This can be due to the change of food type. When the dogs are eating one type of food they get adjusted to it. But if you suddenly change the food type then it can decrease the water intake or maybe stop drinking water for the first two to three days. But later it will be adjusted with the food type and eventually, it will increase the water intake as well.
But you need to make sure that it is having the regular amount of food. If your dog is not having a good amount of food then there can be a chance that the problem is serious. Also, check if the French bulldog is eating too little but drinking too much, as that will indicate problems like hypercalcemia, kidney problem, or food allergy.
Conclusion:
Take care of your French bulldog as this cute little thing is not only your playmate, but also it loves you with all its heart. There can be various problems that can be checked and cured by the proper treatments, so do not keep guessing and get suggestions and medication for your pet in time.
Learn More: