Bulldogs, both American and French ones are cute and chubby pets with hefty bodies and cuddly natures. The owners also keep these dogs for protection purposes but these dogs are too friendly to be a guard dog. Though they look pretty threatening to the strangers, their behavior is not like that. The nature of the bulldogs is somewhat strange and full of contradictions.
They can be friendly and yet protective of the seniors and kids at home, they act like a kid but looks like a predator with the grumpy faces and so on. So when it comes to keeping this dog at home, the busy people are often confused if they can be left alone on their own.
Are bulldogs naturally prone to live alone?
No bulldogs prefer to stay in the proximity of their owners. They pretty much love their humans and would also like to stay near them. When humans are at home, they love to be around them and also they enjoy the play session. Even they can provide mental support as they are pretty good listeners and show patient and calm attitudes when near the owners or the family members.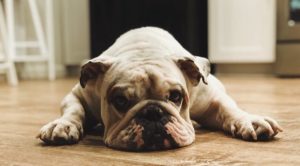 Can bulldogs be left alone during the day?
Bulldogs are mentally quite mature and they are intelligent too. So yes, they can be left alone at home, when the owner leaves for work. But they need to be trained properly before doing so. They are much like the human kid, who needs to know how to behave when they are on their own.
Their nature is quite flexible and can be managed to stay alone in the house without any assistance. Their sense of security will also not be harmed if they are able to be trained and guided properly.
What can happen if the bulldogs are not trained to stay alone?
If you have adopted the English or French bulldog and wish to leave it at home when you will go to work, then the first and foremost thing is training the dog. When the bulldog is not trained to live alone then it can suffer from various emotional and mental problems.
There can be an issue of separation anxiety when it sees you leaving the house for the day. if your working hours are long, then it may even feel worse. In such situations, the calm and cool-natured bulldogs tend to become aggressive as they do not know how to vent the anxiety and tension that is created in them.
If they are accustomed to living around the owner after being brought home, then it will be difficult for the dogs to later become adjusted to the lonely situation. So they should be either trained to live alone from a tender age or kept at a dog crèche with another different breed of dogs.
How long can the bulldog stay alone?
You need to properly care about the need of the bulldog when it is left alone at home. The food, water bowls, and toys should be appropriately placed. It should be groomed to stay alone and then you can leave it for 10 hours at a stretch in your house.
But the same rule does not apply to puppy bulldogs. They should not be left alone for more than 6 hours a day. With time gradually they can learn to stay on their own and it will take them to be at least a year old to stay for 10 hours in the house all by itself.
Does bulldog suffer from separation anxiety?
Bulldogs look quite muscular and they are often adopted to keep guard on the house and property. Their look is pretty deceptive as the nature of the bulldogs is quite opposite to it. They are soft-natured and much-loving kinds of dogs. They seek the attention and time of the owners and prefer to spend more and more time in their company.
So when it comes to being alone, they need proper guidance and care. If you are a busy working person and have adopted a bulldog recently, then you must know that it will not be an easy situation for the dog to be all alone in the home, without any human's presence.
Thus separation anxiety, which comes from the tension and depression that takes place when anyone feels sad after getting separated from someone, is pretty obvious to happen in the case of bulldogs.
How do the bulldogs react when they are compelled to live alone?
Bulldogs are not aggressive by nature, though they are not very calm or silent kinds of creatures. When they are around their owners or other family members, they love to communicate in their own ways. Other than barking, they also make sounds like snorting, snuffling, or grunting.
When they are all alone for a long length of time, they stay mum for a while. But as they get used to the schedule of reclusion, they start interacting with other creatures, if any, of the house. When the owner comes back they show their joy and response by snorting or jumping at him or her.
Should the bulldog be kept indoor or outdoor when alone?
This is a much confusing and intriguing question for bulldog owners. When they are forced to leave the dog home, some of them think it is better to keep it outside as there will be lots of enjoyable things outdoor. But for some owners, keeping the dog safe inside the house is a better option, as that way the dog will not be harmed by the weather or any other dog or creatures outside.
As it seems, keeping the dog outdoor or indoor has its pros and cons. Bulldogs are sensitive to allergens and they tend to become allergenic when they come in close contact with various kinds of things like dust, pollens, different types of furry creatures, and even hot or cold weather. They get different kinds of skin irritation problems and also they suffer from various kinds of respiratory problems due to the proximity with the allergens.
However, living in a temperate zone may help you with a few benefits. You can leave the dog for a few hours, if not for 10 hours at a stretch, in the backyard of your house. But there should be certain conditional provisions.
Which conditions should be maintained if the bulldog is kept outdoor all alone?
The area should be enclosed as the bulldog may try to get out of the area. Also, there should be some opening to the indoors, as the dog may often feel hot or cold and it may wish to come back indoors. The fresh water should be available in a bowl or in any container, so the dog can drink as many times as it wishes when it becomes thirsty.
You can only let the bulldog in your backyard if it has a much-shaded place. Staying outdoor does not mean that the dog has to be under the sun all the time. That can be severe for brachycephalic dogs like bulldogs. They cannot keep themselves cool by panting so they will become overheated real soon if they stay under direct sun for 3 to 4 hours.
What precautions should be taken if the bulldog is left alone indoors?
The house should be spacious and the furniture should be placed at moderate distances, so the bulldog gets space to move along the house. The temperature of the house should be auto conditioned, as too much hot or too much cold atmosphere may make the bulldog sick.
If the bulldog is kept inside all alone, there should not be many other creatures that too can loiter or roam about in the house.
Bulldogs are not infamous for their temperature as they are many cool-natured dogs, small creatures like guinea pigs, cats or rabbits may irritate them. if you are bound to keep other pets other than bulldogs in the same house, then you should keep the other small pets in separate cages.
Keeping the food and water in the proper place is another prevalent condition of keeping the bulldog alone in the house.
How can you keep the bulldogs busy when alone at home?
The bulldogs are many energetic dogs, though they do not express that while around their owners. But when they are alone, they can become destructive as they will get bored after a point in time. So like kids, they need to be occupied with some activity if you want them not to harm any household material or furniture.
Keep toys scattered in the different places at the house. Choose the toys according to the choice of the bulldog as that will help the dog to be engaged with them throughout the day. Also, arrange for the bed with its favorite quilt where it can lie down when feeling exhausted. That way it will stay rested and also its temperament will be calm.
How good are dog walkers for the bulldogs?
This is a nice method of keeping the dog entertained and exercised regularly, especially when you are not there to keep it company. Arrange for a professional dog walker, who will take it for 30 minutes to a full hour walk as it will make the dog exhausted. It will not feel restless for the rest of the part of the day after a strenuous walking schedule.
More: