Someday you find your bearded dragon unmoved with the open mouth! Just don't get it so much serious. You only have to know why your bearded dragon keeps its mouth open.
This is normal behavior for bearded dragons they do generally for maintaining the body temperature. When the dragon gets to the thermal maximum it opens its mouth this process called the Gaping. By doing so they release extra heat from their body.
There are many reasons. Here we are going to discuss some common reasons. You should identify and apply solutions accordingly without getting worried about it.
Heat Regulation 
Heat is the most common reason for your bearded dragon to keep his mouth open. Even in the small amount of increase in the heat, it opens his mouth to cool his body.
All animals have different kinds of heat regulation processes to keep their body accordingly so the Bearded dragon has that why it keeps its mouth open for a long time, for body temperature regulation process.
Bearded Dragon doesn't have sweat glands like humans for body temperature process so they do the open mouth process to make the air in and out.
This is a very natural process in bearded dragons. They want to be hot when basking.
When the atmosphere gets hot its open mouth brings cool air in. If your bearded dragon ends up hiding instead of basking this is a sign the temperature is high.
Stretching 
Like other species, Yawning and stretching is the essential part of the bearded dragon.
We do this when over muscles are not active for a long time so the bearded dragon does they have lots of muscle in the face and head and all parts of the body. When they stretch all their muscles work together so they open their mouth too.
This is also a natural process and you can't do anything with it. You may find you bearded dragon looking aggressive but this is simply a stretching process.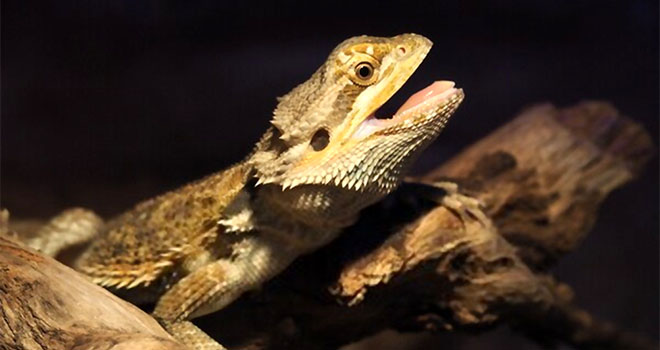 Aggression 
Aggression or fear is also one of the reasons for your bearded dragon's open mouth. When they threatened or panicked with something, they make an aggressive posture by opening their mouth.
This is a considerable thing because this kind of behavior can increase stress on your bearded dragon which is not good for its health.
When its mouth is open with aggression, the beard would be up, it hisses and attacks insects or reptiles in the tank. It raising its beard and increase the chest to become larger and open mouth widely.
You need to do is remove the threat from the tank or put your branded dragon in a place where it couple feels safe. This is very important to keep you dragon call down otherwise it will affect your bonding with your pet.
Respiratory Disorder 
Respiratory is belongs to the breathing process when it got sick the breathing process hot slow or unusual and this makes your beard dragon open its mouth. This is another thing to look for.
This respiratory infection makes heat in the body to get some coolness the dragon opens its mouth.
You can get if it is a respiratory infection problem by few things like – your pet got mucus around its nose and eyes, it coughing, cracking or wheezing while breathing, looks down in energy and appetite, etc.
You should get it to the vet when you identify those symptoms and take care of it sometimes. It will be ok after some time.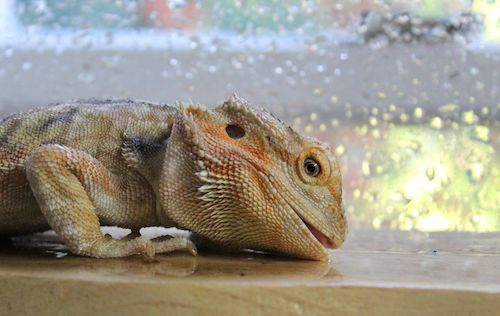 For another Bearded Dragon 
Bearded dragons are species like to live alone and if they would have to share the place with another one, it would be a quest for power.
Every bearded dragon wants to dominant his area of living and if there are two dragons in a single shelter then it would be confliction and aggression raised and it caused your bearded dragon to open its mouth.
Just have one dragon in one tank is a good idea and if you want more breaded dragon then you need to follow the housing process of more than one bearded dragon in the same tank.
Because of Outer World 
Your Bearded dragon could get disturbed and get anger by different objects like home essential statues, children's toys, and other things. Many artistic things can make dragons act as aggression.
They found these objects reacting toward them so they act accordingly. Statue of Ornaments is the most affected thing for a bearded dragon.
Try to provide them the nature views and place their tank near windows or where they can see nature easily. Other animals like cats also can cause threatened so make sure you them in a suitable place.
Mating Season 
Like other animals and species, there is special timing every year when the hormones of your bearded dragon get active and if they couldn't get the sex partner they can get aggressive.
In this situation, they could be aggressive for anyone even for its owner. But this is a timely problem and after some time it will be ok.
Read More:
What to Do If Your Bearded Dragon Lays Eggs
Conclusion
We have gathered all possible reasons for your bearded dragon to keep its mouth open for a long time.
Some problems are natural and you can do much about it and some can be tackled by following some tips we have described.
As a bearded owner, you should always follow the expert advice for different issues with your pet. Just keep visiting such a site and magazine for more solutions.