French bulldogs are cute and they can be beneficial for various purposes. They can be good guard dogs and at times they can play the role of nanny too. But there are certain roles that are not meant for them. You can let them play in the garden or inside the living room but the regular jumping and running around is not the habit of the French bulldogs.
Do French bulldogs like to run?
French bulldogs look cute with their roll-like body and short legs. They look cuddlier than active or playful. But in reality, they can run and play like most dog breeds. They are quite energetic and do not like to lie down lazily throughout the day if they are not sick. You will be amazed at the level of activity of a matured French bulldog if it is in its regular health form.
However too much running is not very healthy for the French bulldog as they get heated and feel suffocated as the extra heat does not come out from their body like other dog breeds who can pant.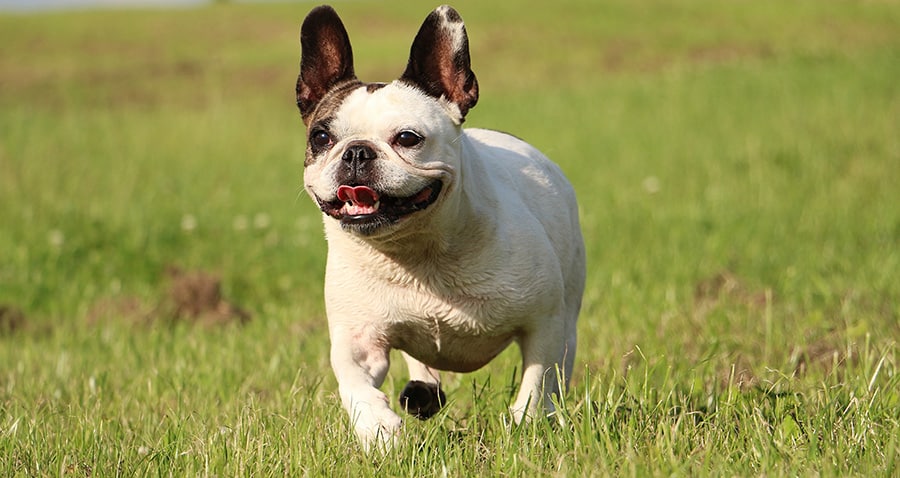 Can a French bulldog walk a long distance?
You should not take a French bulldog for the daily walking session, as that is the natural belief regarding this dog breed. This dog is fit to walk for at least 3 miles a day when it has grown adult. Some owner in fact makes a habit of taking the dog to the morning walk session daily. When the dog gets used to this much walking every day they do not mind walking that distance and that is quite healthy for them too.
Can you over-exercise a French bulldog?
Like most pet dog breeds living in house life, French bulldogs need one hour of daily exercise which will make them fitter and healthier. They are quite small in size but that does not mean that they can do with minimal exercise. Keeping them well exercised makes them stronger and also keeps their bone health in good condition.
However, when it comes to over-exercising, they are not very capable of that. They need one hour of exercise but that can be divided into many short periods. They are brachycephalic and thus the heat that is created in their body while exercising for too long cannot be released. That makes them suffer from overheating.
Especially in the summer when the weather is hot and humid, a very short period of exercising will be recommended for them. More than half an hour of running or any other exercise will be harmful to them.
Are French bulldogs fast runners?
French bulldogs are not fast runners compared to other dog breeds with long limbs. They can only run fast according to their own capacity. Their running speed comes around 17 mph.
Can I go jogging with my French bulldog?
French bulldogs are not a good companion for your daily jogging schedule. For various reasons, they cannot run but walk moderately. They are energetic but that will be expressed in other ways, running is not one of the most suitable exercises for French bulldogs.
There are several reasons behind this. We would delve deeper into those below.
French bulldogs are known to be brachycephalic. Their head part is designed as a broad one with a short span. Their nostrils are flared but they cannot pant in a regular way. So they suffer a lot from respiratory issues. They take time to cool off and that happens when they are too exhausted.
You cannot keep them working hard as that will be severe for them. Thus running is not their cup of tea as later they would not be able to release the heat created inside their body due to running.  As a result of overheating, they can face heatstroke which will be lethal for them.
Will jogging compromise their health condition?
If you take the French bulldog for regular jogging then the pressure of this everyday running can be fatal for the pet.  There are some diseases like Luxating Patellas and IVDD which are common among the French bulldogs. They do not stay healthy when they are pushed for a tiring session of running every day.
Luxating Patellas is a disease under which the kneecap of the French bulldog gets dislocated. Thus regular movement like walking becomes difficult for the pet. Intervertebral disc disease or IVDD is responsible for disc rupture. The dog suffers from pain and cannot move as this condition hampers the walking or other movement of limbs.
Hip dysplasia causes the grinding of the hip ball and socket which is another painful condition for French bulldogs. These all are outcomes of running or jogging of the pet French bulldog. A matured French bulldog can suffer from these difficulties if it is taken for regular running or jogging sessions.
Can the French bulldog hurt itself while jogging?
Even if your French bulldog does not suffer from the above-mentioned medical conditions then also it would not be suitable for the little creature to run a lot on daily basis. The dog can hurt itself during the running sessions. The dog may suffer from pulled muscle or tripping which will hurt it and will make the dog suffer for a few days.
These accidents can happen when the dog is not feeling relaxed and is rather exhausted and yet it is trying hard to keep up with the speed of the owner. The tired dog will face such serious issues and that will make it go through pain.
Can a French bulldog run safely?
If you wish to make your French bulldog run, all you have to do is take it for a shorter distance and make the time shorter. Remember that running can be a nice time out for the French bulldog if it does not exhaust it. Thus you can take it for a short run to the park which will last for 15 minutes, and then you both have to take a break.
Nonstop running or jogging for more than 20 minutes is severe for the bulldogs as that will make them overheated. However, the distance, speed of running, and time spent on running differ from one French bulldog to another. This is the general amount of running which will benefit them and will not make them fall sick.
As a fit human, you should not run at ultimate speed with the French bulldog. Rather you have to slow down and keep pace with the pet. You have to check how fast that pet can run and in fact, you have to run at a slower speed. Otherwise, the dog would try to follow your step and can feel suffocated.
The amount of running time safe for a pet French bulldog is 10 minutes. You can start jogging with the pet for 10 minutes and gradually can increase the time day by day. But in any case, the dog should not run for more than 20 minutes at a stretch. This will be a safe and moderate way to jog with the French bulldog without making it sick.
Can I take the French bulldog to the park or road for jogging?
The soft ground is suitable for the French bulldogs. If you take the dog jogging on roads then the harsh and flat surface of the road will be torturous for the pet dog. Its paws are sensitive and thus running on the rough surface hurts it. Their exhaustion level increases if they are forced to run on such roads.
Do not make your French bulldog overrun.  If you let the dog run then it will not stop after 10 or even 20 minutes. They do not feel the heat until they stop and get exhausted. You have to put a stop to the time limit and hold the dog after 10 or 15 minutes of running. Or else the dog will continue to run and later will face severe conditions.
How much jogging is too much for the French bulldog?
Though running or jogging is not the right kind of exercise for the French bulldog, when it comes to exercising, each French bulldog has their individual need. So it is hard to declare how much jogging will be fruitful for one Frenchie and harmful for the other.
However, running a long distance is not the ideal thing for the French bulldog, they are supposed to run or jog short distances and at a moderate speed. No need to push their limit or ability to run as they can lead a healthy life when they are not forced for doing much running or another exercise.
What are the alternative ways of exercising for French bulldogs?
Short walks can be beneficial for French bulldogs. They need to exercise daily and thus they can take a brisk walk of 15-20 minutes. Swimming is yet another comfortable way of exercising for French bulldogs. They should get a life jacket on them while in the pool though.
Playing fetch with the dog will keep it cheerful and also help it to stay in shape. You can also take the dog on a gentle hike and let it enjoy nature and fresh air.
More:
Can French Bulldogs Eat Avocado?
Should You Let Your French Bulldog On The Couch?