Chinese water dragons are friendly and exotic-looking pets that can be adopted by anyone who has a love for reptiles. They need minimum maintenance and thus the owner does not have to bear with a high expense, and neither he nor she needs to dedicate too much time for their pet's looking after.
Now, most reptile lovers are not satisfied by keeping one Chinese water dragon as their pet. They seek to have more than one pet, and that is why they wish to bring multiple Chinese water dragons.  The housing can be a problem or at least a matter of worry for most of the owners, as providing space for multiple shelters is not a good idea for an apartment resident.
Can you keep more than one Chinese water dragon in the same habitat?
Chinese water dragons lives in the cage  and are much friendly in nature and they love to share their space with their fellow species. Their lifestyle is also similar and their need for humidity, temperature, and water or food requirement. They can easily share everything that is provided in their single shelter.
Does the Chinese water dragon feel lonely?
Chinese water dragons usually live in a group when they are in the wilderness. But when they are in captivity they can live on their own. It can be so that they enjoy the solo life with right kind of atmosphere and good quality of food.
For beginner pet lovers, keeping a single Chinese water dragon is not a problem. It will not impact the health of the dragon and you can be happy to have it as your companion.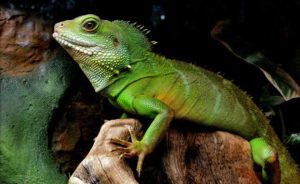 Can you put any two Chinese water dragons in the same housing?
When housing two Chinese water dragons in the same cage, you must remember that these two should be from different genders. You can keep a pair of Chinese water dragons with one male and another female. But the dragons of the same gender often threaten each other.
When you put two Chinese water dragons you should know for sure that these two were of same-sex or of different sex. When there are two male and two female dragons kept together one is supposed to threaten the other and the docile one used to feel threatened and anxious. This behavior also impacts their diet and one stays underfed.
Are Chinese water dragons communal?
Chinese water dragons stay in a good mood when they are kept with companions. Likewise, we mentioned, they should be kept with the companion of the other sex. They find a playmate in their fellow shelter mate and also they stay healthy.
They are not territorial when it comes to companions of different genders and thus you can keep them in pairs. It also does not increase the cost of maintenance or food in the case of two dragons.
Do Chinese water dragons live in groups?
Chinese water dragons love to live in a group. They often stay in a group when they are found in their suitable habitat in nature. Generally, their groups consist of one male and a few females, along with a good number of juvenile ones. Usually, two male Chinese water dragons do not belong to a single group.
Are two Chinese water dragons good for beginners?
When the beginner wishes to get a pair of Chinese water dragons, it will be advised to keep a single one and learn to handle its daily schedule before bringing in two of the same pets. Though we have mentioned that a pair of pets.
Chinese water dragons are easy pets but their need for a particular level of humidity, temperature, and food type should be learned by the pet owner. It may take some time for the pet owner as well as the pet Chinese water dragon to get adjusted to the system. So it is not a good idea to keep a pair of dragons for first-timer pet owners.
What kind of habitat should you arrange for a pair of Chinese water dragons?
The habitat for the Chinese water dragons should be warm and humid, as these two are their primary need for a healthy life. One 55 gallon tank would be great for a single one whereas you can go for 75-gallon tank and the UVB light should be kept on for 12 hours a day.
If you are living in a cold region then there should be heat providing facility in the shelter too. Make sure that you arrange for a thermostat, as then you can be assured how much heat the creatures inside the shelter are getting and when it is needed to be fixed.
How many Chinese water dragons can live together?
You should never keep two male Chinese dragons in the same shelter, but the problem is not so accurate with the female ones. Two female Chinese water dragons can live in the same shelter and they can also be happy. Though there are instances when the female Chinese water dragons show much territorial nature and they had to be separated to live a good life.
However, if you want to keep more than two Chinese water dragons in the same shelter, it will be a good idea to keep one male and two or three female Chinese water dragons. These many can form a group and live a peaceful life as they do in their free life in the jungle.
Are Chinese water dragons territorial by nature?
Male Chinese water dragons are actually very much territorial and they do not like to share their space with another male member of their species. However, the female ones do not show that much aggression to each other. The male ones do not show much aggression to the female Chinese water dragons.
In the natural habitat, the groups do not contain two male Chinese water dragons.  There are mostly female and baby Chinese water dragons, and when the male ones get mature they start to live separately.
How long does it take for the Chinese water dragons to be friendly?
Chinese water dragons love to live solo and they enjoy their single life. When you put another creature of the same species the chances are that within a day or two they both will act friendly with each other. Unless one is much dominating and the other is timid, there will be not a problem of bonding between them.
But if you find that the two are not getting along well then you should shift one to another cage. Sometimes the newly brought Chinese water dragon can spread some kind of infection like the bacterial or fungal one to the previous dragon. You need to keep a check on the lifestyle of the two dragons after they are kept together.
When do you need to keep Chinese water dragons in different shelters?
Make sure that both the Chinese water dragons are living a happy life and they are not fighting or threatening each other. If you find that one is not having food in regular quantity or not moving much, living in a corner of the shelter and the other one is roaming in the rest part of the cage, then you should shift the new one to another shelter.
If you ignore these symptoms then it may take a toll on the health of the docile and timid Chinese water dragon. It will cause some malfunction in its regular routine and it will not live a healthy life due to the presence of the other one.
Learn More: