French bulldogs are cute little dogs that are often chosen by apartment owners for adoption. Not many are much aware of the need for space for this breed. So we would like to enlighten the readers about the need for space for the French bulldog. Also one should know the amount of area and type of atmosphere needed for the French bulldogs.
Do French bulldogs like to Live in apartments?
French bulldogs are not much large in size, and they are considered medium or small dogs. They can easily settle in an apartment and live happily for the rest of life.
They do not prefer to stay outside for long hours. Also, they do not enjoy staying alone. So if you are an apartment owner who stays away for the whole day then you have to think twice before adopting a French bulldog.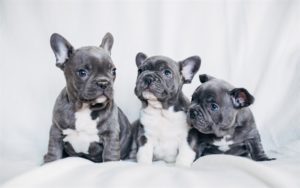 Can French bulldogs be left alone in the apartment for long hours?
The usual working schedules are 8 hours long. But French bulldogs should not be kept all alone for such a long period of time. They prefer to stay near their humans. If you cannot possibly be at home, there must be some other member at home to take care of the dog. As French bulldogs are a small breed they feel insecure when left alone for long hours.
Also, they need lots of toys or some playthings to stay calm and not freak out in the absence of humans. Until they are happy and satisfied with their new home, they should be always accompanied by some members of your family or friends.
Why French Bulldogs are so well adjusted to the apartment?
Many apartment owners have this confusion in their mind, that if they plan to adopt or bring a dog home, which breed could it be? Now if French bulldog is on your wish list, go ahead without any hesitation. You will live happily with your Frenchie in a cozy apartment for the next few years.
Apartments are usually smaller than the houses and the free space to roam around is also congested with furniture and other important household accessories. But when it comes to French bulldogs, they are genetically suited to live in a small place.
French bulldogs do not need much outdoor activity
This is another reason that can encourage you to bring a French bulldog at home, as these dogs do not always need a huge backyard to jump, run, or sunbathe. They prefer to stay indoors and only could be taken outside when accompanied by humans. In fact, their owners should take special initiatives to take them out for exercising or walking, as they are not much active in daily life.
French bulldog tops the list of the apartment dogs
When you will research the dogs that can satisfyingly stay in the apartments, you will find according to vets and experienced dog owners as well as dog breeders, French bulldogs are one smart breed that has all the abilities to stay in the apartment.
They just love the homely atmosphere and they also seek the attention and company of their human. So you can spend time with your French bulldog in the apartment by playing or cuddling it and that will be well enjoyed by the French bulldogs too.
The size and shape of the French bulldog is adequate for apartment life
As we have already mentioned in this guide, French bulldogs are smaller-sized dogs that do not need much huge space to live. So the small space in an apartment does not suffocate them. Though lots of outdoor space is necessary for many dog's good health and upbringing, this is not mandatory for the French bulldogs
Their body weight is not much also, which means you can arrange for a small bed that fits your apartment, and the French bulldog will be happily living in that bed. They barely weigh 20 pounds which is why their small body fits in the small space of an apartment easily.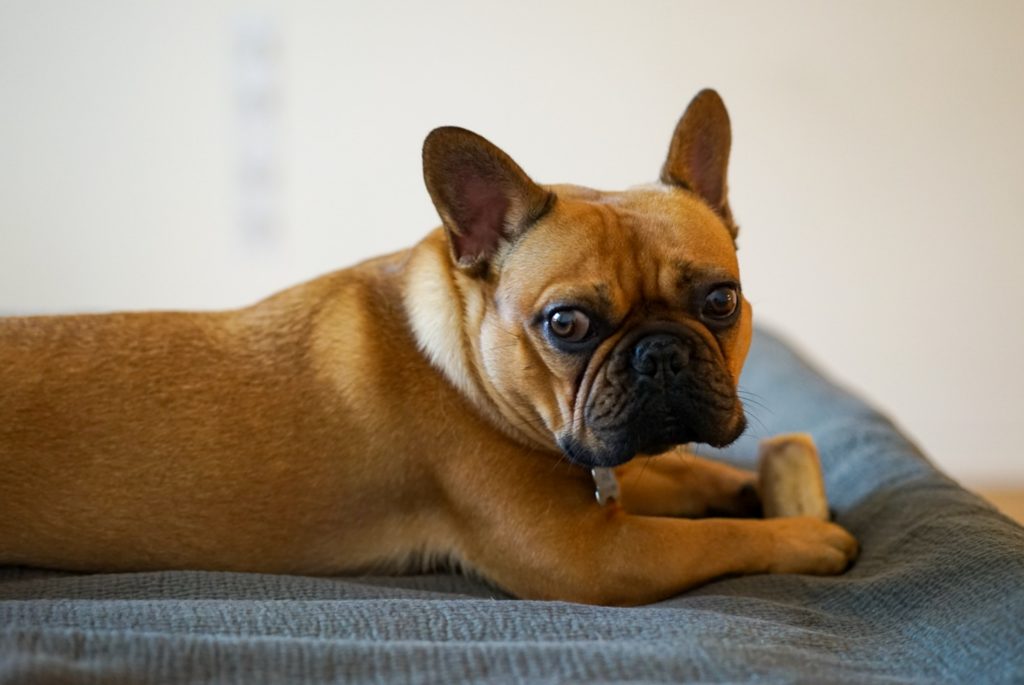 French bulldogs are not much active in regular life
There are various dog breeds that are hyperactive and they spend their day jumping or running. Their energy level stays high all the time, and if they are not allowed in open spaces like the backyard or field, they feel claustrophobic.
But the experience of the French bulldog owners is completely different.  This small dog breed prefers to stay calm and not move much throughout the day.
Apartments do not contain any backyard. The option of rooftop or wide terrace is also limited. But that does not bother the French bulldogs much. The owner should take the opportunity to take the dog for a short walk so it gets some exercise.
Indoor is best for the health of French bulldogs
So far we have mentioned that the French bulldogs love to spend their time indoors. But other than their liking, there are also some health-related issues which make them suitable for indoor life. As you can see the French bulldog relaxing on the mattress or spending time chewing the toys, you will find that harsh outdoor life is not really suitable for this small breed.
There are certain allergies and breathing ailments that attack French bulldogs easily.
If they are left alone outside, the pollens and dust from the air or even grass can cause them to sniff as they get attacked by allergies. Also, they are prone to overheating as their body does not cool off easily. They should not stay outside for long hours thus. Even the cold weather can make them ill as they will have respiratory problems.
Short fur coat means less shedding
French bulldogs come with a short fur coat and that sheds less than that of the long furred dog coats. As apartments are small spaces, you need to keep them clean all the time.
So you have to make sure that the dog furs are not scattered in all the places in the apartment. But this is not the case of the French bulldogs as they shed lesser than some other dog breeds. Their short furs are not seen scattered much everywhere, which means you have to work little to keep your apartment dog hair-free.
The coat of this dog also can be washed much easily. you do not need a large bathroom or bathtub to clean the French bulldog, which is added benefit of keeping this breed of dog into the moderate-sized apartment.
The behavior of the French bulldogs is suitable for the apartment life
One of the prior reasons that the French bulldogs are perfect for apartment life is that they do not bark or growl much. They are quiet and usually do not let out any sound unless there are some problems.
This is also fit for the family where there are kids of seniors, as these dogs do not irritate them or get annoyed by the behavior of the other members. They are quite tolerant of the kids and do not become aggressive towards them.
They are also much adaptive to the new atmosphere and new circumstances. They love to spend time with the humans and that is why their behavior is pretty charming for the humans.
They do not bother much about the changes in their surroundings like many other dog breeds. Their attention is towards the family so this is nature actually helps this dog to settle in the apartment.
More: