The corn snake is a reptile species that is basically a North American species of rat snake and is usually found throughout the United States the central and the southern part basically.
The corn snake is non-venomous in nature and that is why it can be kept as a pet and another reason why they are kept as pets because they are very beneficial for humans as the corn snakes are used to control the population of rodents that are very bad for the people.
The corn snake usually kills its prey by suffocating or constricting its prey and it is an amazing pet for reptile enthusiasts.
So in order to understand these corn snakes nicely, you need to first know how to take care of them and in this article, we will discuss the caring of the pet corn snake so that you can give them proper care so that no type of problem is created while raising them up.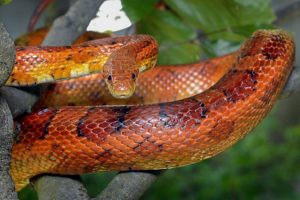 Guide To Care For Pet Corn Snake
There are various things that you need to know about the pet corn snake in order to give proper care to your corn snake so that they follow a healthy and safe lifestyle and also you would not be facing any sort of problem while petting them at your place.
Basic characteristics
Size of the corn snake: When they hatch their length is 8 to 12 inches long and they grow up to a length of 4 to 5.5 feet long.
The life span of the corn snake: the corn snake can live up to 20 plus years if proper care of them is taken. They are reproductive up to 10 to 12 years of age and in some cases for a longer time period.
A calm and patient snake that is docile in nature can be easily handled by people without hassle.
Also known to be very beneficial for their owners as they are good at killing rodents and pests and help in controlling their population because the rodents and pests cause lots of destruction.
The corn snake is non-venomous in nature which means that they are not harmful to humans.
Behavior and temperament of the Corn Snake
The most important thing that you should know about any pet that you are going to house or you have is their behavior and temperament so that you know how to handle them. The corn snakes are low-key snakes and are docile in nature.
They do not have any sort of problem when people are handling them and this means that you can handle them easily. But like any pet, if they feel threatened they will obviously behave in a violent manner and this will be a natural defense mechanism for their safety.
They are good at escaping so you need to be very careful with the corn snakes and should always know their location because they can get easily get hurt and lost. As a whole, the corn snake is known to be a good pet snake that does not create any type of hassle for its owners and they live peacefully with their owners inside the captivity.
Housing
You should be aware of the natural habitat of the corn snake because only then you will be able to provide them with the proper type of housing. For a corn snake, a 20- gallon long glass tank is recommended as it is the perfect size for your pet snake.
The tank should be longer in length and shallower in depth only then the corn snake will stay peacefully inside the tank. As we know that like any reptiles the corn snake also need places for hiding purpose so we need to create such places inside the tank like a cave or hide box so that they can feel comfortable inside their enclosure.
Also, the opening lid should be fitted securely so that they do not escape because they are experts in escaping from any type of opening in which they fit in to.
Make sure that the tank should be big enough in which the corn snake can stay comfortably and there is space inside it where they can easily slither here and there and also they can curl up and rest. Tight places often suffocate them and they do not feel comfortable in such places. You can also provide branches inside the tank for the climbing purpose so that they have a place for climbing purposes. The housing of the corn snake should be resembling their natural habitat only then they will feel happy and comfortable inside the enclosure.
Substrate
The substrate is the bedding or the covering that is provided at the bottom of the tank in which you will keep your corn snake. The corn snake loves to burrow and hide so for this reason you need to use the layer of the loose substrate where they can easily burrow and hide.
You can use a variety of materials as a substrate like newspaper, carpets, aspen shavings, etc. The material used for the substrate should be safe for the corn snake so that no type of problem occurs to them, it should be non-toxic, non-irritant, safe on the skin, odorless, etc. so that it can easily stay inside the tank without any sort of issue.
The substrate should be carefully chosen because it is an important part of the enclosure and very important for your corn snake. The substrate used should be such that it is easy to clean and maintain and you can also easily replace the substrate every other day for a hygienic lifestyle. So select a proper substrate for your corn snake.
Temperature
The temperature plays a very important part in the life of a reptile and you need to maintain an apt temperature for them inside the enclosure so that they can easily survive and comfortably survive inside their enclosures. So it is very important to maintain a corn snake at home at the correct temperature.
The ambient temperature for the corn snake is 80 degrees to 85 degrees Fahrenheit and the basking temperature should be 85 degrees to 88 degrees Fahrenheit respectively.
The temperature at night should not drop below 75 degrees Fahrenheit. So in order to maintain the proper temperature, you need to provide heat lamps, heating pads, or heating tapes so that they do not feel any sort of temperature drop and you are able to maintain a proper temperature inside their tank.
So you need to properly monitor their tank by the use of thermometers so that you can maintain the required temperature for your tank.
So to keep your corn snake healthy and also so that they do not feel any type of problem inside their enclosure proper temperature maintenance is a must. So do not be careless with the temperature and constantly keep observing the temperature variation and take the measures accordingly.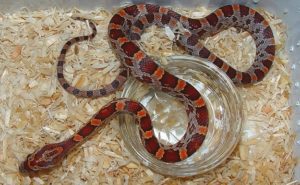 Humidity
As the temperature-humidity is also a very important factor for the corn snake and the humidity that is apt for the corn snake is the humidity that is found in a typical household.
So it is recommended to maintain humidity between 40 to 50 % for the ambient air inside the enclosure and it should be around 60% when the snake is shedding its skin. So be very particular when you are maintaining humidity inside the enclosure because it plays a very important part in the life of the corn snake. You can monitor the humidity inside the enclosure with the help of the hygrometer and also you can mist the tank to maintain proper humidity levels and also put an evaporating water bowl inside the tank so that you are able to maintain the proper levels of humidity inside the enclosure.
Do not be careless with humidity because it plays a very important role in the life of your pet snake or any other reptile. As we know that corn snake goes through the process of shedding which needs high levels of humidity so that this process can take place properly. Try to monitor the humidity levels inside the tank on a regular basis so that the corn snake gets the apt percentage of humidity and also so that they do not have to face any sort of issue.
Food and water
Food and water play a very important or crucial part in the life of a corn snake so that they can live a happy and healthy lifestyle. The corn snakes are carnivores in nature and they usually survive on small animals especially rodents.
When the corn snake is in the wild they will catch their prey just by smelling them but inside the captivity, they are fed with food and they do not have to attack or catch any type of prey for survival. You can feed them with pre-killed or the frozen rodents like the mice that are thawed in a proper manner. When the corn snake is young then they should be fed with small-sized mice and as they grow up they should be fed with the increased size of mice.
It is recommended that the size of the prey should not be too wide than the head of the snake, otherwise it will fatal for their life.
You just need to feed the growing snakes twice a week and the adult corn snake just once a week, but the size of the prey should be appropriate depending upon the age of the corn snake. It is also noticed that the corn snake loses its appetite when they are about to shed at the starting of the shedding period you can see that your pet snake loses interest in eating, you do not worry and try to understand their situation.
The corn snakes drink water by absorbing the water through their mouth you also need a water dish that is filled with clean and fresh water. As the corn snake often defecates in water and you need to clean it and fill it again with clean and fresh water.
Sometimes you will also observe that your corn snake will also soak itself in the water bowl. It is recommended that the water dish should be shallow and the water used in this bowl should be non-chlorinated. So water used should be fresh, clean, non-chlorinated and also that should be replaced on a daily basis.
The corn snake is an amazing pet snake that does not create any sort of problem for its owners and also you need to take care of them so that they can live a happy and healthy life. You need to take care of them nicely, only then they will live happily inside the enclosure. The corn snake is known for hiding and escaping so it is very important that you should observe them carefully and locate them wherever they are because if they hide or escape there are chances that they can get hurt or injured. So it is very important to take care of them in a proper manner.
Conclusion:
The corn snake is completely dependent on its owner so it is very necessary to fulfill their needs and give them what is best for them.
The corn snake is not a violent snake so it is quite easy to handle them and pet them. This is the reason that they are very popular snakes among the reptile enthusiasts and that is why many people keep them as a pet.
The corn snake stays happy and comfortable if they get what they want and also you would love to see them happy and that is only possible when you will understand them nicely and will try to build a bonding with them. They will also try to understand you better and will love your presence whenever you are around them.