The breed of Afghan hounds is considered to be one of the oldest dog breeds. This intelligent and aristocratic-looking gentle dog existed much long ago and they were loved by a human for their courage and dutifulness.
This dog species was originated in the Middle East and hunting was the primal occupation of them. So they consist of good stamina, agility and speed. Now in modern times, this is a high in demand dog that can win prizes for its owners in various dog shows and competitions.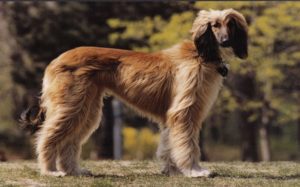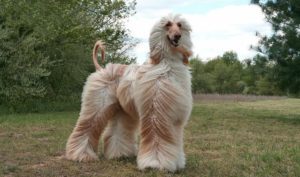 Grooming of afghan hound:
This breed is famous for its long-haired coat. So grooming is needed to keep that coat in the best shape and condition. Their silky hairs get tangled fast and also it goes out of shape if it is not kept washed and brushed.
Cleaning of the coat:
This is one of the foremost priority tasks for the Afghan hound owners. The shampooing should be done once in a fortnight, as excessive shampoo can harm the skin and strip the natural oil out.  But use a good quality shampoo with the least amount of chemicals. Make sure that the shampoo you are using is particularly for the dogs. Shampoos for human are not suitable for dog skin and that can even worsen the condition.
Shampooing:
Shampooing needs longer than other dog breeds as you have to use your fingers to dig deep into the coat and clean every inch of the coat.  Thorough rinsing is what you should do to make sure that the coat does not hold the matt, dirt or sweat inside. Washing the coat is also a minute job and you have to make sure that the soap does not remain stuck in the coat. That can result in a fungal infection when not cleaned properly.
You can check some of the best Shampoo For Afghan Hounds
Conditioning:
A good conditioner should also be included in the list of necessary items of afghan hound's grooming. The long coat will not be as smooth and silky if there will be no conditioner after the shampoo wash. So you need to be cautious about the maintenance of the silky coat and use a good quality conditioner after every wash on the afghan hound's coat.
Brushing:
Brushing is an obvious part of the grooming routine. You need to use different types of the brush to keep the hair tangle-free, dirt free and mess-free. The hair should be brushed after each wash, but don't use a brush that is harsh. Use the ones which come with a pinhead, as that protection will save the skin of the dog from scratches or poking that a rough brush can result.
Brushing is a time taking job and you need to do it even after the dog is home from a walk. The long strands often capture dirt and sweat is another reason for the tangles created in the hair. If you see mud stuck in the hair, first wash that particular part of the coat to clean the mud. Then you can brush it to keep it silky. When you are using the brush on the dry coat to make sure there is no matt on the hair, then use some spray to make the hair soft and manageable. You can make sure that the hair shedding is less and the coat stays shiny.
Trimming:
Not only washing but also trimming is a necessary part of the afghan hound's grooming. Unless you keep it well trimmed the hairs will grow longer and longer, creating a mess for the dog itself. There are professional grooming services available that can come in handy when you need to trim the coat of the Afghan hounds.
If you are an experienced one, you can try trimming yourself, by getting a good quality stripping knife. Make the dog sit comfortably and use some treats to keep the dog calm during the trimming period. Trimming needs to be done once in three to four months.
Cleaning other parts:
You have to make sure that the organs like eyes, ears and teeth are also cleaned. There are pads available to clean the ear and eyes, which are available in pet stores. Take help from your vet or grooming service. Due to the long drooping ears, afghan hounds often face the problem of microbes in their ear part, as the inner ears get less air in them. So cleaning the wax once a month will keep them away from the fungal or any other kind of infection.
Nail clipping:
The nails of the pet dogs should be cut or trimmed once every month as dirt gathered under the nails often acts as the source of bacteria and infection. This is probably the most difficult part of the grooming session as the dogs are not habituated with the nail clipping and they act nervously or ferociously when you attempt to do this.
For nail clipping, there are useful clippers available, which will be available on pet stores or online portals. Use the particular clippers which are safe for the dog. To clip the nails you need to be patient and keep the dog habituated with the clipper by offering the tool to it, let it sniff the tool and convince it about the tool to be a safe item. While clipping actually, you should cut only the tip of the nail and not more than that, as that will be much painful for the dog.
Oral care:
Using a good quality dog toothpaste and toothbrush is necessary to keep the oral part healthy. Brushing should be done every day. Dogs suffer from oral cavity and loss of teeth due to the lack of oral care. You should be watchful about the oral health of your afghan hound and brush its teeth with proper dog items. Like shampoo, it is advised not to use human toothpaste, as that contains some sweetness which is not good for the dogs.
Exercise:
To take care of a dog like an Afghan hound, you need to help it exercise daily. A 30-minute walk is mandatory to keep the dog in good health. If you are unable to take out time for the walk, employ a professional dog walker for the walking schedule but do not ignore the workout part. To keep the Afghan hound in good shape and also keep it active, some walking will be greatly advised.
Diet:
Diet is a vital part of afghan hounds as well as any other breed of dogs. When they will not eat the proper diet they can suffer from various kind of disease and that cannot be solved by external care and grooming.
So offer them 2 to 2.5 cup of nutritious dry dog food every day. This is the limit of food for the matured dogs and the pups will have much less food in amount. Size, age and maturity are the factors that determine the amount of food and feeding time. Usually, the Afghan hounds do not eat much though they have a large body.
They are naturally slender and their shape should be maintained by offering them food in measured quantity. Get the best quality food as that will ensure the nourishment of the dog. Do not overfeed if you think the dog is underweight. There can be various reasons for weight loss. Take the dog to the vet to know the proper condition of the dog's health.
FAQs while taking care of Afghan hounds
Are Afghan hounds high maintenance?
Yes, Afghan hounds are high maintenance and they can be kept well-groomed only if you are able to spend a good amount of time on their upbringing. Their coat is a luxurious one and that means you need to properly clean it, brush it and keep it well trimmed for a better result.
Nature of Afghan hounds:
As this dog breed is a large one, they contain some maturity in their behaviour too. They are sober and calm in nature. They prefer the company of matured people too, so you can keep them with senior ones at home. They are not much compatible with very young kids.
Life span of Afghan hounds:
They are a healthy breed and do not fall sick often. They live a long life of 12 to 14 years, so you will be able to enjoy their company for a long period of time.
Are Afghan hounds the dumbest dogs?
This is a popular myth about Afghan hounds, that they are the dumbest dogs of all time. The truth is, they are pretty smart and intelligent. They are unlike other dogs and show less emotion in different situations. Their aloofness is often mistaken to be dumbness, but they are caring, adorable and a much smart breed of dog.
Are Afghan hounds dangerous?
Afghan hounds are not aggressive in general. There are certain times when all the dogs can be irritated. Also, there are reasons which can aggravate the temper of the afghan hounds. But usually, the Afghan hounds are much laid back in character.
They have preying instinct so that can be triggered by offering them such games when they are outside. But if you keep other pets at home which are smaller in size, like guinea pig or rabbit, be careful for the first few months of the afghan hound's coming. It can lead to some accidental mishap.