Box turtles are available in various species and they differ in their requirements as well. When you decide to get a box turtle as your pet, you should study and research a bit to know the exact temperature, food and habitat it needs to be with you for the next 20 to 30 years.
This creature was originally found in North America and they have a high domed shell that looks exquisite in the shades of brown and yellow texture. The small head of them sometimes peek through the shell and you will be able to see the hook-shaped upper jaw and beady eyes then.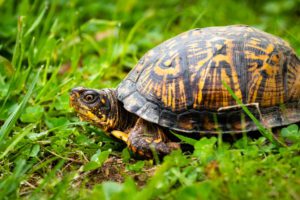 When people seek some unique pet creatures, they can try box turtle. They are really smart and cute pets. They need proper care and housing arrangement to stay healthy and alive. They live a long life so they will be able to provide you company for 20 years approximately. There are some box turtles that can even live for 30 -40 years.
How to take care of the box turtle when it is kept at home?
Box turtles love to be fed on leaf piles, but make sure that those are not dry but moist. Also, you can arrange for compost heaps which makes a good place for the box turtle to stay within. Also, rotten logs can be a nice and useful place for the box turtle to stay and hide.
There are two parts of the day when box turtles stay most active. Those are early morning and late afternoon time. These two periods is the most suitable time of activity for box turtles. Also after a shower of rain, box turtles feel much active. So you can keep the cage and the turtle well showered once in a while to keep them relaxed and active when the season is hot.
Provide UVB light
There is UVB light in the rays of the sun which is mandatory for the healthy living of a box turtle. This ray helps them in metabolism. They need to absorb the calcium that is present in their food, and that process works only through the metabolism. So at least 12 hours of sunlight is necessary to keep the bone structure of the box turtle healthy.
Play games
Box turtles are fond of several kinds of games. You can offer them empty shells with which they will play. Also, there are obstacle mazes available commercially which will be of much excitement for them.
You can keep the treats inside the maze which will make the game more exciting.
Digging is another favourite pastime for them so they can dig for a long period of time if you allow them to. You have to make arrangement for the substrate material which they will dig on.
Also read: Steps to Set Up A Box Turtle Tank?
How can you play with the box turtle?
You can handle the box turtle if you find it comfortable, and that will be a good reason to spend time with each other. You need to be extra cautious when you will be taking it out of its cage. But one thing you should remember before doing this is that turtles do not like human touch much. In fact, they repelled handling, so you should not practice this much frequently.
There are some dos and don'ts that you should remember while handling the turtle or playing with it. Do not try to pull the tail of the turtle or try to keep it on its back. These are some actions that make them nervous and can cause stress in them.
Understanding
This is a much debatable question and owners of different box turtles will answer it differently. Like humans, turtles too have a significant and unique personality. Most of the turtles are calm by nature and they do not show any sign of aggressiveness by any means.
Handling can make some of them nervous and agitated, while others may enjoy this time with their owners. But one thing is for sure, the owner should never allow the guests to touch the turtle, as turtles are not much fond of human handling, as we have already stated.
While you are handing some turtle that is unfriendly by nature, there are chances that it can bite or try to bite your hand. So our advice is, pet it seldom. While petting it, keep to certain areas like the head, chin or the shell part of the box turtle.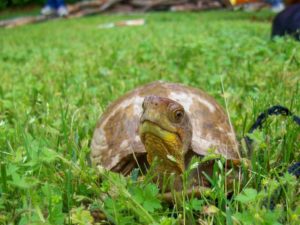 What are the requirements of the space to keep the box turtle happy?
A happy environment is key to keep the box turtle safe and healthy. You must follow the below-mentioned directions to create such a space for your box turtle.
Keeping the space wide:
Turtles love to roam around the area that is provided for them. It can be a wide cage, or if you love to keep it free, then it should have some free space in your room or your backyard where it can move around. The measurement provided by the breeders and vet is, for an inch shelled turtle, you should keep a 10-gallon tank. That gives many ideas of how much space you should provide for your box turtle.
Keeping the turtle on land:
While creating a suitable habitat for the box turtle, you must not forget to keep some part of the land in it. By land, we mean the basking area or some flat surface, where there will be some wide stone or high platform where it can sit and bask. Also keeping the substrate that can be dug, is a must. While creating for the habitat you should always remember to make arrangement for the natural habits of the turtle.
Cleaning the tank:
This is about the health and hygiene of the turtle. Like we clean our household, you should not forget to clean the cage of the turtle once a week or maybe once in two weeks. Clean the substrate and also clean the equipment that is inside the enclosure, like the water and food dish, the stone for basking etc.
Diet:
This variety of turtle is omnivores by nature. Turtle need various food such as animal protein as well as vegetable and fruit to stay healthy. So you need to offer vegetables that are safe for it, as well as insects like cricket, bugs and worms. The vegetables, greens and fruits that you offer them should be cut into small pieces, fresh and free from pesticides.
Also, different kinds of human food are also suitable for them. So you can offer them commercially available foods as well as low-fat meat or pinky mice.
Keeping a water dish inside their cage is a must. You should always keep it filled with fresh and clean water to initiate the turtle to drink it.
Also Read: Can Box Turtles Eat Cucumbers?
Requirements for the box turtle habitat:
We have here offered some basic conditions and their parameters that will be needed to keep a box turtle happy at your home.
Heat:
Around 70 to 80 degree Fahrenheit is the temperature that is needed to keep the box turtle healthy in its house. The basking spot should have a higher temperature though, and it should be 85 to 90 degree there. But this temperature is adequate for the day time. At nights the temperature should be less and it can be around 65 to 75 degree.
To arrange for the heating source, you should try the ceramic lamp, but it should have the regulator to adjust the heat as per the need.
Light:
As we have mentioned above, UVB light is much needed for metabolism and calcium absorption. If you do not arrange for the UVB light source inside their house, they can suffer from a metabolic bone disease that weakens their bone structure and makes them immobile. So you need to arrange for the lighting which will also emit the UVB light. They should have exposure to this ray for at least 12 hours.
Humidity:
The humidity level of the house of box turtle should be around 60 to 65%. In the warm area, this is the regular level of humidity found in the atmosphere. But you can add to the humidity level when it is winter, by misting inside the house.
Substrate:
To cover the bottom of the cage or terrarium of the box turtle, you must use some substrate. There are various kinds of product available commercially but you need to choose the suitable one, check out few of the good substrate mentioned here. The substrate will not only cover the bottom of the cage and let the turtle dig. But also it should have the ability to hold onto the humidity level of the terrarium.
The feel and the look of the substrate should be natural, so the box turtle feels at home while staying on it. The substrate is one of the most important aspects of the artificial house of the box turtle that makes it comfortable, so you must choose it wisely. Also, you need to check that there are no mites or any kind of microbes found in the substrate, which can later cause infection to the turtle.