Behaving socially is not the cup of tea for any and every dog breed. While some dogs prefer to play with another breed of dogs or even any creature for that matter, there are also some loners who prefer to stay close to their human owners and not to communicate or socialize with other creatures, even if those are of their own species.
Now American Eskimo dogs fall into which category, which is something we would discuss in this guide. The interaction level of the pet dogs is something that the owners should be aware of, as then he or she would be able to take the dog to various social places or keep it apart and secluded. Rather they need to groom and train their dog to mix with other creatures and act more sociably.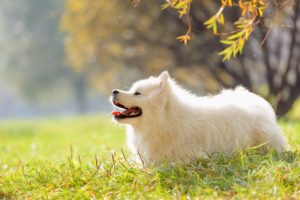 Are American Eskimo dogs good with another breed of dogs?
American Eskimo dogs do not bother to mix with other dog breeds but they should have a proper introduction first. They may get well enough with the people and the dogs when they are assured that they are close and trustworthy.
They bear with the presence of random dogs of different breeds when meeting suddenly in the dog park or on the road, but they may react to such dogs when not groomed to meet with another breed of dogs all of a sudden.
When do American Eskimo dogs get along well with other dog breeds?
Other dog breeds are perfectly normal for American Eskimo dogs if they get to know them really well. If they are family members and have been there since the American Eskimo dog was a puppy, then it would not react negatively to those dogs. In fact, the same is applied to cats or other house pets. American Eskimo dogs will not bother to disturb them when they are used to living with them in the same house.
Do American Eskimos prefer the company of their owner over other dogs?
Yes, American Eskimo dogs are much attached to their owners and they actually stay close to their humans most of the time of the day. They prefer to play or just spend time with them and that is often preferable to them playing with other dogs.
Which dog breeds are not liked by American Eskimo dogs?
American Eskimo dogs are not much friendly to other dog breeds as we have already mentioned. Even among them some dog breeds and other kinds of pets make them agitated more. Nordic breeds of dogs are particularly not much liked by the American Eskimo dogs. They prefer to stay away from such dogs when they meet accidentally with them in the Dog Park or crèche.
Also, they are not much fond of small pets like birds, rodents like guinea pigs, or reptiles. They may mistake these creatures to be their prey and try to harm them. So when you visit such a place where the chance occurs of meeting such creatures, it would be best to keep the American Eskimo dog on a leash.
Can American Eskimo dogs be left alone with other dogs?
You should not try to leave the American Eskimo with other dogs when the two dogs are meeting each other for the first time. American Eskimo dogs are of moderate size but they have a big dog nature, which means they would not act timidly even if the other dog is fiercer or stronger than it. It may act aggressively with the other dog and some accident may take place.
It is better to be safe and keep the dog on a leash when you would be meeting some other dog breeds. If you are in an emergency situation and need to leave your American Eskimo with the other dog, make sure that there would be some trainer present who would be taking care of the dogs' actions.
American Eskimo dogs are quite individualistic and independent-natured dogs. When they get matured, it becomes hard to train them and teach them something that they have never learned in their puppy age. This dog breed can be trained with some patience and proper techniques. So you can obviously teach it to behave with other dog breeds and live peacefully with them.
The cohabiting practice should start early. You need to take the American Eskimo puppy to the dog park and let it be friendly with various different dog breeds. This way it will learn not to segregate among the species and would mix freely with all other kinds of dog breeds.
This habit will stay with the dogs even when they would grow up and it would be a boon to the dog owners. They can take their dogs to any public place without fearing how their pet dog would behave in presence of other pets.
Can American Eskimo dogs bite other dogs?
Biting comes naturally to the puppies. The matured American Eskimo dogs would not bother to bite other dogs even if they may not like their presence or act much more friendly with them. The training in socializing is necessary if you want your American Eskimo to visit many places and mix with different kinds of dogs and pets.
Biting will not be your problem as when they grow out of the puppy stage they stop biting and will not attack the other dog breeds by biting them. They merely would stay away from the other dogs and may show irritable behavior when they are forced to stay near the other dog breeds.
Why American Eskimo dogs do not like the other dog breeds?
American Eskimo dogs are much adorable otherwise, but they do not prefer to stay near other dogs. They are not territorial or find the other dog to be their enemy. They are seekers of attention and they do act much possessively with their owners. That is the reason they do not like the presence of other dogs near their owners. They get jealous of the attention that their owner may give to other dogs.
This is the reason that they do not like the presence of other dogs when they are brought up all alone in the house. If they learn to share the attention and affection of their owners from the puppy age, then it would not be much bothering for them to find other dogs in their house.
Do American Eskimo dogs get anxious in the presence of other dogs?
American Eskimo dogs have the tenacity of being anxious for various reasons. They may feel insecure when they find other dogs near them and that may make them anxious. However, these habits may change with time and proper grooming. American Eskimo dogs are trainable, which means their deficiencies and flaws of behavior and nature can be ironed out with the right kind of training.
Thus they may learn to accept the presence of other dogs near them and even near their owners and yet not become tensed and anxious. When they are trained from the puppy age, they would become a more confident and friendly creature that does not mind playing or at least act friendly with the other dogs.
More:
7 Best American Eskimo Puppy Food
How To Train An American Eskimo Puppy?
How To Make An American Eskimo Puppy Stop Biting?