American Eskimo dogs are moderate-sized dogs that can be kept in large houses as well as in apartments. They can live comfortably in a spacious area or in a medium-sized house. This is why they are pretty famous among dog lovers of all statuses.
How big does an American Eskimo grow?
The standard size for the American Eskimo male dogs is 15 to 19 inches while the females grow up to 14 to 18 inches. This is the standard size of this dog breed as recognized by the American Kennel Club. There are three sizes of them and those are toy, miniature, and standard.
The toy American Eskimo can be 9 to 12 inches tall and the miniature one stands12 to 15 inches tall. The standard one can be 15 to 19 inches tall which is more commonly seen.
Their body weight also differs from their sizes. The toy ones may weigh around 10 pounds while the miniature ones will be 20 pounds. The standard American Eskimo weighs 30 pounds generally.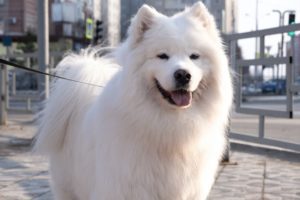 Can the exercise make the American Eskimo grow bigger?
Exercise definitely plays an important role in the health and growth rate of any creature. American Eskimo dogs are no exception. Additionally, they are much inclined to outdoor exercises so it will be best for you to take the dog out every day for at least 30 minutes walks as it will be necessary to keep the energy on the right path and also make them physically fit. This way their growth rate will also be regular and they can have full growth.
Does the diet make American Eskimo dogs grow bigger?
There are various companies selling different types of food to the dog owners claiming their food is the best in quality and will be great for the growth of the pet dogs. But you as the owner of the dog need to know which ingredients are right and which ones are not so.
When you will choose food for the American Eskimo puppy, you need to check the ingredient list of the food. If it contains gluten or carbohydrate source like wheat then it should not be given to the American Eskimo puppy. Also, the chicken should be well resourced and not the by-products from the farms.
There should not be any added color or flavor mixed with the food as these ones always cause more harm than good to the puppies. There should be an adequate amount of minerals and fibers so the digestive system stays intact. You also have to ensure that the food contains a good amount of calcium and it should also have healthy fatty acids so the skin and heart of the dog stay in good condition.
If you are able to choose such kind of food from a renowned brand then you can ensure that your dog will have a good amount of nutrition and that it will grow well with time.
What kind of food may make the American Eskimo grow bigger?
Food that is high in protein and fat is good for the growth rate of American Eskimo puppies. It helps them to gain weight and thus initiates the growing process. It will also sort the weight problem, in case you are worried that your dog is not gaining enough weight for its age.
You need to feed such kind of food, but of course from healthy sources, and the dog will be growing into a healthy matured one. The change in growth rate can be detected after you change its food to some other brand that contains fat and high protein.
Does any disease hamper the growth of the American Eskimo dogs?
There are various diseases that are generic as they come from the ancestors of your dog. When you are getting the American Eskimo from the right breeder he or she will elaborate on the issues that are related to that particular dog. These dogs may not grow as much as the other dogs of the same species as there would be some difficulties with them in the growth period and even after they get matured.
Hypoadrenocorticism is a certain kind of problem which hampers the regular growth pattern of the American Eskimo dogs. This is an issue related to the adrenalin gland and when it starts affecting your dog, its body functions will be disturbed. This problem is more commonly seen in American Eskimo dogs and it can be severe if goes unnoticed or untreated.
The symptoms of this disease are pretty obscure and can be mistaken as symptoms of other common ailments. So electrolyte level testing once every six months is required when you see your dog is not growing at a normal rate.
Why my American Eskimo dog is not growing much?
There are several reasons behind the dog's stunted growth. But the common problem that occurs to most of the puppy is having infected by hookworms or roundworms. They can get the worms from their mothers or can be infected by their surroundings. They have the habit of biting and licking all the things around them and if any other dog is having the worm problem then the puppies will surely get it on their body too.
This is a much more difficult issue so when you see your American Eskimo puppy is not growing at the normal rate, even after eating the right kind of food and having no sign of lack of appetite then gets it checked by a vet. You can be ensured that it has got a worm in it or not.
Deworming medication will be prescribed by the vet and that should be given to the puppy. Do not go for over-the-counter medicine as that can sometimes have side effects on your adorable puppy.
At what age does the American Eskimo dog stop growing?
Approximately when the dogs of any breed reach the age of one year they are considered to be adults. But physically they keep growing to some point depending upon the species. For the American Eskimo dogs, the bone structure as well as the physique keeps growing unless they become 2 years of age. So you can expect your little pet to become a moderate-sized dog with the right kind of diet, no ailment, and exercise.
More:
How To Groom An American Eskimo Dog?
5 Best Harness For American Eskimo Dog
How To Make An American Eskimo Puppy Stop Biting?