Ball pythons are crazily beautiful creatures which can be a good pet for anyone. When you bring home a baby ball python you must be aware of its habits. Food habits and items that they can eat are not like any other reptiles. Also, the amount and timings of feeding are quite distinct when you are keeping a baby ball python at home.
Ball pythons are carnivores and they prefer to eat live prey. Also, they eat the whole creature unless they do not get the necessary nutrition. if you need to offer it frozen prey, then it needs to be thawed before feeding.
Feeding Your Pet Ball Pythons
There are quite a few other rodents than mice that you can feed a baby ball python. When the baby ball pythons reside in the jungle, then they do not only search and hunt the mice. They fed on small birds, especially the male ones. You can offer varieties of mice along with different types of birds like quail chicks, chicks etc.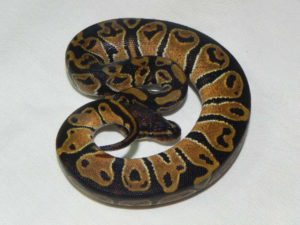 Other than regular mice, you can offer rats, African soft furred rats etc.
Not all ball python babies love to have birds and different types of mice. You can offer it different kinds of meals to understand and check which ones are liked and eaten by them.
Where do you get frozen prey?
There are several ways by which you can get frozen prey.  They are available online, or you can check the local pet stores. Also, you can get them at reptile expos. Local breeders also come in handy when you seek readily available frozen prey.
How you can order the frozen prey and save money at the shipping?
Getting bulk of frozen prey is helpful when it comes to monitory matter. The shipping charge gets reduced, but you do not need more than one rat in a week, and the quality of a whole lot of frozen prey can get deteriorated.
So you can share your order with friend or neighbour who also owns a pet snake. This way you will be sharing the cost and yet you do not have to buy the prey in huge quantity.
How do you check if the baby ball python eating in a regular amount?
There are not only fixed amounts but also fixed timings of feeding baby python. If you follow the general chart of the schedule to know the amount of food it is devouring, you will know that it is a healthy baby python and is eating adequately.
A baby python can eat a pinky rat which weighs nearly 8 to 12 gm when it is brought home. For the first three times, the python can have this and it will be repeated after 5 days.
When the python's weight becomes 200 gm, it should have a small mouse, which is popularly called rat fuzzy. This meal requires 7 days to be digested and then you can feed the python another rat fuzzy.
When the ball python grows more and it becomes around 350 gms. You should offer it rat pup which weighs 20 to 30 gm. This meal takes 10 days usually to get digested.
When the ball python becomes 500 gm of weight, you can offer it a jumbo mouse or weaned rat that weighs around 31 to 45 gm. This meal takes 14 days approximately to be digested. Then you can repeat this meal.
The diet again changes when the snake becomes around 1500 gm of weight. This time the growth will be visible and it will seem more like a mature ball python. Now you will be needed small rats or adult mice and there should be two or three mice at once. This meal will be consumed by 21 days maximum, and then you can feed it once more.
When the snake gets mature you can provide it with a medium-sized rat that weighs 80 to 150 gm. Two small rats or 4 to 5 adult mice will be sufficient to satisfy their hunger. This meal is needed once every month.
Precaution regarding the food source
You have to be cautious when you buy food from the local pet store. At times there is salmonella bacteria infestation takes place which stays in the frozen prey. When you feed that food to your baby ball python it may get affected and fall sick.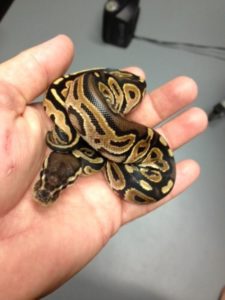 How to feed the baby ball python?
When the baby ball python just comes out of the egg, they are able to devour hopper mouse which is a small creature. The 2-inch body of the mouse can be totally gulped down by the baby ball python.
Fuzzy or pinky mice is not something they would like to eat when they are eating for the first time, so you should keep these choices for the juvenile ball python. This is not the food for a baby ball python. They can eat the food which is as wide as the thickest part of their body. They can stretch the skin of the stomach and make a place for the whole creature inside.
When should you offer frozen food?
You cannot offer a baby ball python frozen food at the beginning. Let it consume some natural and alive prey like live hopper and such creatures. When it gets accustomed to the live hunts, you can offer it frozen and thawed food.
Feeding live food is always more preferable to feeding frozen food. But there are times when you are unable to arrange for live food or you are travelling with your pet. At that time only can you get the pet to eat frozen food.
When you are feeding the frozen food, you should always maintain the right temperature which makes the food ready to be consumed and digested. Also in the case of pythons, they have heat-sensing pits through which they judge the temperature of the food. Also, the live prey that they hunt for living in the wilderness, move. They eat food only when it is alive and warm. So when you are offering it the frozen food, it must be warm enough so the python may feel it is a live food.
How long a baby ball python can survive without food?
Eating is not a part of the regular schedule of wild animals. They do not always get the right kind of food in their surroundings so they are well equipped to survive through long days of starvation. Their physiology is designed the way in which they can burn their body fat and keep the metabolism continuing.
These creatures can be called opportunistic eater as they eat as much as possible when they get the food. There are days when they are unable to get any food.
How often should you feed the python?
So to keep the baby ball python healthy and hearty you need to feed it once in a gap of 3 to 4 days. The amount of food that we have mentioned above will take a week-long to be digested.  The small amount of food should be repeated once every four days and it will help the baby python to grow faster.
When the snake gets mature, you can feed it once a week. This way you will be able to keep the snake away from being hungry. Also, it will be able to receive ample calories to live and act healthily.
Read more: