Are you worried regarding your ball python and the various eating habits? Well, you can know regarding it through the content that is provided below.
You need to understand the ball python's diet. This is because it helps you to know about how you need to take them to the vet or what you should do when they behave crankily.
If you don't have this knowledge then it becomes difficult for you to know why your pet isn't eating.  We have provided the information below for what you should do if your pet does not eat.
The first thing that you need to do is check for shedding signs as this might be the reason for loss of appetite. You can bring the attention to your pet to the food by bringing in prey food.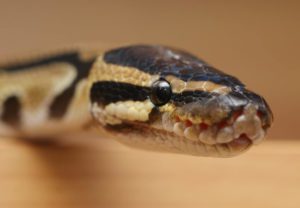 When should ball pythons eat and how often?
You must know what your pet eats. It is usually seen that most of the pet owners find it quite panicking if their pet does not eat in the seven days, but it is not something you need to worry about as it is completely normal.
Most of the ball pythons that are adults eat after 10-14 days, and for the young ones, the time is within 7 days. This is because it takes snakes a few days for digesting the food and you need to keep in mind that you do not handle your pet within the first 24 hours of feeding. Also read about what to Feed Baby Ball Pythons?
It might regurgitate the food. Moreover, do not feed your snake every other day and wait for some time. You can checkout these best Iguana Food and Water Dish.
Why is a ball python not eating?
If you are feeding your pet properly and still the ball python is not eating, you need to know why it is happening.
Here we have discussed the common reasons why it must be happening. You need to go through it and know how to handle it.
Shedding
The ball pythons usually do not eat if they are about to shed. They are in a cranky state of they are about to shed. The shedding occurs every 4-6 weeks and is more often seen in young snakes.
You will get to know when your ball python is shedding if its eyes turn milky or blue in color. The color of the skin also turns translucent and the snake also shows irritating nature.
When you notice these signs you don't have to do any other thing despite giving it space and time.
The most important point that you need to consider is that do not handle them in the process. If you rub the dead skin off, you might cause injury to the snake's body. You need to therefore leave the pet alone. This can even occur if you bathe the snake. After the shedding is done, then you have to feed the python again.
Incorrect temperature
Ball pythons and reptiles do not eat as much if you do not provide the right kind of temperature to them. If the temperature is too high then the focus of the snake is entirely on cooling the temperature.
If the temperature is too high then it does not have the energy and the desire to eat as well.
Check the temperature so that they satisfy certain marks:
Basking temperature: 88-96 degrees Fahrenheit
The overall temperature should be 78-80 degrees Fahrenheit
The hiding spot is to be around 75 degrees Fahrenheit
Nighttime temperature is to be greater than 65 degrees
If the temperature is not right, you need to adjust the heating elements and consider the heating pad. Moreover, you do need a heating lamp for the ball pythons. You can consider these best Heat Mats For Ball Pythons
Correct the settings and let the snake get used to the settings. After that feed the ball python again.
Brumation:
Brumation is also a period and it is similar to hibernation. It's a state where the ball python is in a low activity state and the appetite is also low. This is when the temperature drops in the winter months.
Ball pythons do not usually go in brumation but since it is part of their cycle you must notice appetite loss and slow movements.  Do correct the temperature in places where it needs to be and provide some days for t. If you find that the snake isn't eating much yet then it is time that you take it to the vet.
Conclusion:
Thus, we find that the ball python might lose its appetite due to shedding and even due to varying temperatures. So do not panic and take proper care.
More: