Bearded dragons can eat quite a few fruits and vegetables. They do not like monotonous food so as the owner of the bearded dragon you should keep some interesting tricks in your sleeves to make the pet happy and healthy.
Does bearded dragon eat salad?
Bearded dragons eat both vegetables as well as insects. When it comes to eating their share of vegetables they become quite choosy. You need to put some interesting items on their platter to make them eat the food. Not all vegetables are healthy for this pet.
So yes, bearded dragons eat salad when you prepare the most delicious and healthy items washed and sized, so they do not get chocked by the pieces of vegetables. Offering them nutritious and pesticide-free organic fruits and vegetables is a nice way to add nutrients and vitamins to their daily diet.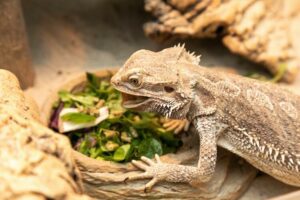 What is a good salad mix for a bearded dragon?
There are certain vegetables like collard green, broccoli, mustard green, cabbage, and kale which can be provided to the bearded dragon in their salad platter. These are mostly hygienic and not unhealthy for the bearded dragons. Also, bearded dragons love to have a crunchy plate of salad in between their meals.
How do I make the bearded dragon eat salad?
Sometimes the bearded dragons eat fussily and do not prefer to eat salad. But as we have said, this is a natural way of putting some minerals and nutrients into their body; you need to make the bearded dragon interested in the salad bowl.
Dragons like to have insects most. So when you are giving the dragon both insects and salads at different hours, they understand that if they miss the salad or refuse to eat it, it will be okay as they can later fill their tummy with insects.
Then you need to be attentive and make sure that the bearded dragon does not eat anything except for the salad. Keep the bowl of salad handy but do not offer it to insects until it eats some part of the salad, if not finish the whole bowl.
After it touches the salad and starts eating it, wait until it is finished. Then reward it with insects and make the thing praiseworthy. This way the bearded dragon will understand the necessity of having a salad. If the dragon does not do anything for as long as two days, do not panic. For the bearded dragons, it is not much harmful to not have anything for two days. They can survive without falling sick. But make sure that it eats the salad after the long fasting period.
How do I understand the choice of vegetable for my bearded dragon?
Bearded dragons are a picky and fussy eaters. They do not love their bowl of salad very dearly and can leave some items out after finishing the salad bowl.
You have to be observant and understand which particular item it is leaving on the plate after finishing the salad. This way you can pick the thing that is not liked by the bearded dragon and that is how you can get the idea of the choice of vegetable of your bearded dragon.
Can I feed spring salad mix to my bearded dragon?
There are certain vegetables that are quite liked by the bearded dragons. Beet greens, peas, turnip greens, carrots, and alfalfa hay are some of the tasty treats for rabbits and they love to gorge on them. These vegetables are available around spring and thus this dish is called spring salad. This will be a colorful platter that will attract the bearded dragons more. Your pet dragon will not miss this sumptuous meal anyway.
How much salad should I feed my bearded dragon?
Bearded dragons should not be offered salad bowls at a very young age. When they become at least 18 months old, they can start eating salad. Salads are great in terms of water content as well as fiber. So you can offer salad to the bearded dragon for five times a week, while on the rest two days it can have a meal of insects.
If the bearded dragon refuses to eat salad, then you can leave the creature. There will be no harm if the creature does not eat for one or two days.
Which fruit and salad can the bearded dragon eat?
Along with vegetables, you can put some fruits too on the salad platter of the bearded dragon. Among the whole range of fruits, the ones suitable for the bearded dragons are apples, blueberries, strawberries, peaches and watermelon. All these fruits contain a good amount of water which will replenish the water level of the bearded dragon's body.
These are also not very high in sugar so will not cause any health-related difficulty in the bearded dragon.
Which vegetables should not be put into the salad of the bearded dragon?
There are a few vegetables like spinach, romaine, and some others which are not fit to be eaten by bearded dragons. So you should not provide them with these vegetables, also the broccoli should be given in limited amounts.
These vegetables have limited nutritional value and thus, will not add to the nutrition quotient of the pet bearded dragon. You should not try to just fill the stomach of the pet by giving them anything and everything. Maintaining the balance of nutrition is necessary for the pet bearded dragons and that should be checked by the pet owners.
Why my bearded dragon does not eat its salad?
If you have offered greens quite a few times to your bearded dragons and it has refused to eat that or touch the plate, then it has its tummy full of bugs. If you are giving it an ample number of bugs then it would not prefer to eat green as bugs or insects are the first choice of food for the bearded dragons.
For the baby bearded dragons, they consume at least 60 to 80 percent of their weight. Their diet should mostly consist of insects as protein is necessary for their growth. But the rest part of the diet should have some greens. If your bearded dragon, be it matured or a young one, is eating 100 percent of its diet through bugs then it will refuse to eat greens.
Can you put lettuce in the salad of bearded dragon?
Lettuce is a famous vegetable or green to be added to salad. There are varieties of lettuce and almost all the varieties are healthy. But for the bearded dragons, it may show some different effects. Lettuce contains fiber which can give the bearded dragon runny stool.
Sometimes even bearded dragons can face stomach upset and some discomfort, pain or bloating in the stomach due to the consumption of lettuce. So you should not provide the bearded dragon with lettuce.
However, the occasional and minimum amounts of lettuce will not do much harm. You can give it a bite or two of crunchy fresh lettuce and see if it reacts. But the feeding of lettuce should be restricted to two times a week only. Then also you need to check if it is having any stomach pain after consuming this green.
More:
Can Bearded Dragons Eat Grasshoppers?
Can Bearded Dragons Eat Honeydew?