For reptile lovers, corn snakes are an interesting pet option in various aspects. Giving time and attention is one sure way of making the snake your friend. There are some ways that will help you effectively to make the snake more habituated and easy to be handled.
Can the corn snake be tamed?
Corn snakes are pretty famous pets but they do not open up or show affection immediately after they are brought home. The owners need to have some patience to get emotional feedback from their pet corn snakes. After two weeks of shifting the corn snake to its new home, it will be adjusted and feel at home in the new habitat.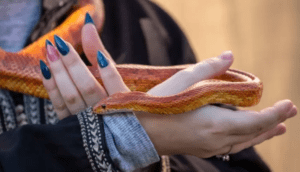 Can you tame a wild corn snake?
Some enthusiastic reptile lovers seek to tame wild corn snakes and try to keep them at home. If you somehow manage to get hold of such a wild corn snake and cage it, you have to follow a few directions for the cause of safety and security of the pet and yourself.
Insert your hand inside the cage so the snake gets used to it. Also, you can keep the hand for some seconds inside the snake. This is a good idea also to make sure that the snake recognizes the hand and they do not mistake it for some food.
This lessens the chance of getting bitten by the snake any time in the future.
How corn snakes bond with their owners?
Snakes, especially corn snakes do not have the capability of showing their emotion to their owners in any elaborate or descriptive way. As they do not have the ability to feel distinct emotions they do not express them as well. But their bonding with their owners is expressed in different gestures.
When they eat the meal from their owners, it means that they trust their human. Also when they are much accustomed to the new habitat and owner around them, they can crawl on the body of their owner, can climb up on the shoulder, or hands them.
When you can be sure that the corn snake has accepted you?
The presence of the owner can be accepted by the corn snake when it will be seen not reacting to the touch and entry of the hand of the owner to its enclosure. This is not exactly the process of showing affection but for the corn snakes, this is more than enough to express that it trusts its owner.
Usually, they get threatened whenever they see some human entering or pervading its territory or the enclosure, in the case of captivity. It gradually accepts the presence of the owner and then it will not be alarmed when the owner will enter his or her hand in the enclosure or come near them.
Can a tamed corn snake be petted?
This is an amazing and maybe disheartening fact for the snake owners. Like most pets, snakes do not like handling much. They in fact do not prefer to be petted. Petting is a gesture mostly cherished by four-legged creatures. In the case of snakes, you can keep them in the terrarium and watch them growing and moving inside it.
But owners often try to pet their snake. With time they grow some kind of tolerance and they do not get much bothered when their owners pet them.
How can you bond with the corn snake?
Feeding the snake is the most assured way of bonding with the snake. You should not only leave the food inside the terrarium but also offer it to the snake. This way the snake will start acknowledging your presence and also having food from you. This situation also has another benefit. The snake gradually understands that you are the food provider and then it starts accepting you as its master.
So offering food once a week is just the right kind of way to treat the snake and bond with it. Keep an eye on the behavior of the snake to make sure that it is in good mood and will not be threatened when you insert your hand into its enclosure.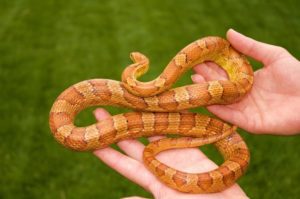 What signs of the corn snake will show that it likes your presence?
There are certain body movements or signs that will be enough to prove that the corn snake likes your presence. The gestures are often subtle but the owners should know about these movements to guess the mood and mood swings of the snake.
Sometimes you can see the snake wriggling softly when you try to pet it. You can take the snake out of the cage and keep it on your body parts. If you see the snake moving along the body parts, and flickering its tongue then you can be sure that it is in good mood. Also, you will feel its muscles all relaxed and it is ready to spend time with you.
On the other hand, you can guess it is not in a good mood when you feel that its body has tightened after you touch it. Also, you can see it approaching to strike at you or being uncomfortable in your grip. These are sure signs that it is not friendly enough to be held or feeling unfriendly towards you.
How to make your corn snake comfortable?
Here are best tips to make your pet comfortable.
Leave it alone:
When you bring the corn snake home, do not try to make friends with it immediately. You should make a spacious and comfortable shelter ready for it, and let the snake lie down there for a week. Within this time the snake will become accustomed to the new habitat. If you try to intrude in its privacy within this period, then the snake may not feel as secure and safe as it should to stay healthy and like the new place.
Providing ample hideouts:
When you prepare the terrarium for the corn snake add more than one hideout to it. Corn snakes love their privacy and they are kind of shy. If the shelter offers them plenty of space to stay segregated then it will make them less stressed about their new shelter.
Feed it out of the enclosure:
This rule applies for the first two to three months. You can offer it food inside the terrarium when it would recognize you or be aware of your presence. But do not try to provide it food from the first day, as when it gets hungry, it may mistake your hand to be its food.  This can be an accidental situation, so try to avoid it by offering it food after taking it out of its enclosure.
Do not take the snake out suddenly:
The snake takes time to recognize you and accept your presence around its enclosure. If you wish to take it out of its enclosure, first put your hand on the walls of the enclosure casually for some minutes. Let the snake feel comfortable in your presence, so it does not get stressed when you put your hand inside the terrarium to take the snake out.
At Last:
When you plan to adopt a pet, a corn snake, or any other creature, you must enjoy observing and following its life cycle. You should be attracted to its usual habits and get perturbed when you see some change in the regular activities. Unless you are moved by the activities of the pet, you cannot become a good pet owner, and cannot keep the pet healthy and content.
More: