All pets have some queer habits and sometimes they just make the owner amazed with their doings. Not always their activities are understood by their owners but they must try to understand the sign or body language as that will help the owners to understand their pets in a better way.
Rabbits are famous for indulging in such odd activities which are not always interpreted by beginner owners. Rabbits are often seen chewing without food in their mouth, which is pretty peculiar to look at. If you are a beginner rabbit owner and are curious about this activity then we would like to help you with this guide.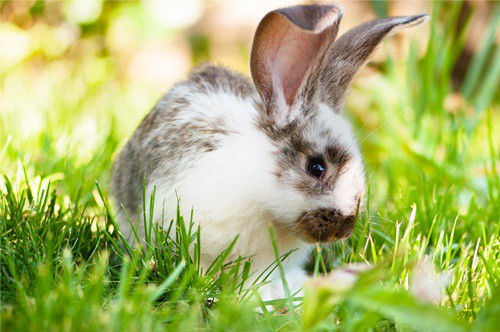 Why do rabbits chew without food in their mouth?
Rabbits have an open-rooted teeth, which means their teeth never stop growing. This is a necessary adaptation for the rabbits as when they live in the jungles they need to gnaw on branches, leaves, and fruits. Also, their chewing habit keeps them busy all day. These ever-growing teeth help them to chew on anything and everything which is available near them.
When they are domesticated, they do not get enough chance to chew on things. Also, they do not have the need to chew on various tree branches or vegetables. They get their food ready. So they manage to keep their overgrown teeth in shape by grinding them against each other. The grinding makes their teeth shorter. The natural shape of the teeth remains perfect when the rabbits grind them a few times a day.
Why does my rabbit randomly chew?
Rabbits often chew without food when they are bored. When they are captivated they do not find enough reason for excitement. Their chewing habit is another expression of their desperation. They are quite active creatures and when they are in the wilderness they stay active throughout the day. They never stay lazy and always jump, run and search for food or shelter. Also, they run out of fear when they need to save themselves.
But the domesticated life is much more boring than that. Though it is a safe option for the rabbits, they do not feel the need to run and rush. This lack of excitement may be reflected in their chewing habit when they are not even eating. They need some entertainment in their life and without that, they feel depressed, and thus, this chewing is seen.
How do I stop my rabbit from chewing?
As we have mentioned that chewing without food is a natural habit of the rabbit. You should not try to impose restrictions on the rabbit and let it enjoy the moments. Chewing also keeps their teeth short and sized; else it will overgrow and make the rabbit uncomfortable. The pets are much aware of the situation and thus they keep chewing without food so it does not give them trouble.
Yet if you are too conscious of this chewing habit and want the pet to stop it, then there are some suggestions for this.
Giving the rabbit extra hay can be a solution. Rabbits love to chew on hay and they can eat hay as much as they can as hay does not induce weight gain. Hay also does not contain sugar so the sugar level of the rabbit will not increase if it eats hay. Hay and grass are all-time food for pets and they can eat this to keep their chewing habit at bay.
When the bunnies are bored and chewing without food, they should be given some extra attention and a playful environment. Let the bunny play in the backyard or keep it in a spacious area where it will be able to jump and run as per its wish. Rabbits prefer to live an active life and when they are deprived of that, they would not like it. If they can get out of the boredom they will not chew as much as they did.
Spaying or neutering the bunny makes it less distracted and disturbed. If your bunny has reached a mature age then neutering it will make it calm down. Thus it will chew less and that will be much helpful for the pet too.
Spend some time with it. Rabbits love to stay with their owners and if they are given attention and playing time, they will not chew as much. Their need for excitement should be fulfilled so they will stay calm and content.
Why is my bunny grinding its teeth?
Grinding the teeth is a natural process of shortening the ever-growing teeth of the rabbits. They learn to shorten their teeth as they do not use their teeth as much as they need to do when they are in the wilderness. Thus they make a purring-like sound when they are grinding their teeth. This behavior seems pretty odd to first-time rabbit owners but it is not that difficult and it will be a normal thing for pet rabbits.
Why my rabbit is only chewing but not eating?
Chewing has many other aspects than just grinding the food. We have discussed those above. But for the rabbits, eating less and only chewing may have a deeper meaning. Rabbits do not usually refuse their food. They like to chew on something for the whole day, that is, their waking hours.
But if your rabbit is not eating but chewing in an empty mouth, then maybe the little creature is stressed. They can stop eating when they are tensed or stressed for some reason. They may get afraid of some other pet in the house, like a newly arrived dog. Or it can be the boredom and anxiety that makes it eat less but grind its teeth constantly.
Not eating is a serious sign among rabbits and you should pay attention to make it normal. Take it to the vet and get it cured or at least ask for his or her guidance on the situation.
Dental disease can be another situation when the rabbit will stop eating but will chew constantly. The rabbit sometimes feels pain in the teeth and gum part and to keep away the pain they act like chewing. At the same time, they will eat less and may stop eating if the situation worsens. The ulcer in their mouth will be more irritated whenever they will try to eat grass or hay. Thus they will refuse food.
Teeth checking are important for rabbits and as a responsible owner, you should always check the pet with the vet for its dental and oral health. Dental disease can lead to more severe situations. They can lead to painful bruises inside the mouth and that will make the rabbit eat less and lose weight.
What will happen if the rabbit does not chew constantly without food?
The chewing pattern of rabbits is somehow different than other rodents and also they have a distinct chewing habit. The growing teeth of the rabbit make them chew without food as that is necessary for their adequate teeth size.
Faster growing teeth create several problems for the rabbits. The chewing of the rabbit makes them even but when they are not in even form then the rabbit has to suffer a lot.
Incisors are the fastest-growing teeth of any rabbit. The overgrown incisors create pain inside the mouth as it touches the upper pallet and makes cut marks. The rabbit will not be able to open its mouth comfortably and eat. If you find that your rabbit is not eating with a properly opened mouth then you should check inside their mouth to find what is wrong there.
How the chewing process keeps the teeth of the rabbit in shape?
The grinding process of the teeth keeps the teeth short. The rabbit grinds the upper jaw with the lower jaw and that makes them look like they are chewing something. The saliva produced at the time of chewing coats the sharp edges of teeth and does not cut the inside part of the mouth. Also, the sharp teeth get blunt by constant chewing. They move their jaw round and round and this function keeps them safe from the bruises caused by the overgrown teeth.
Can excessive chewing of rabbits cause any problem?
Yes, excessive chewing can cause problems sometimes for rabbits. They can suffer from molar spurs which is a painful condition. These grow on the cheeks of the tongue and make the rabbit eat with difficulty. Molar spurs are hard to be diagnosed as rabbits do not show much sign of pain. They do this out of a defense mechanism. If they show pain they will be the target of the predators.
Thus when you find that your rabbit is not eating properly or getting weak get its dental health checked by a vet. Excessive chewing causes the teeth to wear unevenly and it leads to molar spurs. The rabbits suffering from molar spurs sometimes even spit the food or red spots can be found on their cheek and tongue.
More: