The Alaskan Klee Kai and the husky are often confused with each other. These dogs are a breed that originates in Alaska in the 1970s. These dogs were bred so that they can be companion dogs and the Siberian husky is considered as the working breed.
Moreover, we know that the American Kennel Club involves the husky in the working group but they haven't yet granted any status to the Alaskan Klee kai.
If you are interested in knowing the point of differences then you should read ahead. The guide will focus on the points like appearance, personality, and size.
This dog breed is noticed in Alaska since the year 1970. The American named Linda Spurlin came across this breed for the first time and we know that the same person adopted the dog who was the result of the bred between Alaskan Husky and the small dog.
These dogs have originated in Russia and while the Alaskan Klee Kai is a breed the Siberian husky is relatively old and can be seen back in the North-Eastern regions of Russia.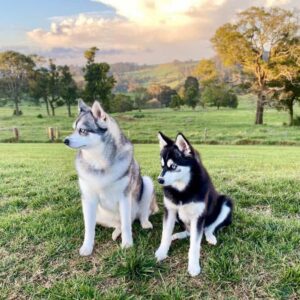 Alaskan Klee Kai vs Siberian Husky
We know that these two dogs are two different breeds. These are different but yet regarded as the same as there are a lot of similarities between them. The Spurlin made use of a lot of Russian dogs to get the companion-sized pups.
To know better about this the users should read ahead and get a clear view of the breeds along with their physical attributes.
Size of Alaskan Klee Kai
Alaskan Klee is available in three different sizes that are standard, miniature, and toy size. Moreover, the United Kennel Club team mentioned on their website that this dog breed is small to medium-sized and the height can be measured from the withers to the ground.
These are not too heavy or too thin. The weight is proportionate to the height. The standards are between 15 and 17 inches in height and they might range in weight up to 20 pounds Dogs which have attribute mire than this are regarded to be overweight.
The small ones range from 13-15 inches in height and their weight can be 10-20 pounds. The breed can grow to a height of 13 inches and can weigh around 10 pounds.
Size of Siberian
The Siberian Husky is considered to be a medium-sized dog. They range from 21-24 inches in height and their weight might range from 45-60 pounds.
The female dogs on the other hand are smaller and range from 20-22 inches in height and their weight is 35-50 pounds.
Appearance of Alaskan Klee Kai
These dogs come in three main patterns that are black and white, grey and white, and also red and white. There are even subcategories to these and in some, the facial mask is a little different while there are contrasting colors on the face, chest, throat, legs, and even under.
These dogs can have eyes in various colors is blue, green, brown, and brown are most common of all. This dog breed can even have two different colored eyes that are one eye with a different color and the other with another color.
The coat needs to be well furred and the appearance seems to be similar to Siberian Husky and Alaskan Klee Kai.
Appearance of Siberian Husky
This dog has originated in the Russia of the eastern peninsular region. These dogs have four main colors that are black and white, red and white, sage and white, and also grey and white.
As per the AKC standard, the breed should have eyes in brown or blue color and even part eyes.
These dogs also have a well-furred coat and if the hair grows too long then you won't be able to know the shape of the dog.
Alaskan Klee Kai and the Siberian Husky
The dogs can be black and white, grey and white, and even red and white or all white.
Both the dogs are known for escaping so if you want to keep any of these dogs so you need to fence your areas appropriately. You also need to make sure that your garden or the backyard is fenced properly. If there is any way out they are surely going to escape.
Moreover, they are highly distracted so if they get anything to distract they will chase it. Both the breeds shed a lot and these are dogs that are double coated so when they will shed you would find an immense coat. The outer cost sheds throughout the year and the inner one will shed twice a year.
The dogs are sometimes shy around people, but if you get them to meet new people from a young age then they will get used to it slowly. Siberian husky might even do well around people they aren't aware of.
These are great medium-sized dogs who can do great when it comes to guarding and their appearance is enough to make the unknown visitors scared. These are smart dogs and can be easily motivated by the food. Some of the members of this breed can be stubborn while the training can help in the development.
These are recommended for owners that are experienced and it requires a lot of patience to house them.
Conclusion
These both breeds are quite different but you will usually find them similar. Moreover, you can know about their differences from the information mentioned above.
More: