Alaskan malamutes are one of the debatable dogs to keep and yet they are also very much in demand due to their great majestic look and somber nature. These dogs are heavy-duty and quite loyal to their owners. Their personality sets them apart from the rest of the pet dogs.
Features of Alaskan Malamute
Their height stays from 23 to 25 inches around the shoulder when they are fully grown and standing. Their body weight is around 85 kg when they are not obese. They were primarily used as sled dogs and thus they are pretty strong. The certain body features like strong shoulders and a thick coat of fur that provides them enough warmth during the rough cold weather make them a perfect choice for the hard-working guard dog.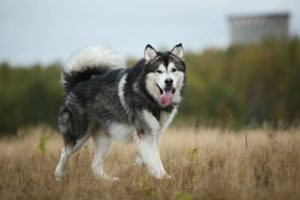 Are Malamutes dangerous?
Alaskan malamutes were used to hunt prey and thus they have this reputation of being a good hunting dog. They act pretty fiercely when it comes to hunting and they can dare to attack even polar bears. Their nature is decent until they are on the hunting spree. But when you bring one to your family, you need to keep it well trained and thus it will not act aggressively with family members of other pets.
Can you leave the Malamute alone at the home?
As this breed lives in a pack in its natural habitat, it is pretty normal that they would love the company of loved and cared ones. When you keep the dog at family, give it some time and attention. Do not leave this dog alone for a long time as that will impact its mental health and behavior.
They look big and muscular. But do not be misled by the look as they are a quiet soul inside this huge shape. It seeks your care and love. They behave much patiently and affectionately with kids if they are accustomed to the presence of children.
Can you leave children with the Malamute?
When properly trained and well-bred, Alaskan malamutes do not act strangely or ferociously with the children at home. The problem can arise if the children are too young and are unable to walk steadily. There can be a chance of an accident as malamutes, pretty high in energy can jump or push the kids while playing. The same can happen if there are senior people around in the house, without any supervision.
How good are Malamutes as pets?
The pet dogs differ according to the need and types of the households. So where there is a nice and active household, a lively Alaskan malamute will be well fitted in that scenario. Also, the area of the house should be wide as this large-sized dog needs ample space to move around. Their stamina is great due to their high energy level.
Why in some areas adopting Malamute is banned?
There are some cities in the US where the administration has banned getting malamutes and some other dogs that are energetic and famous for being a hunting dog. The restriction on ownership is just to avoid any accident of the dog as well as the foster family.
Can Alaskan Malamutes get overweight?
While having an Alaskan malamute, any owner will feel the need for proper training. Treats are one important accessory of training schedule and thus, it can often lead to obesity. Alaskan malamutes are quite healthy otherwise, but if the food amount and treat amount cannot be checked, then they can get overweight.
What is the difference between a Husky and an Alaskan Malamute?
Though these two breeds look pretty similar to the dog lovers, a bit of information would be easy to understand the similar-looking dog breeds. Malamutes usually have longer hair whereas huskies have a short fur-covered body.
Can you get a Malamute if you live in an apartment?
Honestly, adopting a malamute while staying in an apartment within the city is not a wise decision. These large-sized dogs need space to move and also they need lots of open space where they can jump, run and be active most of the day.
Going outdoor is a mandatory part of keeping the malamute in good health. You just have to make sure that it gets enough exercise in a natural and fresh environment.
Can you get Alaskan Malamute while living in hot weather?
Alaskan malamutes prefer to stay in cold weather only. They are much sensitive to heat and thus will not be able to stay fit in hot weather. If the temperature of the environment goes above 26 degrees Celsius then it would not be suitable for keeping a malamute there.
On the other hand, on very cold days, the Alaskan malamute can be taken outside and perform some tasks.
How much does the Malamute shed?
As they have a thick fur coat on their body, the Alaskan malamute sheds a lot. They have a double coat, which means an undercoat beneath the topcoat of long furs. In two seasons through the year, they shed a lot.
You can see a lot of shedding on your carpet, floor, and furniture during spring and fall. To avoid the problem of fallen furs everywhere at the house, you can brush the coat of the dog daily, so the fallen hairs get all accumulated at the time of combing.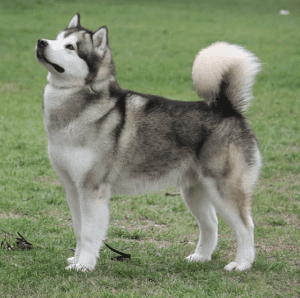 How much suitable is the Malamute for the first-time dog owner?
Alaskan malamute is a trainee dog and this one is used to taking orders and carrying them out properly. They need a leader of the pack who can direct them to complete some tasks.
For the first-time owner, this breed may not be the most ideal one. If you do not show authority in the relationship with this dog, it may get confused and act weirdly or even aggressively after some time. So before adopting an Alaskan malamute, one needs to be fully informed and know the way to behave and train this dog.
How can you keep an Alaskan Malamute happy and content in its captivated life?
You need to keep the dog happy by following some simple rules. Give it ample playtime, and be its partner or guide while playing. It loves to take direction from humans and also it can perform a great number of tasks, which makes it satisfied.
You can offer it some preying activity too. Other than sled pulling, it also loves to hunt for small prey. In its free wildlife, it can hunt even a seal or a bear, which are enormous in size. So you can keep its hunting spree ignited by offering automated toys which it can chase and hold.
How safe is it to keep small pets at home with Alaskan Malamute?
We have already discussed the hunting craze of the malamutes, and that proves that it will instinctively attack the small creatures that will move around them. If you already have some small pets like rabbit, guinea pig, or lizard at home, and you plan to get an Alaskan malamute then keep the small pets in a distance for the first two to three days.
After a certain interval, take the pets out and bring them to the malamute, but keep a close observation. With time and patience, you can make the dog understand that these are not prey but cohabitant.
Does Alaskan Malamute dig a lot?
If you love your much adorable landscape and are planning to get Alaskan malamute, then think again. The malamutes are famous, or rather infamous, for their love for digging. It can make a mess out of your much-cherished garden.
But there are ways to make the thing work too. Keep a sandbox inside the house, and take it out when the malamute is taken outside. Keep it leashed so it does not go near the flower bed, and be satisfied with digging in the sandbox only.
You can also fence the garden area to keep it separated and secured from the rest backyard, but there are chances that the malamute would make a tunnel by digging the soil and reach the other side.
So keeping an eye on the dog while it goes outside is the best way to keep the dog and the garden safe.
Does Alaskan Malamute bark frequently?
Barking is a way of communication for dogs. For the Alaskan malamutes, the barking often expresses their emotions like anger, frustration, irritation, or happiness.
There are no clear directions to understand when a dog is happy or when is it irritated. But while living with the malamute, you will understand the difference of every emotion by hearing its barking as well as following its body languages like body movement, tail wagging, and the look in its eyes.
Are Alaskan Malamutes high maintenance?
This Alaska-originated dog breed is pretty homely when it comes to keeping them as pets. The only problem is that they cannot be kept unattended and need proper maintenance to be healthy and long-living. Their usual lifespan is up to 10 to 12 years, so if you take good care of them, they will be able to provide your warm company for a good length of time.
Here we will be discussing a few needs of the Alaskan malamute which should be provided if you seek to have a happy and healthy dog.
Diet
Any high-quality dog food is good for this breed. Also, it can be home-cooked if you wish. You must provide the dog with the right kind of food depending upon the age group, as there are different types of foods commercially available, for puppies, adult dogs as well as senior ones.
The calorie consumption should be watched, and you must take help from a vet to know how much food is adequate for your Alaskan malamute.
Along with checking on food, you should provide the pet with fresh and clean water in adequate quantity. Offering treats should be restricted if you find the dog's body weight is increasing.
Exercising
This large breed dog needs a whole lot of exercise to stay healthy. They are hard-working genetically, thus there should be a good amount of different kinds of exercises to fulfill the need. Daily exercise is a must, along with that they should have a trainer or owner who has that level of energy that matches theirs.
Also, the trainer should be innovative in terms of new techniques of training. Without some different exercise, malamutes can become restless.
They have great strength and they can easily carry the burden of a heavy load. They are built the way that carrying load is a natural task for them, so some similar kinds of tasks should be included in the training program along with running, walking, agility, and obedience test. Sometimes recreational sledding will be entertaining for the dog too.
Grooming
The fur layer on the body of Alaskan malamute needs proper care. You cannot keep a dog in proper shape until you pay extra attention to the coat to keep it shiny, glossy, and free from any bacterial disease. The coat is there to keep them protected from the harshly cold weather in the arctic region, which is the place of their origin.
To keep the coat in the best condition, you need regular care. A pin brush and a comb are necessary to brush the coat regularly and also a good amount of time should be dedicated to doing this. While combing the whole body of the malamute you should check for the mat and fungal infection.
Showering need not be much frequent, once in every week is good. Use proper shampoo to get the coat clean and fresh.
Common diseases of Alaskan Malamute
Like any breed of dog, this one too has some common diseases. While getting the dog, if you check the breeding stock then you can be sure of the genetically possible problems. Other than that there is certain kind of problems, like elbow dysplasia, dwarfism, polyneuropathy, thrombopenia, and day blindness. Some diseases are inborn while others come with age. If you regularly take your malamute to the vet for a check-up, the problems can be diagnosed and treated early.
More: