We have seen that when the weather starts to be warmer, the malamute's owners become worried about how to keep their dogs cool. Through this, you can know how you can keep your malamute cool when the weather is hot. Malamutes are close to the huskies and let us now see the various ways to can opt to keep them cool.
9 ways to keep Malamute cool:
Do not take him in the midday sun
Protect his paws
Use a cooling bed
Do not shave
Provide a cool and shaded room
Encourage him to drink lots of water
Give him space
Get a pool
Give him space.
Can the Malamutes live in hot weather?
The Malamutes are known for the cold weather but they can even stay in hot weather but if you keep them cool and comfortable. These are quite popular and are similar to huskies. These are even popular in some of the tropical climates like Southeast Asia or America and even Florida.
They have a thick coat and it helps to keep them warm, but it plays a lot more important role in keeping them cool. The ones who look at the Malamutes feel that they won't be able to survive in hot weather but this is not the case as they can survive in hot weather.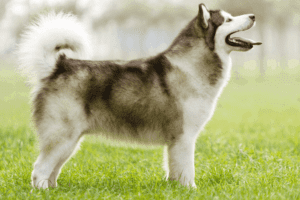 Let us see the best ways through which you can keep your malamute cool.
Best ways to keep malamute cool
Here are some of the best ways by which you can keep your dog cool even in the hot weather season. All the tips can be easily implemented and you can use them when you feel; that the temperature has started rising.
When the temperature starts to increase what you need to do is that you need to assist your malamute to stay cool.
1. Protect your malamute from the sun
Between 12-4 timings or when the temperature is more than 15 degrees, you need to keep your dog in a shaded area. You may want to be out and sunbathing but this is not a good idea for your Malamute.
You can preferably keep him inside or keep him in a shaded place. If you have flooring done with tiles then it would be great as it will help to keep the heat out of his belly.
Mostly ion all the states and countries the air conditioning used by many people, so it would be advised to keep the AC running for your Malamute as well. This might increase your bill a little bit but it is a great way to keep your furry friend happy in the scorching heat.
2. Protection of paws from hot surfaces
The very less known fact about dogs is that their paws are very sensitive to heat. Also, the dog's sweat from two places is from paws and their nose. So, it is very important for you to keep his paws cool. Paws might get burned when there is hot weather and this can be very painful for the dogs.  So, you need to remember that if the ground is hot for your hands then it is also hot for his paws so do not take him out when it is so hot.
3. Make use of the cooling bed
Cooling beds are a thing that is very interesting and useful. These are recommended for all husky owners and dog owners.
They work very well as they are elevated and they also support the dog to have a strong mesh. It is very comfortable and it also provides them with a constant airflow around the belly when they lay down.
If you are thinking these are expensive then you should know that they are not. It has received one of the best reviews for dogs and every dog owner should try it out.
4. Do not shave the coat
For most of the owners, the coat is impressive and it makes the malamute. But, still, many owners shave off the thick coat of their malamutes so as to cool them down.
But they are very wrong as it is not at all beneficial. Shaving does them more harm than good, as it would ruin their coat for life.
The double coat breeds have two layers that are the undercoat and the topcoat. The topcoat is made through tough hair and it is coarse to touch but it never shed and helps to protect your malamute from the external UV rays.
The undercoat is very soft and it is also the one thing that sheds. This keeps the malamute insulated in the winter months.
Also, it allows better airflow and blocks direct heat. When the malamute is shaved then it won't protect be able to protect itself from the direct heat. Also, when you shave the layers grow more and at fast speeds. It leads to matting and it is bad.
5. Cool shaded room
It is not that you keep your malamute inside protected from the sun, but also make him feel cool inside. You can take your malamute to the yard or to the beach where it is having more shade. Do make sure that you provide a place that is in the shade because; if it is not then it is not comfortable for them.
Summary
If you want to keep your Malamute cool then you might find it challenging, but it is not. You can always provide help and safety to your dog and most importantly when you are to leave the house. Keep him in a cool and shaded place before you leave.
More: